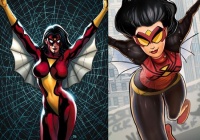 Confessions of a Comic Book Guy is a weekly column by Steve Bennett of Super-Fly Comics and Games in Yellow Springs, Ohio. This week, Bennett answers the title question with looks at Spider-Woman, Legend of Korra, Big Hero 6, and the next big thing coming from Japan.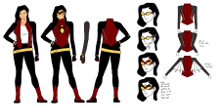 In spite of all the seasonal distractions, the story about Spider-Woman getting a new costume got a nice little flurry of press for the publisher as well as almost universal approval. I myself like it just fine, but while everyone else is writing about her outfit I would like to point out the elephant in the room that nobody else seems to be addressing. The "New Look" Spider-Woman has, to be polite, gone down at least a couple of dress sizes.
I've written about
The Legend of Korra
before (see "
Confessions of a Comic Book Guy--Follow The Stream
"). For the record, I've been a big fan of both that series and its predecessor
Avatar: The Last Airbender
so I was watching on December 19th when it finished its fourth and last season. In the final two minutes, there was a scene I did not see coming; which seemed to establish Korra and her long-time friend Asami were now a couple.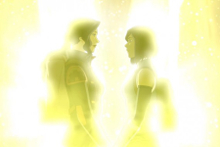 I say "seemed" because while some fans had been shipping "Korrasami" hard, as played the scene was ambiguous. But after considerable Internet consternation, series creators Michael Dante DiMartino and Bryan Konietzko confirmed that while Nickelodeon wouldn't allow them to show the characters embrace or kiss, the Korra/Asami relationship was 100% "canon." On his blog, DiMartino wrote: "Our intention with the last scene was to make it as clear as possible that yes, Korra and Asami have romantic feelings for each other."
And on his, Konietzko wrote: "We did it for all our queer friends, family, and colleagues. It is long overdue that our media (including children's media) stops treating non-heterosexual people as nonexistent, or as something merely to be mocked. I'm only sorry it took us so long to have this kind of representation in one of our stories."
Back in 2013 I wrote about a piece that appeared on the
Salon
website by Renee Davidson that asked "Why Are There No Gay Disney Characters?" (see "
Confessions of a Comic Book Guy--Gender Norm Panic Meltdown
"). I concluded there probably would be gay animated characters, eventually, like maybe for the next generation of kids. So, clearly, I did not see this coming. Specifically I didn't see Korra and Asami as a couple. Perhaps because, as someone suggested on Tumblr, I had been looking at the show through a "hetero lens." Which is a possibility, because… that whole "Princess Bubblegum and Marceline used to date" thing on
Adventure Time
? That went entirely over my head too. But to be fair let's not forget just how oblivious I am in general. If it counts for anything, I couldn't be happier to have been wrong.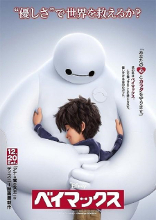 Well, I finally saw
Big Hero 6
again and liked it a lot more on the second viewing, which suggests maybe the problem was more with me than the movie. I must confess I was curious to see how the movie would do overseas, especially in Japan where it might be seen as more cultural appropriation by Disney. But apparently this is not the case, at least according to a piece in
The Japan Times
by Kaori Shoji, "Disney's 'Big Hero 6' reassembles Japan without the 'cultural cringe.'"
As to whether they actually like the movie, the closest I could find to a Japanese review online was "'Big Hero 6' ads in Japan leave out the action, moviegoers surprised to find awesome robot flick," by Casey Baseel, which appears on the
Rocket News 24
website. The piece focused on how the advertising in Japan stressed the film's "feels;" in their trailer on-screen text asks, "Can Kindness Save The World?" But after seeing it, Japanese moviegoers were reported as saying "I thought it was going to be a sweet cartoon, but it's more like (anime mecha series)
Gurren Lagann
!," and "The action scenes are the kind of thing you can only get from American comics, and they're just too cool! If you're on the fence about seeing Baymax, you should try to check out the overseas commercial first."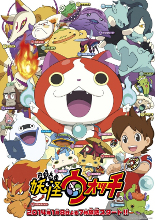 And according to
The Hollywood Reporter
it's doing just fine financially, though as the headline reveals, "Japan Box Office: 'Big Hero 6' Opens But Loses to Local Anime." The headline refers to
Yo-Kai Watch the Movie: The Secret Is Created, Nyan!
, a film based on
Yo-Kai Watch
, a role-playing video game/manga/anime series that is apparently the hottest thing since
Pokemon
. It's about a kid who catches good Yokai, ghosts, and uses them to fight bad ones, and if you're wondering if you need to know any of this, I'm afraid so. The franchise is coming to North America in 2015.
For the record, the movie's hero received some professional respect in a piece on the NPR website, "Why Does It Take a Movie Robot to Show What Nurses Really Do?" It was written by Kelli Dunham, a nurse who has some serious issues about the way nurses are depicted in the media, who had this to say:
"So when the Baymax, the nurse/robot in the hit movie
Big Hero 6
turned out to be reasonable, competent and not dressed in fishnet stockings, I was thrilled. You know your profession has an image problem when you point to a balloonish animated robot doll and say, 'Yes, that's good. That accurately reflects what I do on a daily basis. More representations like that, please.'"
But to answer the question this column asks, "Can Kindness Save the World," it's a nice sentiment at Christmas, especially when things don't just appear darker than you think, they're darker than you can think. Even though I should know better I'm going to go with a tentative "yes," so this coming year let's start small. Stop making people feel bad for liking what they like, stop excluding the other, make an honest effort to understand and start focusing more on what you love and less on what you hate. If it helps I'll start.
The opinions expressed in this column are solely those of the writer, and do not necessarily reflect the views of the editorial staff of ICv2.com.