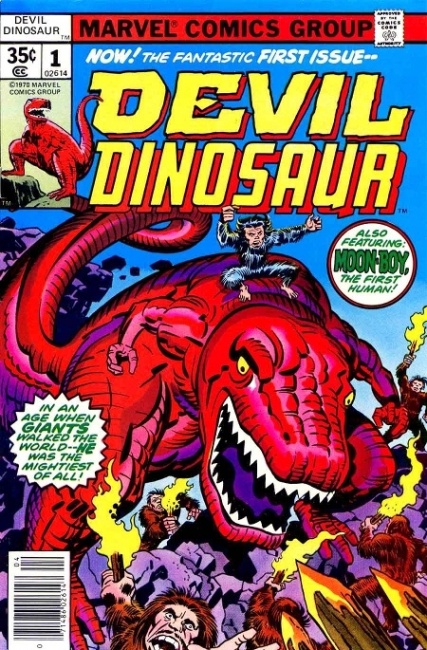 Confessions of a Comic Book Guy is a weekly column by Steve Bennett of Super-Fly Comics and Games in Yellow Springs, Ohio. This week Bennett takes a look at upcoming Moon Girl and Devil Dinosaur title and talks about his current favorite comic book.
When
Devil Dinosaur
first came out I'll confess that I thought it was the dumbest comic I had ever seen, which wasn't just my opinion. At the time the prevailing opinion among us comic book guys was not only was it an embarrassment but an all-time low point in the career of its legendary creator, Jack Kirby. But for us the truly unforgivable thing about it for was that it was silly kids' stuff, and back in 1978 that was the very antithesis of everything we wanted the comic book medium to be: serious and adult.
Of course the series was supposed to be "kids' stuff," i.e., stuff for kids. What I didn't know then was (according to the regular Comic Books Legends Revealed feature on the Comic Book Resources website anyway)
Devil Dinosaur
existed only because DC was trying to get another Kirby creation,
Kamandi
, into production as an animated series. And Marvel wanted something to counter it with.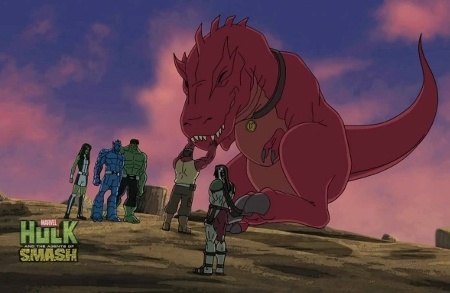 Of course neither cartoon series came to fruition,
Devil Dinosaur
lasted nine issues and, once again, it turns out that I was wrong. While certainly not Kirby's best work, in retrospect the comic is still a solid example of Kirby's wild imagination and raw enthusiasm and remains a fun comic for kids, or anyone else who doesn't take it or themselves too seriously. The character even eventually found its way to animation, making regular appearances in the Disney XD cartoon
Hulk and the Agents of S.M.A.S.H.
(though it's hard to believe a character named Devil could appear on a Disney Channel without, so far anyway, offending anyone).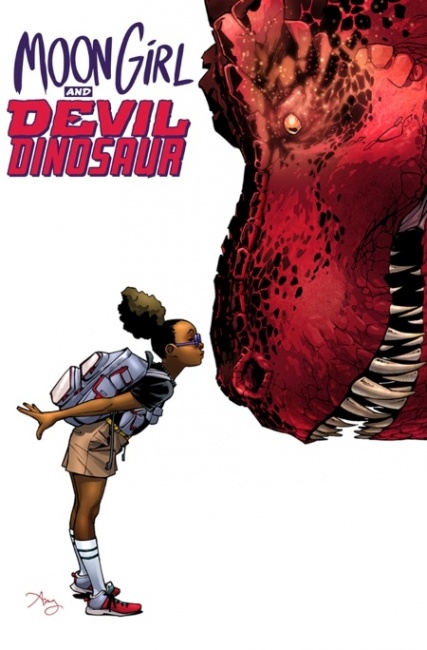 I wouldn't be at all surprised if his popularity there, as well as his intrinsic wish fulfillment and kid appeal, had more than a little to do with the news that Marvel would be doing a new
Devil Dinosaur
series. In this version his fur-covered humanoid companion Moon-Boy (who, to me anyway, bore a striking resemblance to Cha-Ka of the Pakuni from the 1974 live-action TV series
Land of the Lost
) is being replaced by young genius Lunella Lafayette a.k.a. Moon Girl.* Yes, there's another new young female hero of color in the Marvel Universe, and the good news is she looks like someone who kids will be able to readily relate to.
Writer Amy Reeder (creator of Image's excellent
Rocket Girl
series) has been quoted as saying she and co-writer Brandon Montclare "wanted to create something that adults and kids could really relate to, like a Pixar feel." That Pixar feel is undoubtedly another part of why (and why now) there's a new
Devil Dinosaur
comic; not only will it almost certainly appeal to fans of the
Big Hero 6
feature, it's something that could be made into the next Disney/Marvel blockbuster.
But for me, it just sounds like yet another Marvel comic I'm going to have to buy. Admittedly, I'm more than a little psyched by the prospect of the publisher finally having one regular comic that's devoted to kaiju (giant monster) combat. Here's hoping this
DD
will be facing some of the classic Lee/Kirby monsters and there will be at least a guest appearance by Marvel's resident giant robot Red Ronin (hopefully redesigned to look more along the lines of
Pacific Rim'
s Jaegers).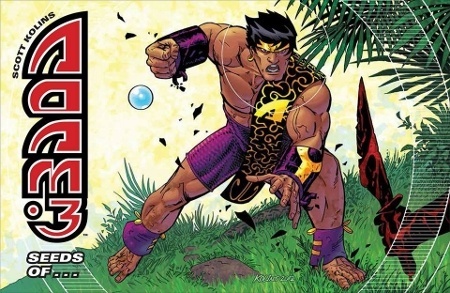 And while we're on the subject of fun comics… as previously established, while I can and do like comics of all kinds, if forced to name my favorite it would have to be comics featuring the adventures of larger than life characters, whether they be comic, grotesque, heroic or a combination of all three. And if those adventures happen to take place in a rich pulpy setting, so much the better. Which is why I've been looking forward to Scott Kolins' new comic
Adam.3
for quite a while now; the promotional art has been promising all of that. And I'm happy to report that the comic delivers on all of those promises. It's the start of a grand adventure featuring memorable characters who somehow manage to simultaneously seem both new and familiar, as well as featuring the best artwork in Kolins' career.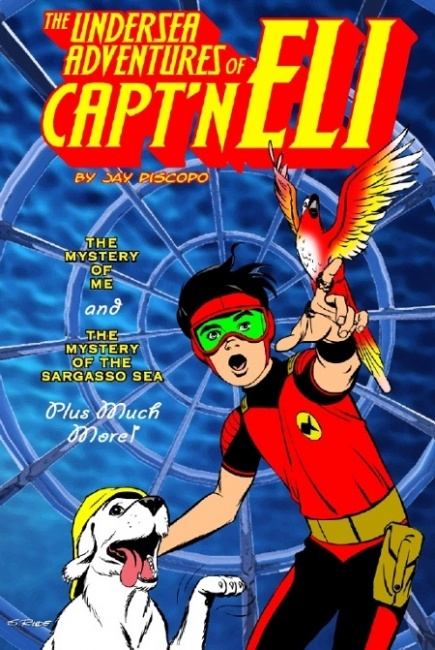 Writer/artist Jay Piscopo was good enough to send me copies of the first three volumes of his series
The Undersea Adventures of Capt'n Eli
and they're right in my wheelhouse. The premise (young genius Eli, his dog and talking parrot travel together in a mini-sub of his own design) is wonderfully reminiscent of the adventure cartoons of my youth. Frankly, that would have been high enough of a premise for me, but Piscopo quickly piles on more and more complications, creatures and fantastic (some strangely familiar) characters. Until young Eli finds himself at the center of an epic undersea fantasy war which puts the entire world at risk. These collections are available via Diamond and any retailer wanting to build up a kid-friendly section of their store should give them a try.
* So, with this development I suppose we can all say goodbye to any chance of anyone reviving the original Moon Girl created by Max Gaines, Gardner Fox and Sheldon Moldoff for EC Comics back in 1947.
The opinions expressed in this column are solely those of the writer, and do not necessarily reflect the views of the editorial staff of ICv2.com.