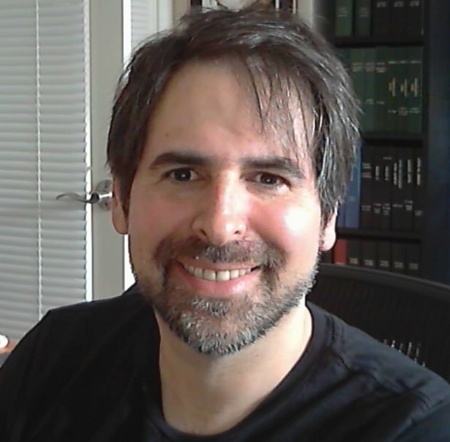 While mainstream comics franchises and big-time conventions are having an obvious effect on the pop culture economy, the artform of comics is enjoying its own period of unprecedented vitality. Artists working at the extreme edges of the medium, eschewing broader distribution options in favor of handmade mini-comics and extremely limited press runs, are powering a groundswell of local comic arts activities, and these places are great for finding exciting new work that's completely under the radar.
The last couple of weeks, I was able to attend the Short Run Comix and Arts Festival in Seattle (October 31) and Comic Arts Brooklyn in New York (November 7-8). I don't go to a lot of small press shows so I was not entirely sure what I'd find beyond the few familiar names I recognized.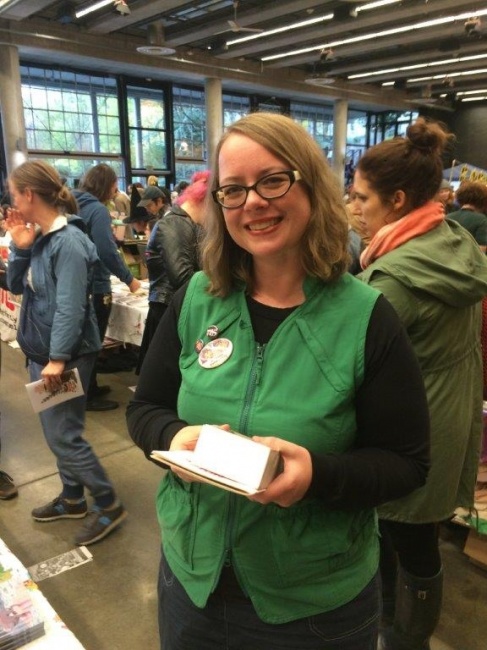 Short Run
was founded in 2011 by Eroyn Franklin, Kelly Froh, and Janice Headley to promote the local Seattle comics scene. The 275 exhibitors at the 2015 edition were highly curated and designed to reflect a mix of well-known and emerging talent, diverse demographics and, above all, quality work. This year's event took place in a large meeting space at Seattle Center (by the Space Needle).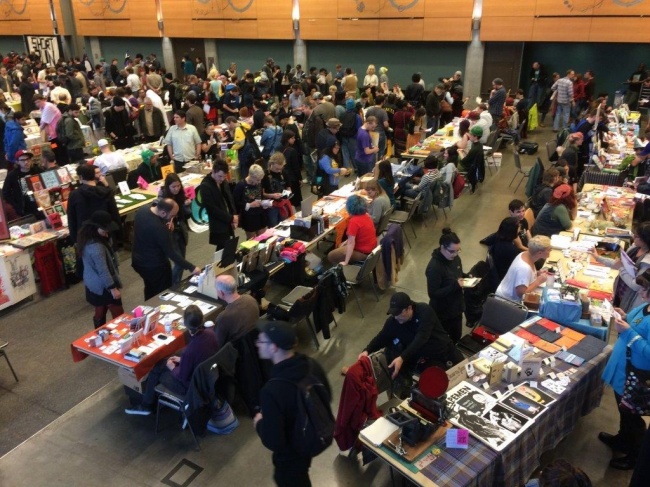 Despite the murky weather, the venue was packed when I arrived in the early afternoon and remained busy throughout the day. Organizers say the event drew 2,700 attendees altogether, up several hundred from the previous years. There were quite a few cosplayers in attendance but not for the usual reasons: ShortRun this year took place on Halloween.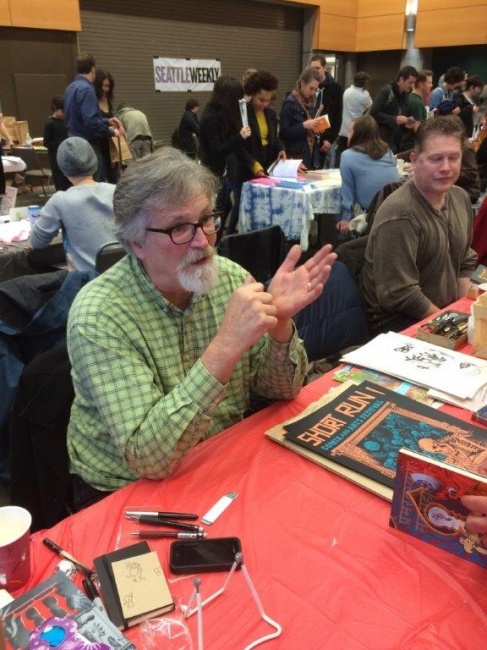 Established artists like
Jim Woodring
(
Frank
),
David Lasky
and
Frank Young
(creators of the Eisner Award-winning graphic novel
The Carter Family: Don't Forget This Song
),
Donna Barr
(
Desert Peach
),
Roberta Gregory
(
Bitchy Bitch
) and
Linda Medley
(
Castle Waiting
) were on hand, as well as other pillars of the local arts community.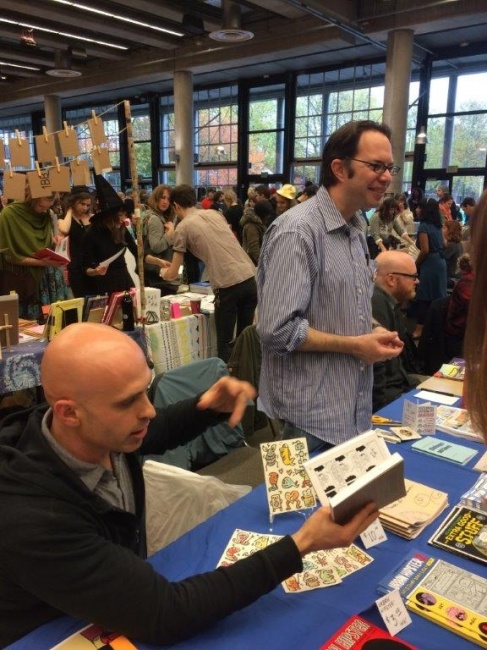 While their work is always enjoyable, I discovered a couple of other real gems at the show. Artist and educator
Greg Stump
released his long-awaited graphic novel
Disillusioned Illusions
on the Fantagraphic Underground imprint (wait, isn't Fantagraphics already underground?). The book consists entirely of a dialogue between two silhouettes against a white background, and continuously discovers new meanings for the term "negative space." The closest analogue in comics is, perhaps, the mid-60s work of Jules Feiffer, but taken to an even further extreme of absurdity and minimalism.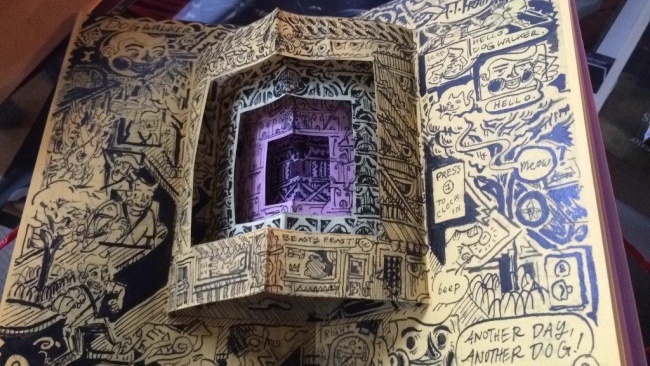 New Yorker
A.T. Pratt
surely takes the prize for innovative storytelling with his handmade
PopPupDogDay
mini-comic. The 32-page comic features a pop-up centerfold – an effect achieved by cutting out pieces of the underlying pages to create a textured 3D effect. You read the book from the center in, flipping back the pages to reveal new story underneath. In an era when digital technology is seen as the main vehicle for creating new, interactive reading experiences, Pratt shows what can be done with paper, scissors and a powerful imagination.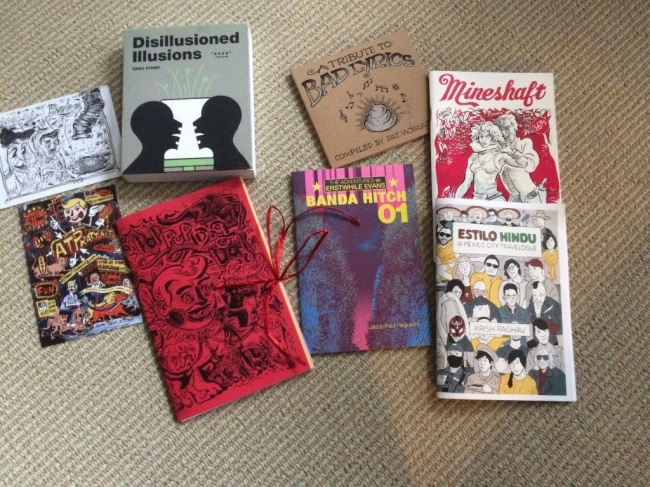 Finally, I grabbed an interesting looking mini-comic called
Estilo Hindu
, about the author's experiences travelling to Mexico City, mostly because I'd recently been there myself and was interested in his take on it. I didn't realize at the time that the creator,
Krish Raghav
, was the winner of the first annual
Dash publishing grant
and had come all the way from Beijing to be at Short Run and exhibit his work at the Fantagraphics Gallery. Despite its humble format,
Estilo Hindu
is a major work and Raghav is a talent to be reckoned with. I wouldn't be surprised to see this or another piece by him turn up in an upcoming Best Comics of the Year anthology.
Comic Arts Brooklyn, organized by Desert Island Comics owner Gabe Fowler, offered a similar experience with a different crowd of creators. The main event took place over two days: an exhibition day in Williamsburg on Saturday with items for sale, followed by a day of panel discussions on Sunday at the Wythe Hotel, surrounded by related comics exhibits and activities at various sites around town.
I was only able to be there for a quick jaunt around the two-room exhibit area on Saturday. Notable folks included Charles Burns, Dan Clowes, Derf Backderf, Julia Werz and Denis Kitchen, who all had some new or unusual items on offer.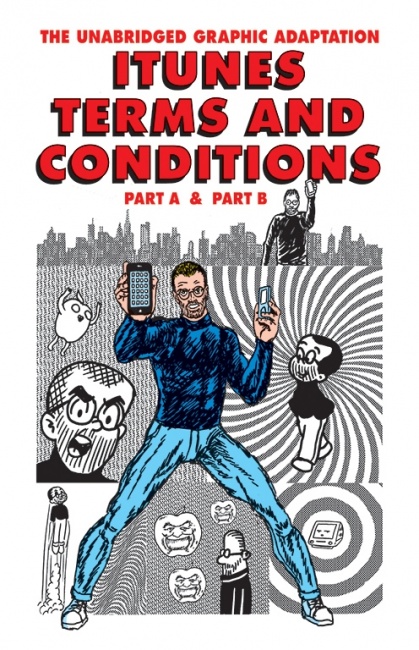 One of the most popular books at this show was a
limited, hand-reproduced edition
of the (wait for it…)
iTunes Terms and Conditions
as illustrated by the genius
R. Sikoryak
. The digital version had been filtering out from Sikoryak's Tumblr for most of the week, captivating fans and
outside observers
by accompanying the mind-numbing legalese from Apple's End User License Agreement with Sikoryak's interpretations of the styles of dozens of iconic comic artists.
The print copies were hastily created for CAB from Queens-based micropress Ink Brick. They informed me that one of their first customers of the day was an attorney from Apple. While at their table, I picked up a copy of their comic-based poetry journal Ink Brick (now up to #5), which features some creative original and adapted works in illustrated form.
I also discovered some wonderful artwork by Nicole Rifkin and Magda Boreyszka, neither of whom I had heard of before the show.
To someone who had been to way too many "everything Cons" in the past 12 months, both Short Run and CAB were great ways to reconnect with the creativity of comics in intimate settings devoid of hype and commercialism.
These shows and the works they feature are so disconnected from the world of "mainstream" comics as to be the products of a completely different industry: one that by its scale and nature is likely to be impervious to any bubble or backlash that might be coming at the high end of the business. But for the moment, it's great to be living in a world that can economically support comics as both an entertainment medium and an artistic platform.
Click any image for larger view.
--Rob Salkowitz (@robsalk) is the author of Comic-Con and the Business of Pop Culture.
The opinions expressed in this column are solely those of the writer, and do not necessarily reflect the views of the editorial staff of ICv2.com.