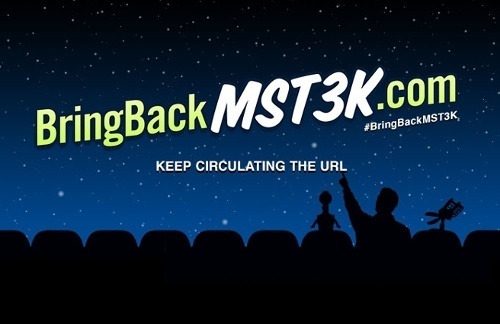 Confessions of a Comic Book Guy is a weekly column by Steve Bennett of Super-Fly Comics and Games in Yellow Springs, Ohio. This week Bennett looks at the reaction to the Mystery Science Theater 3000 Kickstarter.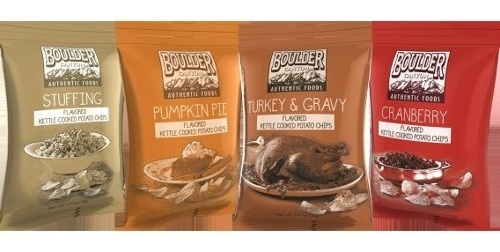 It's Thanksgiving again, that mid-point in the holiday Slalom where I present my traditional tirade about the virtues of gratitude and appreciation, and the lack thereof. This year I find myself particularly grateful for Boulder Canyon's line of Thanksgiving potato chips; oh, sure, the usual suspect flavors, Pumpkin Pie, and (ugh) Cranberry, are present. But then you can't go two feet in a Kroger's without running smack into something that's been inserted with pumpkin or cranberry. What makes them really special is there's also Turkey and Stuffing flavors. I guess what I really appreciate is that someone has finally woken up to Turkey's endless marketing potential. For instance, everyone loves turkey skin, but why can't I find any Turkey Jerky? Or, heaven's sake, there should at least be Cream of Turkey soup…
But being a big
Mystery Science Theater 3000
fan (when the online site Paste asked "
Is Mystery Science Theater 3000 The Best Science Fiction Show of All Time
" I didn't hesitate to say "yes"), I'm most grateful for the news that Joel Hodgson's Kickstarter has already raised enough money to make at least three new episodes of the show. To me, that's just shy of being an actual miracle. So naturally I was somewhat taken aback by the large number of supposedly hardcore MSTies (which is what we call ourselves) on Facebook whose comments were generally along the lines of that classic
MST3K
meme "It Stinks!"
Every aspect of the project, from who the new host would be to the ethics of doing a Kickstarter to whether other former cast members would participate in the new version, seemed to be met with a steady chorus of "mehs" and "fehs." It was as if they had all somehow completely bypassed anticipation and had gone straight into a protective posture of presumptive disappointment.
Not that I couldn't sympathize with them, at least a little. Recasting and contemporizing a beloved television franchise can be a perilous process; it's something that's very difficult to get right and very easy to get really wrong. I place in evidence the happily all but forgotten
New Monkees
and
The All-New Captain Kangaroo Show.
The latter was produced by Saban, yes, the
Power Ranger
people, in partnership with Busch Entertainment, a subsidiary of Anheuser-Busch. That's right; this remake of a classic children's show was brought to kids essentially by beer. They tried to get the original Captain, Bob Keeshan, to participate by dangling a promotion to Admiral in front of him, but after seeing sample episodes he rightfully wanted nothing to do with it.
Of course, there was also a good number of these fans convinced there shouldn't be a "new host," that the new show could possibly be any good unless it featured original host Joel or his replacement Mike. Of course everyone wants the old gang to get back together until they actually do; the results are almost universally both dismal and sad. I place into evidence such made for tv movie remakes/revivals as
The Return of the Man From U.N.C.L.E.: The-Fifteen-Years-Later Affair, Bring Me The Head of Dobie Gillis, The Patty Duke Show, Still Rockin' In Brooklyn Heights, Return to Green Acres, Get Smart, Again!
and (of course) the legendary
Harlem Globetrotters On Gilligan's Island
.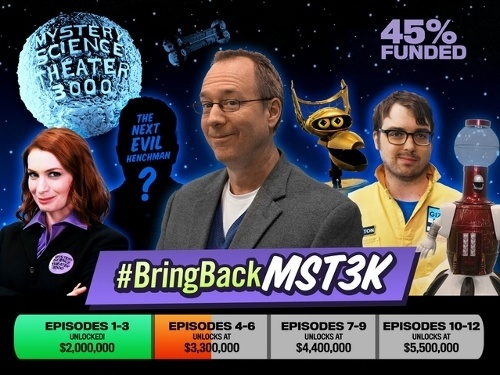 For the record the new host is will be Jonah Ray, one of the hosts of
The Nerdist Podcast,
while Geek favorite Felicia Day set to be the new Mad Scientists and comedians Hampton Yount and Baron Vaughn will be the voices of Crow and Tom Servo, respectively. They'll announce who'll be playing Felicia's evil henchmen this Monday. So clearly this is going to be very much a Millennial Mystery Science Theater.
The ultimate goal of the Kickstarter is reach $5.5 million, which will guarantee a full 12 episode season. And I'm guessing that a lot of donations will be rolling in on Thanksgiving. Not only does it make the 27th Anniversary of the show, it's also "Turkey Day," the third annual streaming event where starting at noon six classic episodes of
MST3K
will run with new segments with Joel and the 'bots. It's running on both the Official
MST3K
YouTube Channel and Yahoo Screen, and if you've never seen the series, well, watching it would pretty much have to be better than The Westminster Dog Show.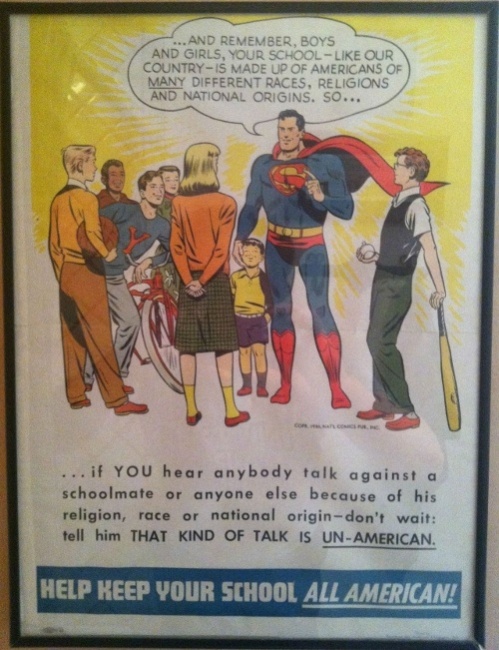 And finally his 1960's PSA ad that first appeared in June, 1960 DC Comics by Jack Schiff and Curt Swan to honor the UN World Refugee Year has been popping up lately all over the internet for obvious reasons. I know that these sorts of things are considered to be irredeemably hokey and overly simplistic, but I'd like to think its message is just as true today as it was back then.
The opinions expressed in this column are solely those of the writer, and do not necessarily reflect the views of the editorial staff of ICv2.com.