This week's home entertainment offerings include the big hit (Mission Impossible: Rogue Nation), the middle-of-the-pack performer (Maze Runner: The Scorch Trials), the disappointing sequel (Ted 2), and the outright bomb (The Fantastic Four).
Theatrical Movies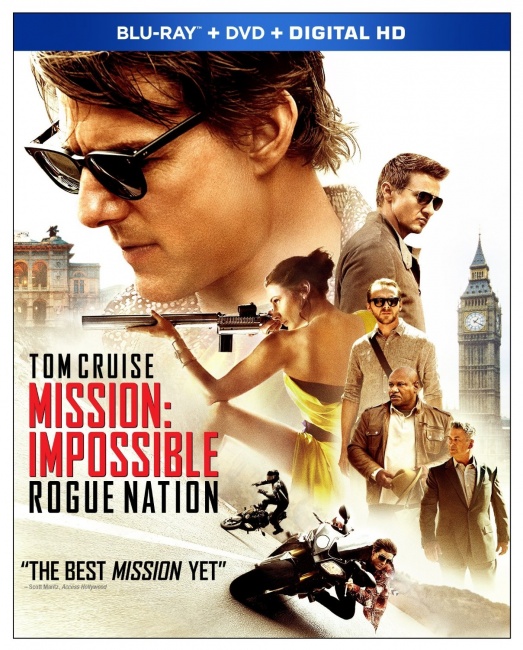 This week's highest-grossing release is
Mission Impossible: Rogue Nation
(Paramount, "PG-13," 131 min., $29.99, BD $39.99). Written and directed by the talented Christopher McQuarrie,
Rogue Nation
earned an exceptional rating of 92% positive on review aggregator Rotten Tomatoes. Highbrow cinema fanciers may find the proceedings here too predictable, but action movie buffs will not be disappointed by the fifth entry in a franchise that still appears to have some serious momentum left.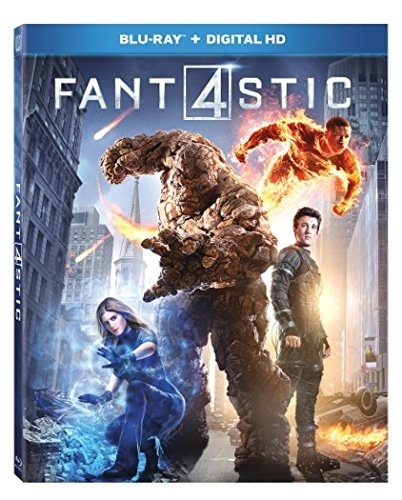 At the other end of the success spectrum is Josh Trank's ill-fated attempt to reboot
The Fantastic Four
(Fox. PG-13, 100 min., $29.99, BD $39.99). Trank disowned the film on Twitter and blamed the studio, but no matter who is at fault, this film, while not as bad as the reviews suggest, failed utterly to restore this key comic book franchise, and is recommended only for comic book movie completists. The good news is that this was Fox's third less-than-successful attempt to create an
FF
film, which means that the rights could (and definitely should) return to Marvel at some point.
The Maze Runner is yet another post-apocalyptic YA novel series that has spawned a series of movies that target the teen audience. Unlike the case with The Hunger Games however, the chief protagonists in The Maze Runner are males—and, judging from the box office results, at least where teen-seeking post-apocalyptic movies are concerned, girls rule and boys drool. Will Hollywood ever get the message and start producing more films for women of all ages again?
Seth MacFarlane's Ted, an unlikely R-rated comedy about a foul-mouthed talking Teddy Bear, was one of the unlikely hits of 2012, earning over $218 million just in North America. But in spite of the return of Mark Wahlberg and his potty-mouthed plushie, Ted 2 (Universal, "R" in theaters, the DVDs are "Unrated," 243 min., $29.94, BD $34.98) was unable to recreate box office magic of its predecessor. Your interest in, or avoidance of, this movie should be predicated on your tolerance for scatological, sexual, and stoner humor. This is one of those film where they throw every possible joke at the wall—a few of them stick, so your enjoyment of the film is a matter of your tolerance level, and how desperate you are for a laugh (for there are some here).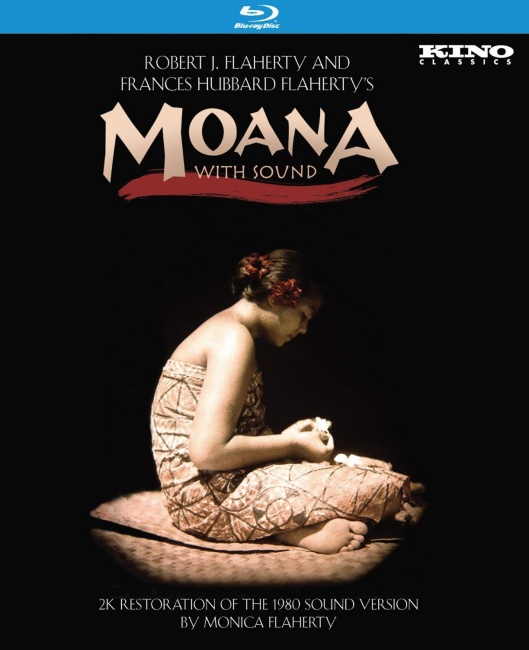 The most interesting vintage movie release of the month is a new version of Robert Flaherty's 1926 documentary
Moana
. For
Moana With Sound
(Kino, "Not Rated," 98 min., BD $29.98), Flaherty's daughter Monica returned to the Society Islands and recorded traditional music and dialogue to fit her father's film, and the result is a richer more complete film. It is interesting to note that in the 1920s movie documentaries could rival fictional films in popularity, something that is hardly the case now. Flaherty (
Nanook of the North
) was a pioneer of the anthropological film, and though he took liberties (resurrecting rituals that had become obsolete and asking his subjects to dress in their native costumes), there is a "poetic truth" in this attempt by the filmmaker to capture the customs and traditions of a lost world, and there is also plenty of beauty here that is greatly enhanced by the traditional music.
TV on DVD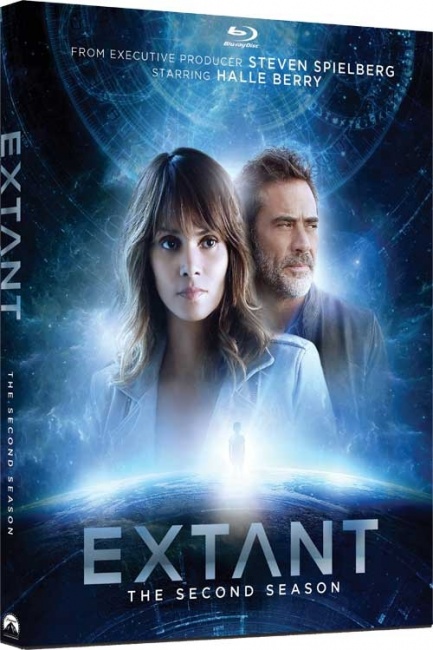 It's pretty slim pickings in the TV category this week. The top geek offering is
Extant: The Second Season
(Paramount, 550 min.,$64.99, BD $76.99), which collects the second 13-episode CBS summer science fiction series starring Halle Berry as an astronaut who returns (inexplicably pregnant) from a 13-month solo space flight.
Netflix has garnered wide praise for many of its releases (most notably its two fine Marvel Comics-based series), but the streaming service has had an occasional misfire like Marco Polo: Season 1 (Starz, 547 min., $39.98, BD $49.98). Produced by the Weinstein Company, this Marco Polo series is actually a bit better than the critics rated it—especially if you like old school miniseries with plenty of pageantry to go along with the all-too-predictable narrative tropes.
Also out this week is House of Anubis: Season 1 (Nickelodeon, 641 min., BD $24.99), the live-action teen drama set in a British boarding school that airs on the Nickelodeon network. Another kid-targeting show due out on Tuesday is the ninth season of the "super sentai" series Power Rangers. Power Rangers Time Force: The Complete Series (Shout Factory, 870 min., $19.97) collects all 40 episodes of the ninth season of the American Power Rangers series. Yet another teen-targeting drama is Teen Wolf: Season 5, Part 1 (Fox, 440 min., $29.98), which collects the first half of the latest season of the MTV horror series that is based on the 1985 Teen Wolf film.
For fans of vintage TV this week's top offering is Barnaby Jones: The Complete Collection (VEI, 6700 min., $200.00), which collects the groundbreaking private detective series that starred Buddy Ebsen and lasted for 8 seasons of CBS where it introduced many of the forensic elements that have dominated modern crime shows.
Anime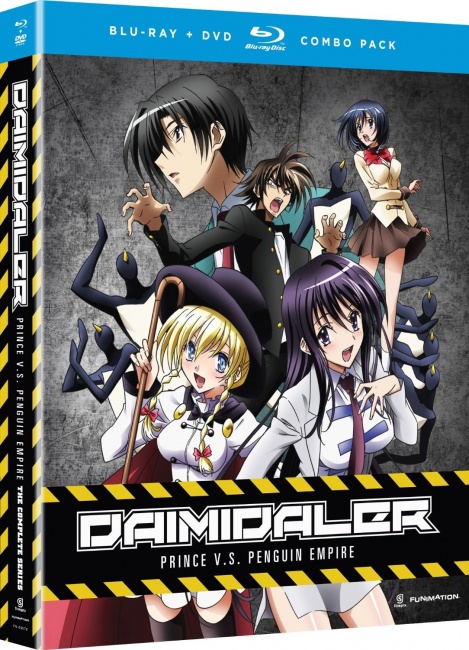 Among this week's notable releases is the mecha comedy
Daimdaler: Prince vs. the Penguin Empire
(Funimation, 300 min., DVD/BD Combo $64.98), which collects the 12-episode 2014 TNK series adapting Asaki Nakama's
seinen
manga about a perverted teen boy, who possesses Hi-Ero particles needed to power the robot Daimdaler—particles that he obtains by groping females, so be aware that this anime will provide plenty of fan service.
Also out this week is One Piece Season 7, Voyage 4 (Funimation, 300 min., $39.98), which contains episodes 422-433 of the rollicking pirate saga, which remains one of the most popular anime series in Japan where it has reached 722 episodes (and is still ongoing).
Another anime TV series debuting here on disc this week is Chaika: The Coffin Princess—Season One Collection (Sentai Filmworks, 300 min., $59.98, BD $69.98), which collects the 12-episode 2014 Bones series based on the action/fantasy light novels written by Ichiro Sakai that is set in the aftermath of a 300-year long war that has finally seen the dissolution of the Gaz Empire.
Yet another offering of interest is the anime movie, Hayate the Combat Butler! Heaven Is a Place on Earth (Sentai Filmworks, 70 min., Subtitles Only!, $29.98, BD $39.98), a 2011 film produced by Manglobe and based on the popular action-packed harem comedy manga by Kenjiro Hata.
Vintage anime offerings this week include the Blu-ray debut of the classic 1989 anime film The Venus Wars (Discotek Media, 102 min. BD $29.98) based on the science fiction manga by Yaoshikazu Yaushiko (published here by Dark Horse), the BD debut of the 1982 TMS anime film Space Adventure Cobra (Discotek Media, 100 min., BD $29.95), and the 1994 anime movie Street Fighter II: The Animated Movie (Discotek Media, 102 min., $19.95), which adapted the popular martial arts video game.
This week's re-priced re-release is the Majestic Prince Complete Collection (Sentai Filmworks, 600 min., $79.98, BD $99.98), which includes both seasons of the anime series produced by Dogakobo in 2013. Each of the seasons was previously released at ($59.98, BD $69.98) each.