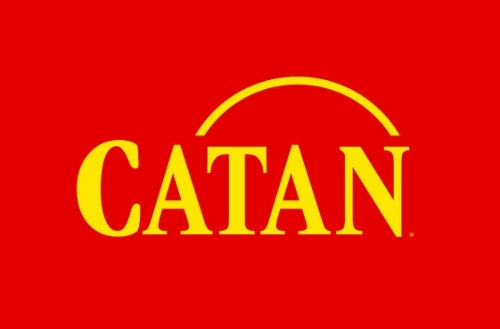 Rolling for Initiative is a weekly column by Scott Thorne, PhD, owner of Castle Perilous Games & Books in Carbondale, Illinois and instructor in marketing at Southeast Missouri State University. This week, Thorne takes a look at the the recent creation of Catan Studios and its joining with Asmodee NA.
Asmodee NA just keeps making news in the game industry. Following its announcement that the newly formed umbrella company, consisting of Asmodee, Days of Wonder and Fantasy Flight Games, would reduce, or in the case of Days of Wonder expand, to five distributors, now comes the announcement that the newly created Catan Studios will join the company. So, what does this mean to you?
First, a bit of history.
Catan
was released as
Settlers of Catan
by Kosmos in Europe in 1995. American game publisher Mayfair Games acquired the English publishing rights at the same time and has produced the English version of
Catan
and its myriad spinoffs since then. In 2012, Mayfair Games signed an exclusive distribution agreement with Alliance Distribution, making Mayfair Games' products only available directly from the company or through Alliance (see "
Mayfair Games Goes Exclusive with Alliance
"). The
Catan
line is easily Mayfair Games' bestsellers, accounting for over 90% of Mayfair Games' sales in some stores.
Catan Studios
The company launches with arguably the most recognizable board game brand in the specialty game industry. Even after 20 years, the base
Catan
game was still our best-selling board game, in terms of units, during the past holiday season. Since the company's principals come from Mayfair Games, they should have a solid grounding in what has made
Catan
successful over the past two decades and I would expect to see them continue successful promotions such as the Catan Big Game and the National Championships and possibly more licensing beyond
Star Trek Catan
(see "
ICv2 Interviews Catan Studio CEO Pete Fenlon
").
Game of Thrones Catan
, anyone?

Mayfair Games
The separation could benefit the company. The Catan line has always been the tail wagging the Mayfair dog. While the company has always produced great games, such as Steam, Empire Builder, Nuns on the Run and Family Business, the focus on Catan has generally overshadowed them. Having Catan Studios focusing on the Catan line allows Mayfair to devote more resources to promoting its other game lines.

Asmodee NA
The company adds another strong board gaming brand to its portfolio, making the company arguably the strongest board game company in the specialty game industry. On my most recent trips to Target and Toys R Us, I saw more Asmodee NA games on the shelves than I did games from Rio Grande, Z-Man or even Wizards of the Coast. One will be hard pressed to go into any game store, save those that focus strictly on TCGs, and not find Asmodee NA represented on the shelves.

Distributors
Alliance Game Distributors takes a second hit in less than a month, having already lost the exclusive rights to distribute Days of Wonder games on January 1 and now Catan. Once the transition period has elapsed, Alliance will still distribute Catan Studios and other Asmodee NA lines but will share distribution sales with Southern Hobby, GTS, ACD and PHD. Given the popularity of the Asmodee NA lines, this will drive more retailers to consolidate orders with these five distributors, pulling sales away from smaller distributors.

Retailers
Stores get more options for buying Catan. When Mayfair Games signed the exclusive distribution agreement with Alliance in 2012, a number of retailers shifted more orders to Alliance in order to stock Catan, and the other exclusive lines the company carries. Having Catan available from multiple distributors should make restocking easier for those stores that do not deal regularly with Alliance.

Customers
They should find Catan even more available than it already is, as stores have more sources from which to acquire it. Mayfair Games has a fairly robust Minimum Advertised Price police in place, only selling to stores that signed the MAP agreement by which the store agreed to not advertise discounts on Mayfair products greater than 20% without prior approval. While Asmodee NA CEO Christian Petersen indicated that no new Minimum Advertised Price policies would be instituted (see "ICv2 Interview: Asmodee North America CEO Christian Petersen, Part 2"), there's been no firm indication yet from Asmodee NA as to whether the company will maintain Mayfair's policy, so customers may see more aggressive discounting on Catan products unless it does.

The opinions expressed in this column are solely those of the writer, and do not necessarily reflect the views of the editorial staff of ICv2.com.