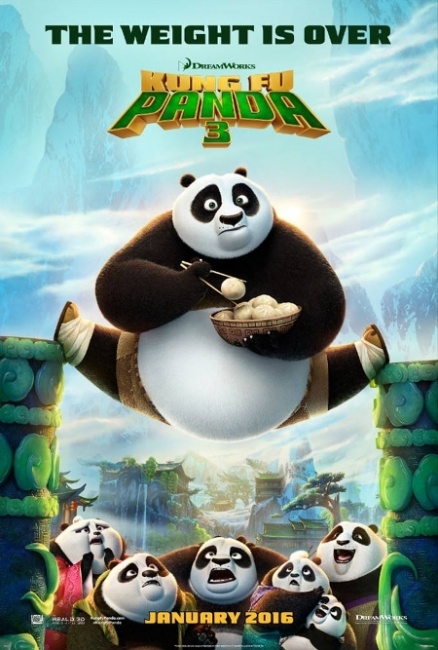 Kung Fu Panda 3
debuted at the lower end of expectations with an estimated $41.7 million, but it was still enough to set a new January record for an animated release. Three other newcomers,
The Finest Hours, Fifty Shades of Black
, and
Jane Got a Gun
opened weakly, but a strong list of holdovers (and pent-up demand from last weekend's snow-out on the East Coast) helped push the box office for the top 12 films to a 46% gain over the same frame last year when
American Sniper
topped the box office for the fourth weekend in a row with $30.6 million.
The first
Kung Fu Panda
movie debuted with $60 million in 2008 followed by
Panda 2,
which earned $47.7 million over the Fri.-Sun. portion of the Memorial Day weekend in 2011. While
Panda 3's
$41.7 million debut was on the low side of expectations, considering the fact that it bowed during the last weekend in January, it can't be considered a bad showing.
Meanwhile, as will be the case with an increasing number of Hollywood films in the future,
Kung Fu Panda 3
was a co-production with the Chinese—and it opened simultaneously in both the U.S. and in the Middle Kingdom, where it brought it $58.3 million, which represents the biggest animated film debut ever in China. The $145 million production has earned $116.7 million worldwide so far. A solid debut, but the film needs to continue to do well in China over the coming holidays to ensure success and overcome any franchise fatigue here in the States.
Kung Fu Panda 3's
domestic prospects should be buoyed by a solid "A" CinemaScore from opening weekend audiences, which were made up in large part by families (70%), and by the fact that no major family-oriented animated film is slated to open in the next five weeks.
Alejandro Inarritu's
The Revenant
, which stars Leonardo DiCaprio, slipped to #2, but it dropped just 22.5% and still brought in an estimated $12.4 million to drive its domestic total to $138.2 million, giving it the biggest box office of the major Oscar nominees that are still in more than 100 theaters.
The Revenant
had the smallest drop among the top 10 holdovers, but all the films posted strong holds (thanks in large part to last week's low, snow-challenged numbers), with
Ride Along 2
(-33%) and
13 Hours
(-33.6%) showing the biggest drops.
Star Wars: The Force Awakens
slid just 23.4% as it earned $10.8 million, driving its domestic total to $895.4 million. Needless to say
The Force Awakens
will pass the $900 million mark (domestic) and the $2 billion (worldwide) this weekend as its global total is now 1,983 million.
Weekend Box Office (Studio Estimates): January 29-31, 2016

Film

Weekend Gross

Screens

Avg./Screen

Total Gross

Wk#

1

Kung Fu Panda 3

$41,000,000

3,955

$10,367

$41,000,000

1

2

The Revenant

$12,400,000

3,330

$3,724

$138,171,368

6

3

Star Wars: The Force Awakens

$10,782,000

2,556

$4,218

$895,426,162

7

4

The Finest Hours

$10,327,000

3,143

$3,286

$10,327,000

1

5

Ride Along 2

$8,345,520

2,412

$3,460

$70,775,210

3

6

The Boy

$7,894,000

2,671

$2,955

$21,527,916

2

7

Dirty Grandpa

$7,575,000

2,912

$2,601

$22,821,010

2

8

The 5th Wave

$7,000,000

2,908

$2,407

$20,188,149

2

9

Fifty Shades of Black

$6,186,648

2,075

$2,982

$6,186,648

1

10

13 Hours: The Secret Soldiers of Benghazi

$6,000,000

2,803

$2,141

$42,573,845

3

Disney's The Finest Hours, a true life Coast Guard rescue saga starring Chris Pine (Star Trek), posted the second best debut among the newcomers with an estimated $10.1 million. This debut looks a lot like that of Ron Howard's period true life sea adventure In the Heart of the Sea, which bowed recently with $11 million and ended up with a total of just $24 million in the domestic market. The Finest Hours, cost a little less than In the Heart of the Sea ($80 million vs. $100 million), but it could well share the same box office fate. The Finest Hours did manage an OK "A-" CinemaScore from an audience that has to be described as "older" (60% over 35, 31% over 50). If nothing else the weak debut of The Finest Hours demonstrates that Chris Pine's box office appeal, when appearing as anyone other than Captain James. T. Kirk, is still quite limited.

The only other newcomer to make the top ten was Marlon Wayan's 50 Shades of Gray parody, 50 Shades of Black, which debuted at #9 with just $6.2 million. With a production cost of around $5 million, there is little doubt that 50 Shades of Black will make its money back, but Wayan's series of parodies appears to be losing steam big time, when one compares the opening of 50 Shades with A Haunted House's $18 million debut in January of 2013.

The final widely released newcomer was the troubled "feminist western" Jane Got a Gun starring Natalie Portman, which debuted in 1210 theaters and earned just $830,000, the worst debut in Portman's career. Brian Duffield's script made the "black list" of best unproduced screenplays in 2011, and there was some buzz around the project as it was developing. Scottish director Lynne Ramsay was slated to direct the film, but left in 2013 and was replaced by Gavin O'Connor. The film, which was caught up in the demise of Relativity Media, was originally supposed be released in 2014, and then rescheduled for 2015, before finally landing without fanfare or any major publicity on the last weekend of January in 2016—a perfect prescription for box office disaster. It's probably not as bad as its pitiful box office numbers suggest, but if you want to see it in a theater, you had better hurry up.

Be sure to check back here next week to see what happens to a trio of newcomers including the Coen Brothers' period comedy Hail Caesar, the Jane Austen mash-up Pride and Prejudice and Zombies, and The Choice, yet another adaptation of a Nicholas Sparks' romance novel.