This week's home entertainment offerings include a solid animated feature that is likely to please the little ones, two of the best films about the "war on terror," some rare De Patie Freleng animated segments from the 1970s, and a full slate of anime releases.
Theatrical Movies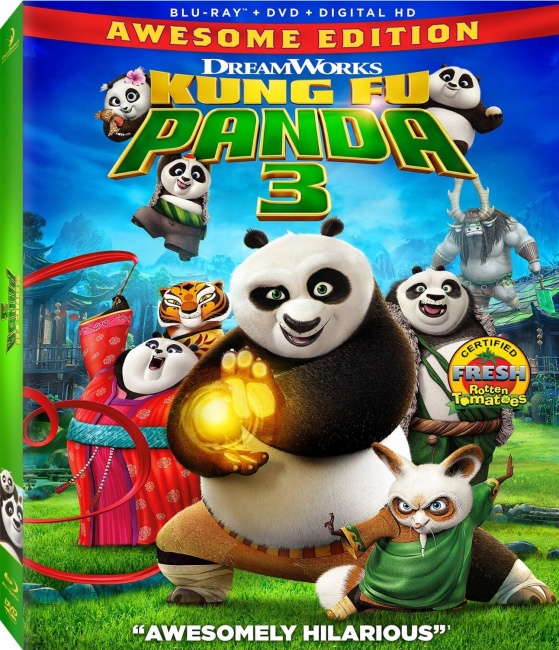 There are not a lot of releases this week, but there are some good ones, starting with
Kung Fu Panda 3
(Fox, "PG," 95 min., $29.99, BD $36.99), the latest film in Dreamworks Animation's most visual stunning franchise. The third film in the franchise also has a satisfying narrative and proved to be one of the better animated films of the past year, earning a solid 86% positive rating on review aggregator Rotten Tomatoes, a very good rating for the third film in any series. There is nothing groundbreaking here, just solid entertainment that both kids and their parents can enjoy.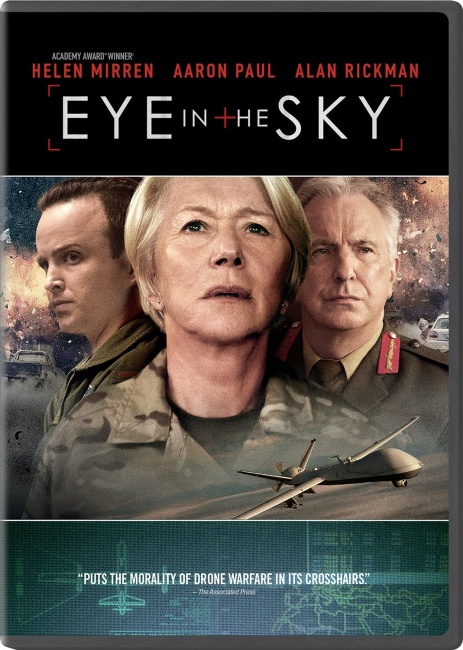 Adults also have some interesting choices this week including
Eye in the Sky
(Universal, "R," 103 min., $29.98, BD $34.98), which stars Helen Mirren in a tense drama that raises all sorts of moral and ethical questions about the drone warfare that the United States and its allies are employing to fight terrorism. There are no easy answers to the dilemmas raised by this film, which earned an exceptionally good 95% positive rating on Rotten Tomatoes.
Another film that deals with the never-ending "war on terror" is Whiskey Tango Foxtrot (Paramount, "R," 111 min., $29.99, BD $39.99), which stars Tina Fey in a true life adventure based on the experiences of American newspaper reporter Kim Barker. Despite the comedic talents of its star, Whiskey Tango Foxtrot is not a comedy—and Paramount's attempt to sell the film as such was a big mistake that cost the film at the box office where it just earned $23.1 million. Still this film, which in spite of its inconsistent tone does have some important points to make about how the War in Afghanistan was covered in the American press, and Eye in the Sky are among the most interesting and thought-provoking films to come from our recent wars, and are well-worth checking out on DVD (or streaming).
TV on DVD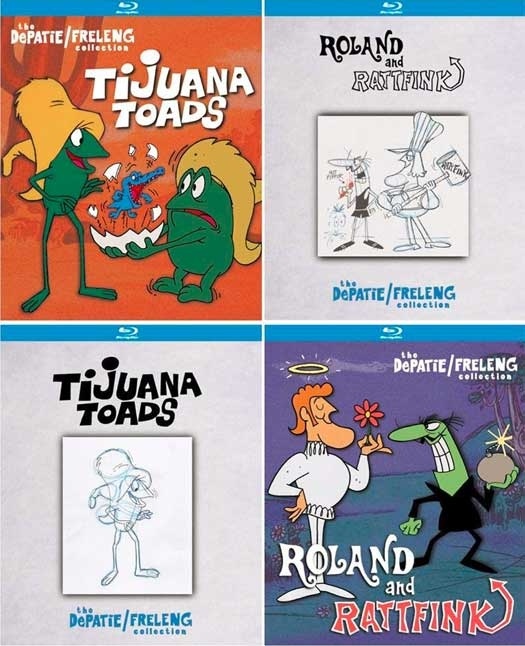 There are no current American TV shows with releases this week, but animation fans will have a number of vintage offerings to choose from including collections of the individual segments from the 1970s
Pink Panther Show
such as
The Pink Panther Show: Roland and Ratfink
(Kino Lorber, 107 min., $19.95, BD $29.95), and
The Pink Panther Show: Tijuana Toads
(Kino Lorber, 108 min., $19.95, BD $29.95) as well as the live action/animation hybrid
The New Adventures of Huckleberry Finn
(Warner Bros., DVD-R, 472 min., $29.99), which collects all the episodes of the strange Hanna Barbera hybrid series that debuted in 1968.
The lone vintage sitcom release is Two Guys and A Girl: The Complete Series (Shout Factory, 2500 min., $79.97), which collects all 81 episodes of the ABC comedy that debuted in 1998 and featured an excellent cast that included Ryan Reynolds (Deadpool), Traylor Howard (Monk), and Nathan Fillion (Castle).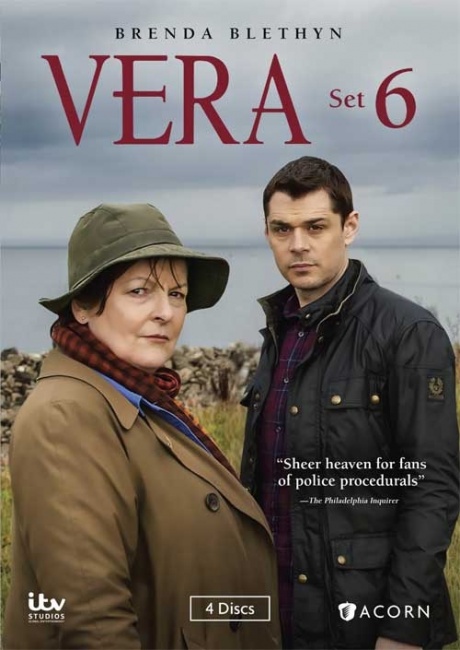 The top release from overseas is
Vera: Set 6
(Acorn Media, 370 min., $59.99), which stars Brenda Blethyn as DCI Vera Stanhope in four feature-length police procedural murder mysteries that are based on the novels of Ann Cleeves, which are set in rural Northumberland. Brilliantly acted and superbly mounted,
Vera
is a show that is little known here, but this character-driven mystery series certainly deserves to gain more recognition on this side of the pond.
Another UK police procedural offering of interest is DCI Banks: Season 4 (BBC, 270 min., $34.98), which includes three feature-length mysteries featuring DCI Alan Banks.
Anime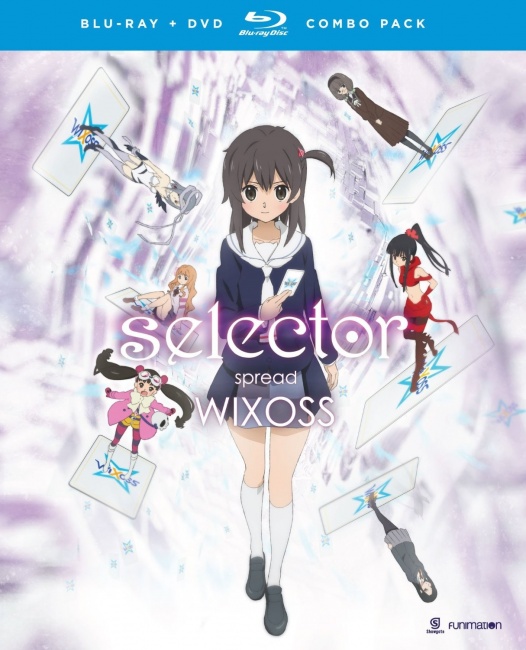 New this week are the 2014 anime series
Selector Spread Wixoss Complete Collection
(Funimation, 300 min., BD/DVD Combo $64.98), which collects the second 12-episode anime series that is based on a trading card game
WIXOSS
(pronounced "we cross"), which is produced by Takara; the 2015
yuri
sci-fi anime series, the
Yurikuma Arashi Complete Collection
(Funimation, 300 min., BD/DVD Combo $64.98), about a planet where bears and people are involved in a constant struggle; and the anime movie
Hakuoki—Demon of the Fleeting Blossom: Theatrical Version—Wild Dance of Kyoto
(Sentai Filmworks, 96 min., $29.98, BD $39.98), which is based on the first season of
Hakuoki
TV anime that gets its inspiration from the samurai-themed historical adventure video game produced by Idea Factory.
Re-priced re-releases include One Piece: Collection 16 (Funimation, 625 min., $34.98), which essentially packages two previous One Piece releases into one 25-episode package; the post-apocalyptic 1990 anime film A Wind Named Amnesia (Discotek, 80 min., $24.95), that was previously released here by Central Park Media; the Pilot Candidate Complete Collection (Discotek, 300 min., $39.95), which collects the 12-episode mecha series from Xebec that aired on the Cartoon Network and was previously released here by Bandai Entertainment; and the Soul Hunter Complete Collection (Discotek, 600 min., $49.98), which collects the 26-episode 1999 Studio Deen series, that was first released here in North America by Section 23 in 2004.