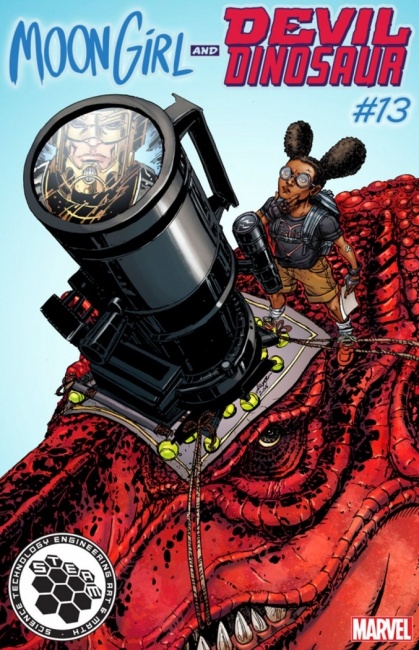 Confessions of a Comic Book Guy is a weekly column by Steve Bennett of Super-Fly Comics and Games in Yellow Springs, Ohio. This week, Bennett discusses Marvel's STEAM (Science Technology, Engineering, Arts, Math) variant covers and education.
Publishers love variant covers, (Understandably. It's a handy way of artificially inflating a comic's print run), and they give collectors and completest something new to chase while not bothering our rank and file customers too much. Retailers, of course, have their issues with them (which I won't go into here but if you're interested just type "Variant Covers" into the ICv2 search engine), but personally I've more or less made my peace with variant covers. At worst, they're a relatively harmless promotional gimmick (Tsum Tsum Takeover, Defenders, Death of X, etc.) and at best they can help bring awareness to important causes. Like breast and prostate cancer and now STEAM (see "Preview: Marvel's 'Steam' Variant Covers").
Getting people, kids especially, more interested in STEAM (Science Technology, Engineering, Arts, Math)* education is a subject of some interest to me (see "Confessions of a Comic Book--A Study In Science"). The news got quite a bit of media attention, everywhere from Popular Science to NPR to the Health Medicine Network website. Of course, there's no way of ever really knowing just what kind of positive impact this kind of story has overall, but if "pre-awareness is priceless" then by definition, awareness must have some value.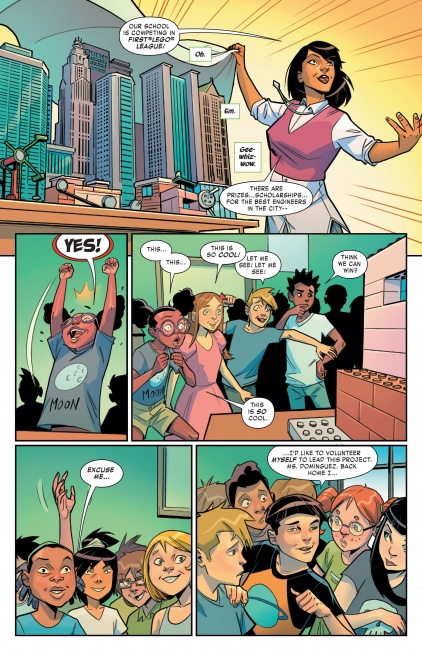 These sorts of messages rarely penetrate past the cover, but recently Marvel has actually done an excellent job of introducing science-positive elements into their comics. For instance, in
Unbeatable Squirrel Girl
#11, our hero uses basic computer science and counting in binary to help defeat a bad guy. Beginning in
Moon Girl and Devil Dinosaur
#7, the class of "pre-teen super genius" Lunella LaFayette gets involved in the First Lego League where there are "...prizes...scholarships...for the best engineers in the city." While it's nearly impossible not to see this as blatant product placement, especially given the relationship between Marvel and Lego (which includes Marvel Lego variant covers this September), according to the First Lego League's website the competition is "inspiring the science & technology leaders of tomorrow" and "challenging kids in over 80 countries to think like scientists and engineers."
But undoubtedly, the most STEAM - friendly Marvel title is Ms. Marvel. Not only does Ms. Marvel #7 take place at "the Tri-State Ultra Mega Science Fair," as outlined in "Ms. Marvel, Champion of Justice" which appeared on thescienceof.org website, her alter ego Kamala Khan is...
"...regularly shown in, or talking about science classes at school (that she likes! I know, right? Popular culture showing a teenage girl liking science! And she's good at it too!). Her friends dig science as well as other classes (that is, they're not shown as stereotypical 'nerds'), and in more than a few cases, Kamala has realized that her science smarts - or those of her friends - were the only way to solve a problem."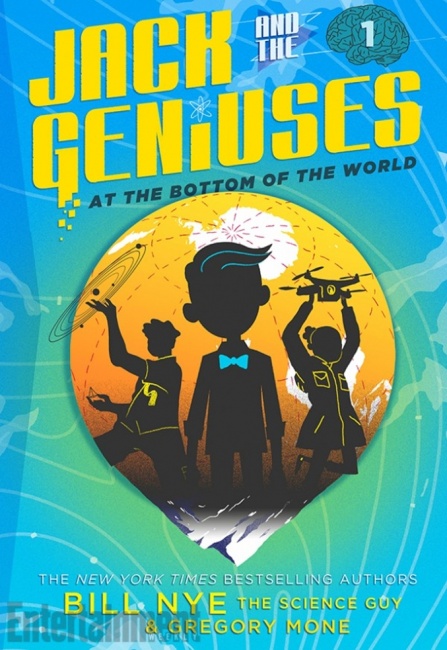 While it's not a comic, I feel like I really should mention "
Bill Nye to Write Middle Grade Science Series
" by Isabella Biedenharn that appeared on the
EW
website. It announced that along with Gregory Mone, Science Guy Bill Nye would be writing a chapter book series,
Jack and the Geniuses.
Nye told
EW,
"Like any kid of any age, Jack and the Geniuses love science and seek adventure. Here's hoping that a few kids read these books and have scientific adventures for the rest of their lives." The first entry in the series,
Jack and the Geniuses at the Bottom of the World,
should be available April 2017. Now, if we could only get Nye to write comics.
A couple of weeks ago I reported that instead of the additional six issues of Mark Russell and Ben Caldwell's political satire Prez that we were promised, the conclusion had been truncated into a 12-page story (see "Confessions of a Comic Book Guy-- Everything's Political"). Well that Prez story has been given a home, it's now the backup of Catwoman: Election Night #1, a 48-page one-shot to be released in November. It's an unappealing chalk and cheese combo of a comic, but I suppose it's better than nothing. But only just.
Finally, this week marks the 9th Anniversary of Super-Fly Comics & Games which is due entirely to Tony Barry and Jared Whittaker. Running a comic book shop may be a labor of love, but it's also a whole lot of just plain labor, and their labor has paid off in the form of one of the best comic book shops in the area.
*The accepted term once was STEM (Science, Technology, Engineering, Math) and the last time I wrote about the subject there was some debate in science and education circles over whether the term should be STEM or STEAM. Several years later there still doesn't seem to be a consensus. Honestly, I don't have a horse in this particular race, but I think I have to agree with a piece by Ryan Benk that appeared August 26th on the WJCT website titled "STEM or STEAM? Jacksonville Teacher Says Best Left Up to Students".
The opinions expressed in this column are solely those of the writer, and do not necessarily reflect the views of the editorial staff of ICv2.com.