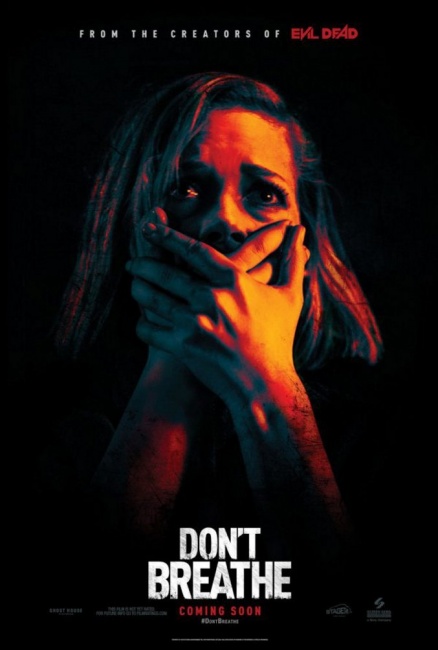 Fede Alvarez's horror thriller
Don't Breathe
topped the box office for the second weekend in a row, only the second time that a horror film has accomplished that feat since 2014. But in spite of strong performances from the holdovers, with no new releases even cracking the top five, the overall box office total for the weekend was down 17% from the same frame last year when
War Room
topped the charts with just $9.5 million. Though the official numbers won't be released until next week, it appears that the summer of 2016 box office total will end up in a dead heat with that of 2015, which at about $4.48 billion was #2 all time behind the summer of 2013.
The well-reviewed
Don't Breathe
earned $15.7 million over the first 3 days of the 4-day weekend, down just 41% from the horror film's debut. When the holiday weekend is over the suspenseful
Don't Breathe
, which was made for just $9.9 million, will have earned $55 million in North America alone, and it appears to be poised to become the top horror release from a summer that saw a major box office revival for the genre.
Now in its fifth weekend,
Suicide Squad
dropped just 18.3% as it earned $10 million over the 3-day weekend. By Tuesday the DC-based supervillain team-up film should have passed the $300 million mark in North America. Overseas the movie has done even better, earning $375 million for a current total of $675 million.
Suicide Squad
opens in its last major overseas territory (Japan) next weekend, and that is its last chance to add to its overseas total.
Third and fourth places went to two well-reviewed and deserving family films, Disney's remake of
Pete's Dragon
and Laika Studio's enchanting stop-motion animated
Kubo and the Two Strings
. Like
Suicide Squad
(and the rest of the top 10 holdovers) the two kid-targeting films suffered small percentage declines (-13% for
Pete's
and -17% for
Two Strings
) from last weekend.
Fifth place went to the R-rated animated comedy
Sausage Party
, which was down 29.6% as it earned $5.3 million to bring the highly successful $19 million production's domestic total to $88.4 million.
Weekend Box Office (Studio Estimates): September 2-4, 2016

Film

Weekend Gross

Screens

Avg./Screen

Total Gross

Wk#

1

Don't Breathe

$15,700,000

3,051

$5,146

$51,123,952

2

2

Suicide Squad

$10,005,000

3,292

$3,039

$297,422,209

5

3

Pete's Dragon

$6,471,000

3,272

$1,978

$64,222,939

4

4

Kubo and the Two Strings

$6,467,000

2,985

$2,166

$34,328,436

3

5

Sausage Party

$5,300,000

2,766

$1,916

$88,446,124

4

6

The Light Between Oceans

$4,984,000

1,500

$3,323

$4,984,000

1

7

Bad Moms

$4,740,000

2,306

$2,056

$102,527,194

6

8

War Dogs

$4,705,000

2,848

$1,652

$35,217,809

3

9

Hell or High Water

$4,500,000

1,303

$3,454

$14,651,633

4

10

Mechanic: Resurrection

$4,276,000

2,258

$1,894

$14,418,786

2

Sausage Party has a good chance of wiggling its way to $100 million, but the R-rated comedy Bad Moms, which dropped 15% in its sixth weekend, has already passed that barrier, as it earned $4.8 million to push its domestic tally to $102.5 million, the 19th film to surpass that benchmark so far in 2016. As predicted here, Bad Moms has demonstrated excellent "legs" and is currently the highest-grossing R-rated comedy of 2016.

Sandwiched in between Sausage Party and Bad Moms was this weekend's top new release, The Light Between Oceans, a romantic period drama starring Michael Fassbender and Alicia Vikander and based on M.L. Stedman's novel, brought in $4.9 million from just 1500 theaters. The $20 million production, which has a 61% positive rating on review aggregator Rotten Tomatoes, received an OK "B+" CinemaScore from opening weekend audiences that were predominantly female (66%) and older (91% over 25, 50% over 50).

This weekend's other new release, the low-budget ($8 million) science fiction film Morgan debuted in 17th place, earning just $1.96 million from over 2000 theaters, the seventh worse debut all-time for a film bowing in more than 2 thousand venues. Morgan, which was directed by Luke Scott (son of Ridley Scott), earned a poor "C+" CinemaScore, dimming any future prospects.

The Spanish language film No Manches Frida posted the best per-theater average in the Top 25, earning $3.65 million from just 362 theaters, and mention should be made of the excellent action/crime film Hell or High Water, which has now expanded to 1300 theaters and moved into the top 10 as it earned $4.5 million to bring its domestic total to nearly $15 million, making it the #1 "platform release" of 2016 so far.

Be sure to check back here next week as the "serious" fall movie season gets underway with the release of the true-life adventure film Sully starring Tom Hanks, the animated feature The Wild Life, and the suspense thriller When the Bough Breaks starring Morris Chestnut and Regina Hall.