Confessions of a Comic Book Guy is a weekly column by Steve Bennett of Super-Fly Comics and Games in Yellow Springs, Ohio. This week, Bennett talks about pop culture events linked to Thanksgiving that have special meaning to him.

As previously established, I'm a big fan of Thanksgiving. For a seasoned aficionado of inflatables such as myself, I must confess, initially I was utterly underwhelmed by the lineup of balloons set to debut for this, Macy's Thanksgiving Day Parade's 90th Anniversary year. For starters, two are just old balloons which have been given makeovers, Greg Heffley of the Diary of a Wimpy Kid books has gotten a new wardrobe and instead of kicking a football, Good Ol' Charlie Brown is now tangled up in kite string in the Peanuts one. Among the few that are actually new is the DreamWorks Trolls movie one which features not one, but a cluster of characters from it, none of whom I would be able to pick out of a police lineup. They consist of Go Poppy, Branch, Guy Diamond and Caterbus, who to me sound like a stripper, a hippie, a private detective and a knockoff of the Catbus from the movie My Neighbor Totoro, in that order.

Then there's Trixie the Dog. I know I'm not as engaged in youth culture the way I used to be, but at least I know what Trolls are; I had Troll dolls when I was a kid. But I hadn't a clue as to where Trixie was from; a children's book, a PBS animated series, one of those internet meme things? It turns out Trixie is "modeled on parade executive producer Amy Kule's six-year-old cairn terrier", which raises the question, what the hell? Did Ms. Kule win some kind of contest, get a balloon in lieu of her 401k, or save the life of some Macy executive?

Being a big fan of Felix the Cat, they won me over with the final one, a very special Felix balloon. According to "Felix the Cat, Macy's First Thanksgiving Day Parade Baloon, Returns After 90 Years" a piece by Dana Schulz which ran on the 6sqft website, the parade's first animal-shaped balloon was Felix, introduced in 1927, the year that balloons replaced live animals from the Central Park Zoo in the parade. The new one is a facsimile of the original designed by marionette maker Anthony Frederick Sarq and made by the Goodyear Tire and Rubber Company and like the original, instead of ropes it will be propped up by polls. It also featured this tidbit; "The parade didn't take place for three years during World War II, and many of the balloons, including Felix, were donated to the war effort for their rubber." Which made me sadly think of the scene with the incinerator at the end of Toy Story 3.

One thing that will make the year's parade different is according to the headline of a piece by Brian Steinberg in Variety, "NBC, Verizon Will Live-Stream Macy's Thanksgiving Day Parade." It suggests the "YouTube stream might appeal to people on the go for the holiday who must rely on a mobile device to get a view of the annual parade. Or it might serve as a sort of 'second-screen' enhancer for viewers already at home watching the event through traditional means." Which might be true but I tend to think it has a lot more to do with keeping the parades brand alive, and with millennials cutting their cable cords at a rapid rate (if they ever had had them, to begin with), the parade has to go where the young are.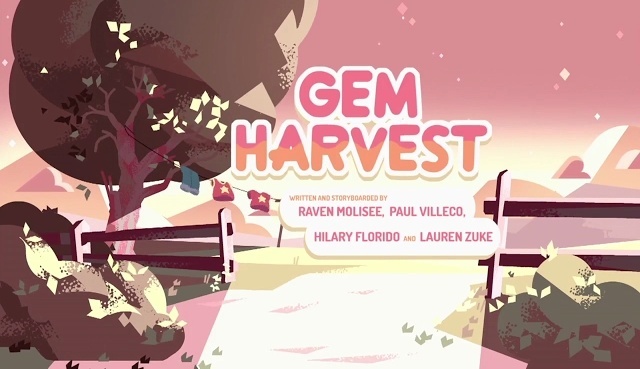 The Thanksgiving episode has become a sitcom staple, the holiday has even been celebrated by the odd police procedural, but there haven't been a lot of animated series which have had one. Which is only one of the reasons why "Gem Harvest," the double length episode of Cartoon Network's
Steven Universe
, is so special. In it the word "Thanksgiving" is never uttered, most likely because the show is will be shown in countries that don't celebrate it, but make no mistake it is one.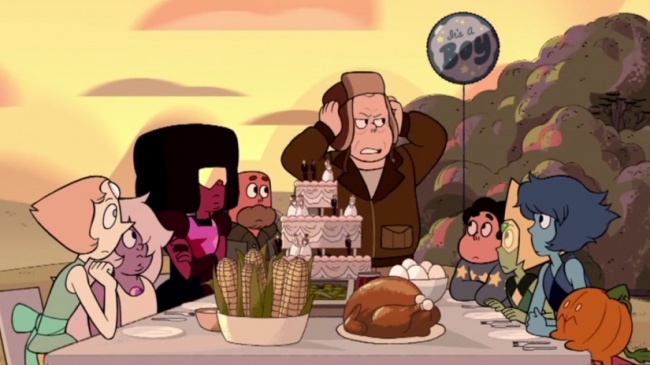 It features a feast with an unruly family where thanks are given, but what makes "Gem Harvest" so special is it shows how you can deal with family conflicts during the holidays, something not usually dealt with in children's entertainment. In it, Steven meets his hostile human cousin Andy who refers to his guardians, the extraterrestrial Crystal Gems, as freeloading "weirdo hippie Martian immigrants" and "vegetarian illegal aliens." With a great deal of empathy, effort and understanding, Steven and the Gems manage to get through to Andy, at least to the point where he starts seeing people who aren't like him as people. It's a simplistic solution to a complicated problem, one that might not always work in the real world, but I honestly can't think of a better strategy.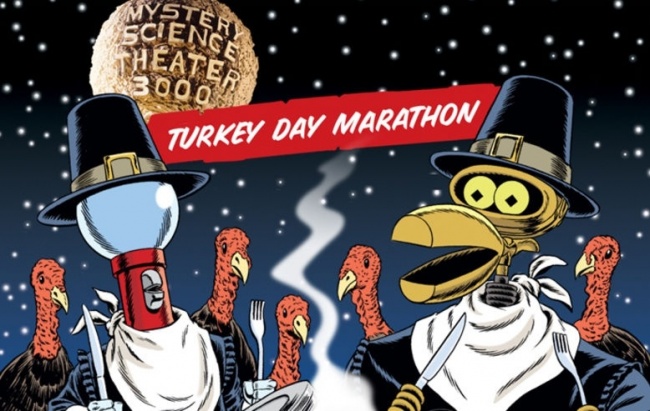 Finally, Shout! Factory will once again be hosting a
Mystery Science Theater 3000
Turkey Day Marathon. Six of the show's most popular cinematic turkeys, as chosen during a recent fan survey to determine the 100 Most Popular Classic MST3K episodes, will be streamed online at 12 pm ET this Thursday. As is tradition, the movies will be introduced by show creator Joel Hodgson, who this year be joined by Jonah Ray from the new version of
MST3K
set to debut early next year on Netflix. I can't think of anything better to deliver much-needed laughs or a distraction from their family,
The opinions expressed in this column are solely those of the writer, and do not necessarily reflect the views of the editorial staff of ICv2.com.