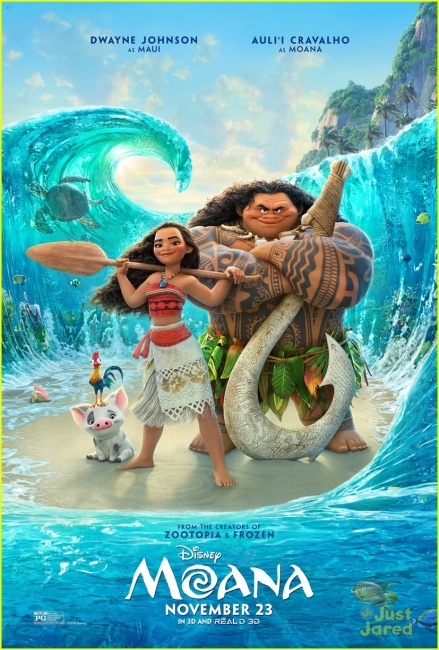 The Walt Disney Company, which already set new box office records in both foreign and domestic markets in 2016, has another hit on its hands as the animated feature
Moana
topped the weekend box office with an estimated $55.5 million. The South Sea islands epic has earned $81.1 million since it opened on Wednesday, the second best mark ever for an animated film opening over the Thanksgiving holiday, trailing only
Frozen
($96.3 million).
Moana's
strong debut and solid showings from holdovers
Fantastic Beasts
and
Doctor Strange
helped the box office to virtual draw even with the Thanksgiving weekend last year when
The Hunger Games: Mockingjay, Part 2
topped the charts with $52 million in its second frame.
Moana
, which currently has a 98% positive rating on review aggregator Rotten Tomatoes, received a solid "A" CinemaScore from opening weekend audiences and appears set for a solid holiday season run, though it will have more animated competition in the weeks to come. Dwayne Johnson, who voices a Polynesian God in
Moana,
is a major star whose popularity could help get boys to go and see this tale of a fearless Polynesian princess—and the fact that
Hamilton
creator Lin-Manuel Miranda worked on the music should resonate as well.
Moana
is rolling out slowly overseas (only $16 million so far), so the film's performance in the North American market will be key over the next few weeks.
Audiences for
Moana
skewed female (55%), and families made up 72% of the crowd. Thirty-four percent was under 12 with just 43% over 25.
The
Harry Potter
spin-off
Fantastic Beasts and Where to Find Them
enjoyed a solid hold (-39.4%) from its strong debut last weekend as it earned $45.1 million to bring its domestic total to $156.2 million, which is just half of what the film has earned overseas ($317 million) for a worldwide total of $473.7 million after ten days. While it is unlikely to reach the lofty heights enjoyed by the films about "the boy who lived,"
Fantastic Beasts
looks like a solid win for Warner Bros., which can really use it right now.
Now in its fourth weekend in theaters here in the States, Marvel Studios'
Doctor Strange
dropped just 24.7% for the 3-day weekend as it earned $13.4 million to drive its North American total to $205 million, which is less than half of what the Benedict Cumberbatch-starring film has made overseas ($410.9 million). With a worldwide total of $615.9 million Disney and Marvel Studios have successfully launched another franchise.
Doctor Strange
is now the 10th Marvel Studios film to pass the $200 million mark in North America, and it has already passed the domestic totals of
Thor, Ant-Man, Captain America: The First Avenger
, and
The Incredible Hulk
.
Doctor Strange
also currently sits at #9 in both the domestic and worldwide box office charts for 2016 (so far).
Fourth place went to the romantic spy drama
Allied,
which stars Brad Pitt and Marion Cottilard. Produced for $85 million, this World War II drama got off to a slow start, earning $13 million over the 3-day weekend and $18 million over its five-day launch. Robert Zemeckis' film earned middling grades from the critics (62% positive on RT), and just an "OK" "B" CinemaScore from opening weekend audiences. It looks like it will be up to overseas audiences to save
Allied
from a sea of red ink. As expected
Allied
played to an older audience (85% over 25) that skewed slightly male (51%).
Weekend Box Office (Studio Estimates): November 25-27, 2016

Film

Weekend Gross

Screens

Avg./Screen

Total Gross

Wk#

1

Moana

$55,523,000

3,875

$14,329

$81,108,000

1

2

Fantastic Beasts and Where To Find Them

$45,100,000

4,144

$10,883

$156,228,123

2

3

Doctor Strange

$13,369,000

3,008

$4,444

$205,093,475

4

4

Allied

$13,000,000

3,160

$4,114

$18,022,000

1

5

Arrival

$11,250,000

2,442

$4,607

$62,387,300

3

6

Trolls

$10,340,000

3,322

$3,113

$135,136,662

4

7

Almost Christmas

$7,610,000

1,769

$4,302

$36,688,865

3

8

Bad Santa 2

$6,106,658

2,920

$2,091

$9,031,191

1

9

Hacksaw Ridge

$5,450,000

2,332

$2,337

$52,248,382

4

10

The Edge of Seventeen

$2,960,000

1,945

$1,522

$10,273,770

2
Denis Villeneuve's cerebral science fiction drama Arrival continues to do very well it is own modest way, dropping just 7.3% as it earned $11.2 million to bring its domestic total to $62.4 million. Will this "stealth hit" among the fall's numerous adult dramas be remembered at Oscar time? Its main handicap could be its genre—no matter how thought-provoking, science fiction always seems to get shunned by the Academy in favor of "serious" dramas with flashy performances.

Dreamworks' animated musical Trolls took it on the chin from Moana, dropping 41% as it earned $10.3 million to bring its 4-weekend total to $135.1 million. Right now $160 million looks like a reasonable domestic run total for Trolls, but the next few weeks will be crucial.

The ensemble comedy Almost Christmas got a definite holiday boost as its 3-day total went up 5% as the African-American-targeting film earned $7.6 million to bring its domestic total to $36.7 million, and pretty much insures that the $17 million production will be in the black by the time Christmas comes around.

Opening in the eighth position was Bad Santa 2, another sequel that apparently no one was really anxious to see. Some analysts thought this Billy Bob Thornton R-rated comedy would end up with a total in line with the original Bad Santa's $16.8 million debut in 2003, but Bad Santa 2's $6.1 million 3-day bow spells doom (or at least another extended hiatus) for this franchise.

Mel Gibson's bloody war drama Hacksaw Ridge continues to suffer small declines from its modest totals as it slipped just 18.3%, earning $5.5 million to bring its total to $52.2 million.
This week's certified bomb was Warren Beatty's period Hollywood drama Rules Don't Apply, which earned just $1.5 million, the worst Thanksgiving debut ever for a film that opened on more than 2,000 screens, and the sixth worst debut all time for a movie debuting in that many venues. Opening weekend audiences were predictably older (85% over 25) and skewed strongly in the distaff direction (55%).

Two more films with Oscars hopes debuted in limited release, the Weinstein Company's Lion, which stars Dev Patel, and the EuropaCorp thriller Miss Sloane, which stars Jessica Chastain. Both films did "OK" in their limited engagements and will expand in the weeks to come.

Be sure and check back here next weekend. Only one new wide release is scheduled (the horror film Incarnate), but there will be an interesting struggle to see which holdover will win the struggle for box office supremacy.