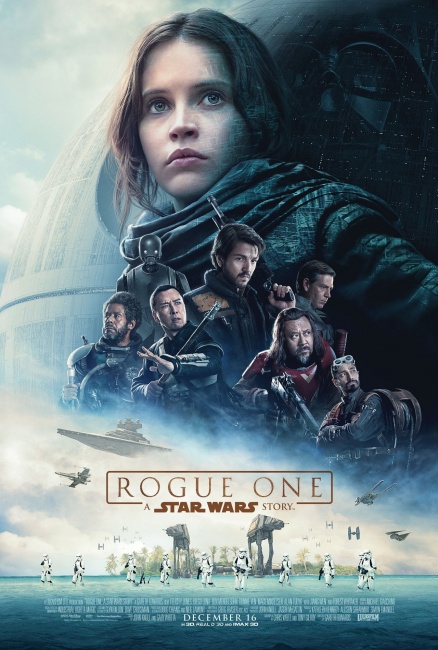 Gareth Edwards'
Rogue One
earned $96.4 million over the 4-day Christmas weekend to take the box office crown for the second weekend in a row, while Illumination Entertainment's animated musical
Sing
got off to a strong start bringing in $56 million, but with the science fiction romance
Passengers
opening below expectations, the box office was down 8.9% from the same period last year when
Star Force: The Force Awakens
earned $182.4 million from December 25 to December. 28.
Coming within 10 percentage points of last year's mammoth total (
The Force Awakens
set all sorts of box office records, and obliterated all the box office records for December) has to be seen as a major accomplishment, and Edwards'
Rogue One: A Star Wars Story
deserves much of the credit.
Rogue One
earned $64.4 million for the 3-day weekend, a drop of 58.5%, but that number is skewed because the entire box office took a major hit because Saturday was Christmas Eve. After dipping from $22.8 million on Friday to $15.3 million on Saturday,
Rogue One
roared back with $26.3 million on Sunday and $31.7 million on Monday, giving the
Star Wars
side-story a ten-day total of $318 million moving it into ninth place for movies released in 2016. Rogue One should pass $400 million next weekend, and while it won't catch
Finding Dory's
year-leading total ($486.3 million) in 2016, it will likely do so sometime in 2017 and end up as the highest-grossing film in the domestic market that was released in 2016.
Overseas
Rogue One
took in an additional $47.4 million to bring its total outside North America to $237.4 million for a worldwide haul of $555.5 million and counting.
Illumination Entertainment's
Sing,
which is basically a funny animal version of American Idol, earned a solid $56.1 million over the 4-day weekend, and a $76.7 million total since its debut on Wednesday. Sing earned a solid "A" Cinemascore from opening weekend audiences, a nice complement to its 72% positive rating on review aggregator Rotten Tomatoes. It appears that Illumination Entertainment, which already scored a hit this year with
The Secret Life of Pets
, has another winner on its hands with
Sing
, which cost $75 million to produce.
Third place over the 4-day weekend went to the science fiction/romance
Passengers
, which stars Jennifer Lawrence and Chris Pratt. After a slow start,
Passengers
has recovered a bit, but its 4-day total of $23.1 million is at the low end of expectations. Critics polled by Rotten Tomatoes gave
Passengers
only a 32% positive rating, but critics are often harsh on films from both of the genres that are blended in
Passengers
.
The R-rated comedy
Why Him?
, which stars Bryan Cranston and James Franco, took the fourth spot with $16.7 million over the 4-day weekend. Reviews were only 41% positive, but
Why Him?
only cost $38 million, so it is too early to ascertain its financial outcome. Opening weekend audiences for
Why Him?
skewed female (55%), and a healthy 45% of the crowd was in the 18-24 demo.
In definite trouble, at least in the domestic market, is the video game-based
Assassin's Creed
film, which earned just $15 million over the four-day weekend and $22.5 million in the six days since it opened last weekend. With a production cost of $125 million
Assassin's Creed
will have to do very well overseas to make its cost bag. Audiences for
Assassin's Creed,
which could muster only a 19% positive rating on Rotten Tomatoes, skewed heavily male (64%) with 54% of the crowd over 25.
Weekend Box Office (Studio Estimates): December 23-25, 2016

Film

Weekend Gross

Screens

Avg./Screen

Total Gross

Wk#

1

Rogue One: A Star Wars Story

$64,377,000

4,157

$15,486

$286,375,674

2

2

Sing

$35,290,000

4,022

$8,774

$55,902,640

1

3

Passengers

$14,850,000

3,478

$4,270

$22,175,201

1

4

Why Him?

$11,050,000

2,917

$3,788

$11,050,000

1

5

Assassin's Creed

$10,280,000

2,970

$3,461

$17,772,398

1

6

Moana

$7,402,000

2,687

$2,755

$180,434,191

5

7

Fences

$6,688,000

2,233

$2,995

$6,879,515

2

8

La La Land

$5,729,400

734

$7,806

$13,611,711

3

9

Office Christmas Party

$5,115,000

2,441

$2,095

$42,153,602

3

10

Collateral Beauty

$4,275,000

3,028

$1,412

$15,276,500

2
Surprisingly, sixth place went to Denzel Washington's adaptation of August Wilson's Fences, which didn't open until Christmas Day, but earned an estimated $11.4 million in just two days. The critics loved Fences, which is already receiving Oscar buzz, giving the film a stellar 94% positive rating and audiences gave it a solid "A-" CinemaScore. With a production cost under $25 million, Fences appears to be set for solid run into January, which could last longer if Fences receives its expected Oscar nods.

Disney's Moana suffered from direct competition for its family audience from Sing, but still managed to earn $10.4 million for the 4-day weekend, driving its domestic total to $183.5 million. Moana should finish its domestic run well over $200 million.

Early Oscar favorite La La Land earned $9.7 million from just 734 theaters thanks to a sterling $13,215 per theater average. The musical, which stars Emma Stone and Ryan Gosling, looks like a sure bet to garner a number of Oscar nods.

A number of Oscar-targeting adult dramas opened in order to become eligible for the 2016 Oscars including Hidden Figures, which stars Viola Davis in the true story of a group of African-American female mathematicians whose calculations were behind NASA's successful space program, Peter Berg's Boston Marathon bombing saga Patriot's Day, and Martin Scorsese's Silence.

Be sure to check back here next week to see how much that Rogue One, Sing and the rest of the year-end films can pad their totals during a week of universal school holiday's that is traditionally a strong movie-going period.