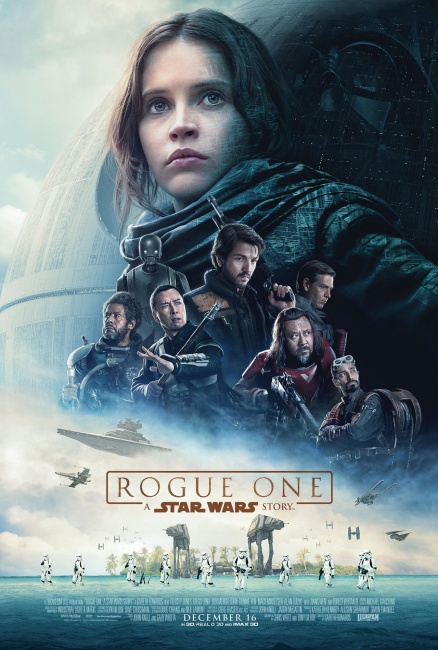 Disney's
Star Wars
spin-off
Rogue One
, now in its fourth weekend of release, ended up in a virtual tie at the weekend box office with the inspirational biographical film
Hidden Figures
that chronicles the behind-the-scenes efforts of a group of African-American female mathematicians whose calculations were behind much of the success of the early U.S. space program. The real winner of this first full weekend of 2017's box office derby won't be known until tomorrow, but there will be very little distance between
Rogue One, Hidden Figures
, and the #3 film, Universal's leggy animated musical
Sing
.
Year-over-year comparisons are difficult, because 2016's first weekend included New Year's, but this past weekend's total, which was depressed by a major snowstorms in the South and North East, is still 17.6% below that of the first post New Year's session in 2016, when
Star Wars: The Force Awakens
earned $42.4 million.
Gareth Edward's
Rogue One
earned an estimated $21.97 million over the weekend, a decline of 55.7% as it drove its North American total to $477.3 million, virtually assuring that it will become the only film released in 2016 to earn more than $500 million at the domestic box office. By this time next week
Rogue One
will have become the #1 film of 2016 in the domestic market as it passes another Disney opus
Finding Dory
($486 million).
Once again
Rogue One
was at the top of the overseas charts, earning $56.1 million (including a $31 million debut in the Middle Kingdom), which brings its foreign total to $437.1 million for a global haul of $914.4 million.
Rogue One
will undoubtedly pass the $1 billion mark worldwide, but, in comparison to
The Force Awakens
,
Rogue One
has underperformed outside the U.S.
As previously noted snowstorms in the Southeast and Northeast depressed weekend totals, but, in spite of the weather,
Hidden Figures
, which opened in limited release in December (to be eligible for the upcoming Oscars), surpassed expectations as it expanded from 25 theaters to 2,471 and earned an estimated $21.8 million, posting the best per venue average of any film in wide release ($8,822). With an excellent cast including Octavia Spencer, Taraji P. Henson, and Janelle Monae,
Hidden Figures
is positioned to do well at upcoming awards ceremonies (perhaps even tonight's Golden Globes), and the $25 million biopic will likely become a solid moneymaker for Fox.
Opening weekend audiences for
Hidden Figures
were 43% Caucasian and 37% African-American and they gave the film an excellent "A+" CinemaScore, which usually signifies a nice long box office run. Predictably for a historical drama set in the 1960s, the audience skewed female (64%) and older (56% over 35).
Illumination Entertainment's animated musical
Sing
was a very strong third, bringing in an estimated $19.6 million, a 54.6% drop
. Sing
has now earned $213 million here in North America, becoming the thirteenth film released in 2016 to pass the $200 million mark (there were 10 in 2015). Outside the U.S.
Sing
earned $26.1 million bringing its overseas total to $143.5 million and its global haul to $356.9 million.
Weekend Box Office (Studio Estimates): January 6-8, 2017

Film

Weekend Gross

Screens

Avg./Screen

Total Gross

Wk#

1

Rogue One: A Star Wars Story

$21,972,000

4,157

$5,286

$477,273,354

4

2

Hidden Figures

$21,800,000

2,471

$8,822

$24,754,178

3

3

Sing

$19,573,670

3,955

$4,949

$213,373,315

3

4

Underworld: Blood Wars

$13,100,000

3,070

$4,267

$13,100,000

1

5

La La Land

$10,000,000

1,515

$6,601

$51,656,587

5

6

Passengers

$8,800,000

3,400

$2,588

$80,893,043

3

7

Why Him?

$6,500,000

2,904

$2,238

$48,559,553

3

8

Moana

$6,413,000

2,549

$2,516

$225,394,182

7

9

Fences

$4,700,000

2,368

$1,985

$40,663,264

4

10

Assassin's Creed

$3,800,000

2,642

$1,438

$49,505,783

3
This week's lone new wide release is the horror thriller Underworld: Blood Wars, the fifth film in the dark fantasy franchise (and the fourth to star the always excellent Kate Beckinsale), debuted with a somewhat disappointing $13.1 million. The previous film in the franchise, 2012's Underworld: Awakening, opened with $25.3 million, but of course didn't have to face the same weather difficulties that Blood Wars did.

In spite of the weather, Blood Wars domestic debut, the lowest for any film in the franchise (even without adjusting for inflation), is still disappointing, though, surprisingly, the franchise's prospects remain quite strong. Blood Wars was made for a very reasonable $35 million, and it has already earned $45 million overseas, and the movie is yet to open in the U.K., France, Italy, China, or Japan. An OK (especially for a horror movie) "B+" CinemaScore provides some hope that Blood Wars could rebound a bit next week.

Fifth place went to the now Oscar-favorite musical La La Land, which earned $10 million from just 1515 theaters, giving Damien Chazelle's jazz musical a solid domestic total of $51.7 million. Expect this film to hang around, especially if it does as well as expected at tonight's Golden Globes.

Sony's pricey science fiction/romance Passengers continues to do better with audiences than it has with critics (only 31% positive on review aggregator Rotten Tomatoes), dropping just 45% as it earned $8.8 million to bring its domestic total to $80.9 million. Still this $110 million production still has long way to go for even a whiff of black ink.

Fox's R-rated comedy Why Him? finished in a dead heat with Disney's animated Moana, which has now been in theaters for 7 weeks and has earned $225.4 million here in North America. Moana has earned an equal amount overseas and will probably end up with a global tally over $500 million.

Denzel Washington's Oscar hopeful Fences finished at number 9, earning $4.7 million and bringing its domestic total to $40.7 million. Award nominations are Fences best opportunity to remain a relevant box office player over the next month.

Tenth place went to the video game adaptation Assassin's Creed, which features a brilliant cast, but has not caught fire at the domestic box office. Now in its third weekend of release, Assassin's Creed earned just $3.8 million, bringing its domestic total to $49.5 million. With a production cost of $125 million, Assassin's Creed will have to a lot better than it has overseas to make money. So far the Michael Fassbender-starring film has earned just $50 million outside of North America.

Even though the critics loved J.A. Bayona's adaptation of Patrick Ness's novel, A Monster Calls, giving the film an 86% positive rating on review aggregator Rotten Tomatoes, audiences appear unimpressed, at least judging by the film's box office totals. A Monster Calls expanded from four theaters to 1523, but only earned $2 million for a very poor $1,326 per theater average. The good news is that opening weekend audiences gave A Monster Calls a solid "A" CinemaScore, so the movie still has a chance however slim (especially if folks start reading those reviews).

Be sure to check back here next week for what looks like a real chaotic session. The first quarter used to be a relatively quiet period at the box office, but it's getting so crowded throughout the rest of the year, that more and more films are debuting in Q1 to take advantage of a "less competitive environment," which of course becomes more competitive with each new release (and is still subject to the vagaries of the weather). Next weekend will see the expansion of Ben Affleck's period gangster film, Live By Night in to more than 2,700 theaters, the even bigger expansion of Peter Berg's Boston Marathon bombing film Patriot's Day to 2,900 venues, a more limited move for Martin Scorsese's Silence into 750 theaters, plus real "debuts" for the STX horror film The Bye Bye Man (2300 venues), the Jamie Foxx action film Sleepless (2000 theaters), and Paramount's Monster Trucks, a 3-D live-action/computer animated comedy that turned out so badly that the studio has already taken a $115 million write-down on the film, which cost $125 million to make.