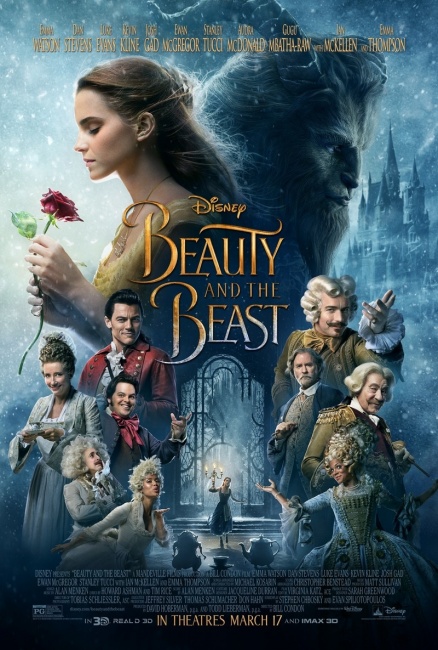 Evidently the summer movie blockbuster season now starts in March. A year after
Batman v. Superman
set a new March record with a $166 million bow, Disney's live-action
Beauty and the Beast
posted the seventh best opening of all time (not adjusted for inflation), and left the DC superheroes in its wake with a $170 million opening frame. The good news for Hollywood was that the female-skewing
Beauty and the Beast
didn't cannibalize audiences from
King Kong: Skull Island, Logan
, and the horror film
Get Out
, all of which posted decent holds. The result was a weekend box office total of $249 million, which was the highest total since
The Force Awakens
opened in December of 2015, and a 90% increase over the same weekend last year when
Zootopia
topped the charts for the third straight weekend with $37.2 million.
Disney's
Beauty and the Beast
had to overcome a certain amount of controversy, including complaints from hardcore fans of the studio's 1991 animated version, some of whom were annoyed by the thought of a live-action remake, and from religious conservatives who objected to the inclusion of a gay character. But mainstream audiences swept those objections aside, giving the live-action
Beauty and the Beast
the largest opening ever for a "PG" rated film (not adjusted for inflation). The film also took in $180 million overseas, giving it the biggest worldwide bow for a "PG" film ever.
It appears that
Beauty and the Beast
will hang around in theaters for quite some time given the film's "A" CinemaScore from opening weekend audiences that skewed female (60%) and younger (52% under 25). The competition at the box office this March has been intense, but Disney fairy tale-based films have traditionally had sturdy "legs," and it would be surprising if
Beauty and the Beast
didn't follow suit.
Weekend Box Office (Studio Estimates): March 17-19, 2017

Film

Weekend Gross

Screens

Avg./Screen

Total Gross

Wk#

1

Beauty and the Beast

$170,000,000

4,210

$40,380

$170,000,000

1

2

Kong: Skull Island

$28,850,000

3,846

$7,501

$110,125,294

2

3

Logan

$17,500,000

3,687

$4,746

$184,026,885

3

4

Get Out

$13,249,475

2,979

$4,448

$133,117,620

4

5

The Shack

$6,130,000

2,825

$2,170

$42,614,630

3

6

The LEGO Batman Movie

$4,700,000

2,735

$1,718

$167,423,352

6

7

The Belko Experiment

$4,051,000

1,341

$3,021

$4,051,000

1

8

Hidden Figures

$1,500,000

1,162

$1,291

$165,559,069

13

9

John Wick: Chapter Two

$1,200,000

1,065

$1,127

$89,790,804

6

10

Before I Fall

$1,034,425

1,551

$667

$11,295,102

3
Given the gender and age the Beauty and the Beast audience, King Kong: Skull Island, Logan, and Get Out probably faced more competition this past weekend from the NCAA basketball tournament, but they managed to do all right in spite of the highly rated basketball broadcasts. Skull Island dropped just 53%, earning $28.9 million and driving its 10-day domestic total to $110 million, while adding $38.5 million overseas for a current global haul of $259.3 million.

Fox's R-rated Logan earned $17.5 million to bring its domestic total to almost $185 million. Logan also pulled in $31.5 million to bring its worldwide total to $524.1, making it the number one film of 2107 so far.

Jordan Peele's Get Out dropped only 36.1% in its fourth weekend in theaters as it earned $13.3 million to bring its domestic total to $133.1 million. By this time next week Get Out will have surpassed M. Night Shyamalan's Split to become the number one horror film release of 2017, a position that it may never give up.

The religiously-themed The Shack (-38.7%) and The LEGO Batman Movie (-38.3%) posted good holds, as did the Oscar-nominated Hidden Figures, which is the longest-tenured movie in the top ten.

This week's other new release the micro-budgeted ($5 million), "office politics-turned deadly" would-be "horror" film The Belko Experiment opened with just $4 million and appears to be no threat to the current dominance of Split or Get Out.

Be sure to check back here next week to see if Beauty and the Beast can hold up against competition from a trio of new widely released films that includes the Warner Bros. comedy CHiPs, Sony's science fiction thriller Life, and a nostalgia-infused Power Rangers film from Lionsgate.