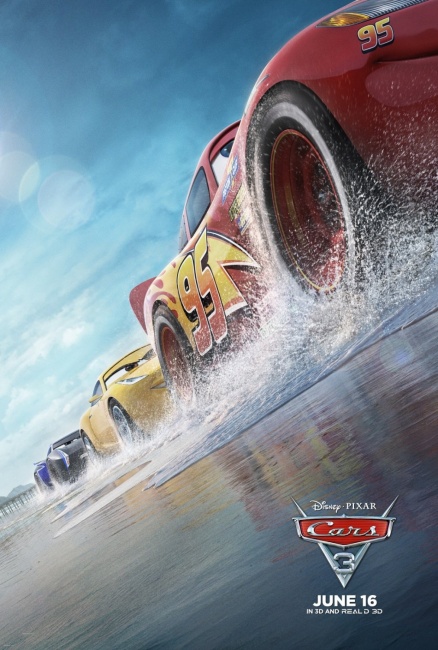 In spite of some signs of franchise fatigue, Pixar's
Cars 3
won the weekend box office with $53.5 million, but that didn't diminish the exceptionally strong third weekend showing by Patty
Jenkin's Wonder Woman
, or the surprisingly potent debuts of the Tupac Shakur biopic
All Eyez on Me
and the survival/horror film
47 Meters Down
. With three relatively successful newcomers and some strong holdovers the box office total of the top 12 films soared 27% over the same frame last year when
The Conjuring 2
opened with $40.4 million.
Cars 3's
debut was one of the smallest in Pixar's history, and well below those of its predecessors
Cars
($60.1 million in 2006) and
Cars 2
($66.1 million in 2011), so there are definite signs of franchise fatigue, which could be exacerbated in the coming weeks by competition from
Despicable Me 3
, which bows on June 30.
Cars 3
is also rolling out slowly overseas, so its overall numbers ($74.8 million worldwide) are not impressive. Still there are signs that
Cars 3
may actually save the franchise that appeared to be careening off the track with the lackluster sequel
Cars 2,
which earned the lowest critical rating ever for a Pixar release (just 39% positive on review aggregator Rotten Tomatoes).
Cars 3
did much better with the critics (65% positive on RT), and with opening audiences as well, earning an "A" CinemaScore (versus an "A-" for
Cars 2
).
Seventy-five percent of the audience for
Cars 3
was made up of families with kids under 13 accounting for 35% of the crowd, which tilted slightly male (51%).
Cars
is Pixar's most "toyetic" franchise. Five years ago Disney announced that the
Cars
films had generated over ten billion dollars in merchandise sales and the Mouse House has added a $1.1 billion dollar
Cars Land
attraction at its California Adventure theme park, so box office performance is not necessarily the most important task for
Cars 3
, which Pixar is clearly hoping will bring some respectability back to what has been the studio's most frequently mocked franchise.
While
Cars 3
clearly won the weekend box office crown, Patty Jenkins'
Wonder Woman
once again turned in the most impressive performance of the frame, dipping just 30% in its third weekend as it earned $40.7 million, the second largest third weekend ever for a Warner Bros. release, trailing only
The Dark Knight's
$42.7 million. With a domestic total of $274. 6 million,
Wonder Woman
has now overtaken
Suicide Squad's
17-day total ($262.4 million), an exceptionally leggy performance given that
Suicide Squad
opened with $67.4 million more than did
Wonder Woman
. Jenkin's film is the antithesis of its front-loaded predecessors in the DC Extended Cinematic Universe, and it now appears quite possible that
Wonder Woman
could end up as the #1 film of the summer when all is said and done.
The weekend's biggest surprise was the strong debut of the Tupac Shakur biopic
All Eyez on Me
, which earned $27 million from just under 2,500 theaters. Released on what would have been the rapper's 46th birthday,
All Eyez on Me
, which was directed by Benny Boom, overcame lousy reviews (only 24% positive on RT) to earn a solid "A-" CinemaScore from opening weekend audiences that skewed male (53%) and a bit older (62% over 25). African-Americans made up 52% of the crowd, followed by Caucasians (22%), Hispanics (19%), and Asians/others (8%).
Weekend Box Office (Studio Estimates): June 16-18, 2017

Film

Weekend Gross

Screens

Avg./Screen

Total Gross

Wk#

1

Cars 3

$53,547,000

4,256

$12,582

$53,547,000

1

2

Wonder Woman

$40,775,000

4,018

$10,148

$274,601,730

3

3

All Eyez on Me

$27,050,000

2,471

$10,947

$27,050,000

1

4

The Mummy

$13,916,010

4,034

$3,450

$56,526,710

2

5

47 Meters Down

$11,500,000

2,270

$5,066

$11,500,000

1

6

Pirates of the Caribbean: Dead Men Tell No Tales

$8,458,000

2,759

$3,066

$150,066,114

4

7

Rough Night

$8,040,000

3,162

$2,543

$8,040,000

1

8

Captain Underpants: The First Epic Movie

$7,350,000

2,968

$2,476

$57,963,660

3

9

Guardians of the Galaxy Vol. 2

$4,982,000

1,813

$2,748

$374,853,015

7

10

It Comes At Night

$2,616,600

2,450

$1,068

$11,139,764

2
Universal's first Dark Universe title The Mummy, which stars Tom Cruise, dropped 56.1% in its second weekend as it earned $13.9 million to bring its ten-day total to $56.5 million. Percentage-wise this is a good "hold" for a summer blockbuster, except for the fact that The Mummy debuted so far below expectations. The Mummy doesn't look like any kind of a hit here in North America, but it continues to do well overseas and now has a global total over $295 million.

Fifth place went to a film that was originally slated to go direct to video. The rusty shark cage survival thriller 47 Meters Down took in $11.5 million from just 2,200 theaters. A lousy "C" CinemaScore from opening weekend audiences likely means that 47 Meters Down will sink like a stone in the weeks ahead, but shark-related horror films are the kind of cinematic "chum" that can obviously attract substantial audiences, so don't be surprised to see more films like this swimming your way.

Disney's Pirates of the Caribbean: Dead Men Tell No Tales dropped just 21% in its fourth weekend as it earned $8.5 million to bring its domestic total to $150 million. While it will clearly be the lowest-grossing of the five POC films here in North America, Dead Men Tell No Tales continues to do much better overseas where it has earned 77% of its global total of $650 million.

This weekend's biggest disappointment is the R-rated comedy Rough Night, which features an excellent female cast that includes the incredibly talented Kate McKinnon, but which failed to catch on (at least so far) with audiences. Is it the Wonder Woman effect? Has the female superhero epic proven to be so successful in capturing the distaff audience that there isn't room for female-centric films in other genres? That appears unlikely, especially since 47 Meters Down features two female protagonists, but time will tell. Summer comedies do often demonstrate good "legs," so it is too early to give up on Rough Night, though the poor "C+" CinemaScore bestowed upon the film by opening weekend audiences does not bode well.

The animated Captain Underpants finished in eighth place, earning $7.4 million and bringing its domestic total to nearly $58 million. Captain Underpants dropped 39.7% in its third frame, not a bad decline given the direct competition from Cars 3.

James Gunn's Guardians of the Galaxy Vol. 2 ended its seventh weekend in theaters at #9 as it earned $5 million to bring its domestic total to $374.9 million, just about $100 million more than Wonder Woman's current haul. Right now it looks like it could be a close race for the top summer film with the momentum shifting ever so slightly to Wonder Woman's side, but we still have a long way to go, and Despicable Me 3 could possibly challenge for summer supremacy as well.

The well-reviewed horror/thriller It Comes At Night dropped 56.3% in its second frame and ended up at #10, exposing once again the disconnect between film critics and genre movie lovers. Perhaps It Comes At Night will find the success in the home entertainment that has eluded it in theaters.

Be sure to check back here next weekend to see what happens when Transformers: The Last Knight roars into nearly 4,000 theaters (starting on Wednesday).