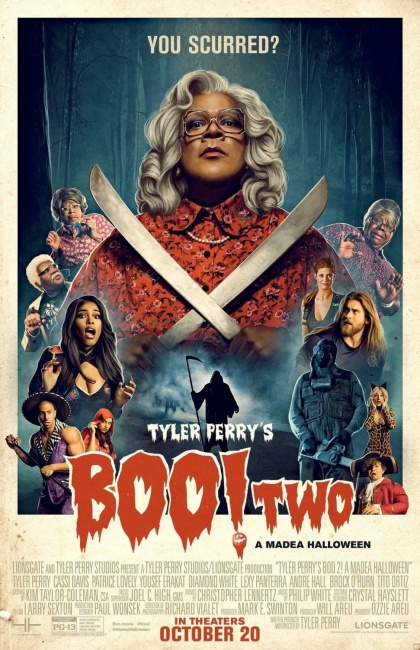 Tyler Perry's
Boo 2! A Medea Halloween
topped another weak session at the box office with an estimated $21.7 million debut, while four other new films underperformed, leaving the total of the top 12 films down 8.6% from the same weekend last year when
The Accountant
opened with $24.7 million. After an
It
-fueled, record-breaking September, Hollywood's fortunes have reversed in October, which is now down 13% from October, 2016.
While
Boo 2
easily topped this weekend's box office, its $21.7 million debut is still nearly $7 million less than the original
Boo's
$28.5 last October. Even with its chart-topping opening
Boo 2
, which cost $25 million to produce, will be lucky to turn much of a profit. Look for
Boo 2
to end up its domestic run with closer to $50 million than the original Boo's $73 million total. The audience for
Boo 2
skewed heavily female (65%), and they gave the film an "A-" CinemaScore, just a bit down from the original
Boo's
"A" grade.
Warner Bros. hit it big last month with the release of
It
(from affiliate New Line), but the studio has been in a bit of a slump since then with disappointing openings for
The LEGO Ninjago Movie
, B
lade Runner 2049
, and now
Geostorm,
the oft-delayed disaster movie, which marks the debut of producer Dean Devlin as a director, and reportedly needed extensive reshoots. Debuting in nearly a thousand more theaters than
Boo 2
(3,246 vs. 2,388),
Geostorm
could scare up only $13.3 million over the weekend in spite of a savvy ad campaign from Warner Bros.' crack publicity department.
Geostorm
has a lowly 13% positive rating on Rotten Tomatoes, and opening weekend audiences didn't like it much better either, giving it a poor "B-" CinemaScore. The audience skewed heavily male (56%) and older with 77% over 25 and just 10% of the audience under 18
. Geostorm
opened first overseas, and is yet another film that will have to depend on overseas earnings to avoid a sea of red ink.
Would
Geostorm
have done better if it hadn't been released in the wake of a series of disastrous hurricanes, and would the well-reviewed forest fire-fighting film
Only the Brave
have done better if the nation had just watched the horrible devastation wrought by fires in California this month?
Last week's winner, the micro-budgeted horror film
Happy Death Day
dropped 64% from its strong opening as it earned $9.4 million to bring its ten-day total to $40.7 million. Yes,
HDD
is fading fast, and will face more competition in the coming week, but this $4.8 million production is already a considerable financial success.
Weekend Box Office (Studio Estimates): October 20-22, 2017

Film

Weekend Gross

Screens

Avg./Screen

Total Gross

Wk#

1

Tyler Perry's Boo 2! A Madea Halloween

$21,650,000

2,388

$9,066

$21,650,000

1

2

Geostorm

$13,300,000

3,246

$4,097

$13,300,000

1

3

Happy Death Day

$9,375,000

3,298

$2,843

$40,683,365

2

4

Blade Runner 2049

$7,155,000

3,203

$2,234

$74,005,203

3

5

Only The Brave

$6,010,000

2,577

$2,332

$6,010,000

1

6

The Foreigner

$5,450,000

2,515

$2,167

$22,844,253

2

7

It

$3,500,000

2,560

$1,367

$320,234,616

7

8

The Snowman

$3,442,000

1,812

$1,900

$3,442,000

1

9

American Made

$3,162,000

2,559

$1,236

$45,503,735

4

10

Kingsman: The Golden Circle

$3,000,000

2,318

$1,294

$94,568,932

5
The same can't be said for Dennis Villeneuve's Blade Runner 2049, which dropped nearly 54% in its third weekend, earning $7.2 million to bring its domestic total to $74 million, which would be great for a serious science fiction movie like Villeneuve's Arrival, but not for a pricy blockbuster like 2049, which had a production cost north of $150 million. The last hope for 2049 comes next weekend when the movie opens in China and Japan.

The aforementioned fire-fighting tragedy film Only the Brave, which is based on real events, features a great cast headed by Jeff Bridges, Josh Brolin, Taylor Kitsch, and Jennifer Connelly, and earned a strong 90% positive rating from the critics on review aggregator Rotten Tomatoes, flopped with just $6 million, posting the worst per-venue average in the top five. Given the strong TV ad campaign that Sony ran for the film, the debut of Only the Brave is doubly disappointing. Is it the nature of the natural disaster in the film, which appears all too real in the wake of what happened in Santa Rosa, or the tragic course of the film's narrative itself that has spooked audiences?

Opening weekend audiences for Only the Brave, which skewed male (54%) and older (74% over 25), gave the film an "A" CinemaScore, which provides some hope for the film's future earnings, though with this disappointing debut, it may well do better after its theatrical run is over.

The Jackie Chan action film The Foreigner dropped 58.4% in its second frame, earning $5.5 million and bringing its domestic total to $22.8 million. This $35 million production has earned $88 million overseas, and should finish its North American run in the $30 million range.

In its seventh weekend in theaters, the #1 film of the fall, Andy Muschietti's adaptation of Stephen King's It, ended up at #7, earning $3.5 million to bring its domestic total to $320.2 million, and its global tally to $651.6 million—not bad for a $35 million production.

The serial killer saga The Snowman, has turned out to be the worst-reviewed film of lead actor Michael Fassbender's career, earning just a 9% positive rating on Rotten Tomatoes. A putrid "D" CinemaScore from opening weekend audiences pretty much seals the fate of this attempt to bring a classic Nordic Noir title to the screen. While serial killers still dominate cop shows on TV, they are increasing "old hat" in the movies, and are badly in need of some sort of reinvention for the big screen.

The Tom Cruise-starring drama American Made earned $3.2 million in its fourth weekend, bringing its domestic total to $45.5 million. Fortunately the film has made nearly $90 million overseas, and should at least break even.

The comic book-based Kingsman: The Golden Circle earned $3 million in its fifth weekend as it drove its domestic total to $94.6 million. With its $40.3 million debut in China, The Golden Circle is closing in on the global tally of the first Kingsman movie, and probably insuring that we will see a third Kingsman movie.

Debuting outside the top ten was the faith-based film Same Kind of Different as Me, which declined heavily from Friday to Sunday and appears DOA.

In limited release A24s, a horror/thriller, The Killing of the Sacred Deer starring Nicole Kidman and Colin Farrell that goes nationwide on November 3, earned a solid $28,646 average from four theaters.

Be sure to check back here next week when three new wide releases try to snap the box office out of its October doldrums. The eighth film in the "torture porn" Saw franchise, Jigsaw bows in 2,700 theaters, while the George Clooney-directed comedy crime film Suburbicon and the PTSD drama Thank You For Your Service both open in about 2,000 venues.