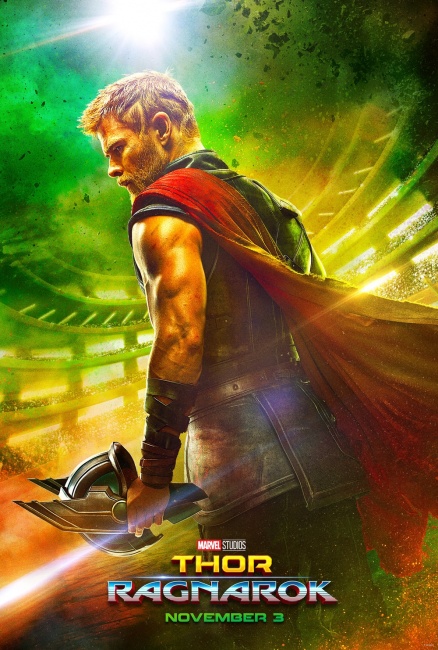 Sequelitis may be infecting other sectors of Hollywood, but the Marvel Cinematic Universe has managed to overcome the box office law of diminishing returns once again with its third
Thor
film,
Thor: Ragnarok
, which debuted with $121 million, the fourth largest opening of 2017 so far
. Ragnarok's
potent bow gave the box office, which had suffered through a terrible October, a major boost with the total of the top 12 films upper 112.2 % from the same weekend last year when Tyler Perry's
Boo: A Medea Halloween
topped the charts for the second weekend in a row with $17.2 million. With
Justice League
opening in two weeks and a new
Star Wars
film in December, there is still a chance that Hollywood can make up what is now a 9% year-over-year deficit with 2016.
Marvel's big gamble with
Thor: Ragnarok
, handing the directorial reins to the New Zealand-born indie director Taika Waititi, appears to have paid off famously with Waititi delivering a colorful, lighthearted superhero romp that has earned a 93% positive rating on review aggregator Rotten Tomatoes (the highest mark ever for the MCU), as well as a solid "A" CinemaScore from audiences (the 13th straight MCU film to earn some form of an "A" grade). The audience for
Ragnarok
skewed male (56%) and older with 63% over 25. But compared with
Thor: the Dark World
, which had opening audiences that were 62% male,
Ragnarok
demonstrated more appeal to female viewers, something that surely pleased the folks at Marvel and Disney.
On Thursday night
Thor: Ragnar
ok earned $14.5, the seventh highest preview gross ever for an MCU film
. Ragnarok's
$121 million opening, also the seventh best in MCU history, is the second best superhero debut of 2017 so far, trailing only
Guardians of the Galaxy Vol. 2
($146.5 million). The strong opening also keeps the string of successful superhero films in 2017 (
Logan, Guardians, Vol.2, Wonder Woman, Spider-Man: Homecoming
) intact. While other film genres have suffered at this year's decidedly up-and-down box office (e.g. animated features, R-rated comedies), superhero films have so far been batting a "thousand," with only
Justice League
left.
Thor: Ragnarok's
$121 million opening represents a 41% gain here in the domestic market from the debut of the second
Tho
r film,
Thor: The Dark World
back in 2013, and
Ragnarok
is doing well overseas where it opened with $109 million last weekend and added $151.4 million in overseas earnings this weekend (including a November record $55.9 million bow in China) for current global haul of $427 million. Looking ahead on the domestic front it appears that
Thor: Ragnarok
has a decent shot at a final total well in excess of $300 million, though it will face intense completion from the new
Justice League
movie in two weeks.
With the debut of
Thor: Ragnarok
, Marvel Studios has now opened seventeen film, which have collectively earned over $5 billion here in North America and over $13 billion worldwide.
While superhero fillms appear (at least at present) to be immune to "sequelitus," the same cannot be said for other genres like R-rated comedies. Case in point, this weeks #2 film, the R-rated comedy sequel
A Bad Moms' Christmas
, which opened on Wednesday and earned $21.5 million over the five-days, with an opening weekend total of $17 million. The first
Bad Moms
movie opened with $23.8 million in 2016, and many analysts were thinking that
A Bad Moms' Christmas
would debut in the $25-29 million range. With a production cost of $28 million,
A Bad Moms' Christmas
is in a good position to at least break even, and it has the whole holiday season coming up in which to pad its totals, but working against the film are poor reviews (just 32% positive on Rotten Tomatoes) and a lackluster "B" CinemaScore (the original
Bad Moms
got an "A").
As expected, women made up the vast majority of the audience for
A Bad Mom's Christmas
(82%), which also skewed older with 87% of the crowd over 25.
Weekend Box Office (Studio Estimates): November 3-5, 2017

Film

Weekend Gross

Screens

Avg./Screen

Total Gross

Wk#

1

Thor: Ragnarok

$121,005,000

4,080

$29,658

$121,005,000

1

2

A Bad Moms Christmas

$17,030,000

3,615

$4,711

$21,556,106

1

3

Jigsaw

$6,700,000

2,941

$2,278

$28,836,471

2

4

Tyler Perry's Boo 2! A Madea Halloween

$4,650,000

2,202

$2,112

$42,958,423

3

5

Geostorm

$3,035,000

2,666

$1,138

$28,770,341

3

6

Happy Death Day

$2,815,000

2,184

$1,289

$52,967,505

4

7

Thank You for Your Service

$2,260,000

2,083

$1,085

$7,355,730

2

8

Blade Runner 2049

$2,235,000

1,464

$1,527

$85,456,130

5

9

Only The Brave

$1,910,000

2,073

$921

$15,290,467

3

10

Let there be Light

$1,631,384

642

$2,541

$4,023,740

2
The top two films accounted for 83% of the weekend box office. Last week's winner, the low-budget horror film Jigsaw, dropped nearly 60% as it added $6.7 million to bring its domestic total to $28.8 million. While this $10 million production will make money, it appears that the Saw franchise is on the wane.

Last week's apparent bomb, George Clooney's Suburbicon, confirmed its status as it dropped out of the top ten, earning just $1.1 million. Also apparently DOA is Rob Reiner's political biopic LBJ starring Woody Harrelson, which earned just $1.1 million from 659 theaters for a poor $1,727 per venue average.

One film to watch in limited release is Greta Gerwig's Lady Bird, which has a rare 100% positive rating on Rotten Tomatoes, and earned $375,612 from just four theaters for a $93,906 average. Lady Bird could be the next indie film to make some ripples in the mainstream market.

Be sure to check back here next week to see how Thor: Ragnarok performs in its all-important second weekend in which it will face competition from the Will Ferrell/Mark Wahlberg comedy sequel, Daddy's Home 2, and a star-studded production of the venerable Agatha Christie warhorse, Murder on the Orient Express.