Confessions of a Comic Book Guy is a weekly column by Steve Bennett of Super-Fly Comics and Games in Yellow Springs, Ohio. This week, Bennett looks at the demand for more Wonder Woman, a Disney duck with pants, and BOOM! Studios' Hi-Fi Fight Club.

I know Halloween seems like a dream to us now that we're all mired hip deep in the really important part of the Holiday Season, but I thought I'd point out according to a piece that appeared on The AV Club, "Wonder Woman reigns supreme in Google's annual Halloween costume rankings." According to Google, not only did Wonder Woman beat out Harley Quinn in the rankings, she beat Trump.

If that wasn't evidence enough of Wonder Woman's incredible popularity as a costume choice, the Party City chain ran a TV commercial titled "Wonder Woman," which was described this way: "When a few thieving trick-or-treaters attempt to take more than their fair share of Halloween candy from an unattended bowl, they discover something more intimidating than Wonder Woman -- it's Wonder Women. Ladies of all ages (and a Wonder Dog) save the night and proudly protect the candy bowl." (See video below.)

Clearly Wonder Woman is incredibly popular, so it's a little odd DC hasn't tried to exploit this intense interest by, I don't know, publishing more Wonder Woman comic books. Yeah, I know Liam Sharp is doing a Batman/Wonder Woman comic next year, but I'm talking about comics exclusively about Diana. Given that the DC Super Hero Girls line is making the parent company a lot of money, why isn't there a girl-centric Wonder Woman comic? Or, seeing as she's just shown up in the Injustice 2 comics, why not give her long-lost black sister Nubia her own comic? At the very least shouldn't there really be a monthly Sensation Comics again?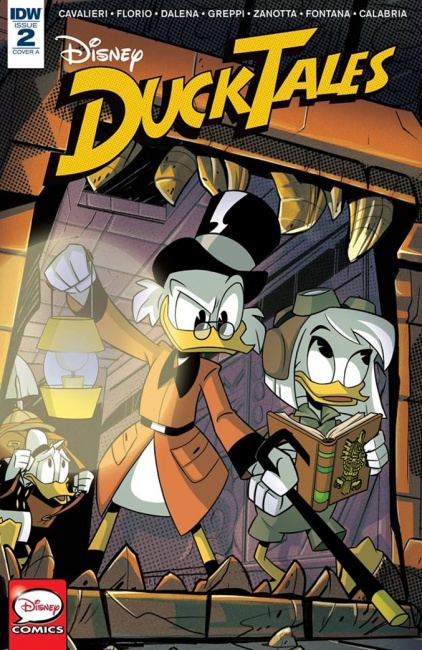 Back in August, I wrote about how much I enjoyed the new animated version of
DuckTales
(see "
Confessions of a Comic Book Guy - This Week In Animation
"). This week, I thought I'd do the same for the IDW Publishing's
DuckTales
comic. The second issue features two stories written by Joey Cavalieri (a name comic book guys of a certain age will recognize for its appearance in the credits of a lot of 80's DC Comics) and drawn by an all-Italian art team (Antonello Dalena, Andrea Greppi, Roberta Zanotta, Gianfranco Florio) who all do a remarkable job of approximating the look of the new animated series.
It's a solid comic, but if you're more interested in speculating on a potentially "hot" comic,
DuckTales
#2 features the first official appearance of Della Duck, known almost exclusively for her absence. The producers of the animated
DuckTales
have made what happened to the twin sister of Donald and mother of Huey, Dewey and Louie an ongoing mystery throughout its first season.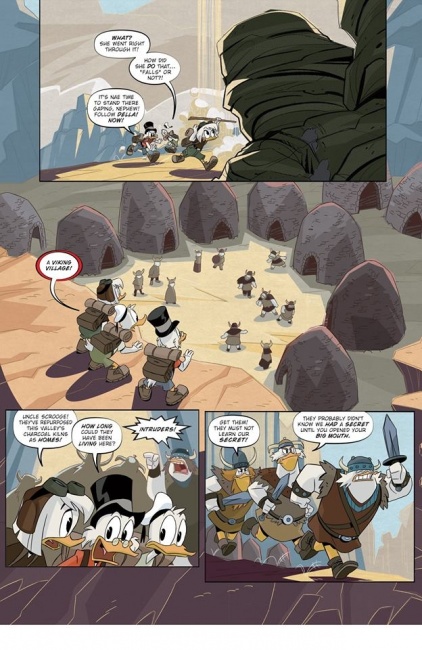 So far, the only things the cartoon has told us about Della are that she used to accompany Donald and Scrooge on their globe-trotting adventures and always wear old school aviator goggles (most likely because a Dutch Disney story established she had been a pilot) and (unlike all other Disney Ducks) pants. The two stories in this issue are flashbacks to those days and establishes she was a light-hearted, thoroughly competent adventurer, in other words, Donald's polar opposite.
There are precious few females among the classic Disney characters (not counting the Princesses) and Della would make a fine addition to that particular pantheon, that is, if she's even still with us. I can't imagine Disney would kill off the nephew's mother, even off screen, if for no other reason than they would miss out on all the potential money that could be made from Della Duck merchandise. But then, I never would have imagined they'd raise the question of her fate in the first place.
Which brings us back to the matter of Della's pants, or to be more accurate, shorts. I'm no great Disney expert, but I do know another longtime mystery of the Disney Universe is why Donald Duck doesn't wear pants. Disney has never given us an official explanation for why this is, but since his lack of apparel became one of Donald's most identifiable visual characteristics* it was accepted no ducks wore them. But in the second story of the issue, "A Viking at My Door," not only is Della shown wearing shorts, but so are Donald and Scrooge. Leaving me to ask, could someone from Disney please explain what exactly is going on here?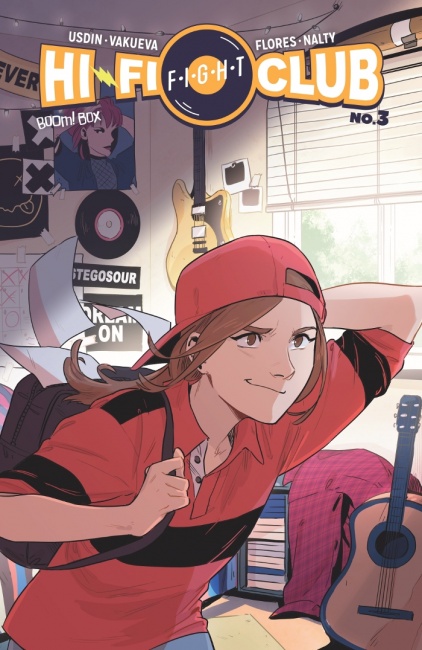 Last month (see "
Confessions of a Comic Book Guy - Back Off The Injured List
") I praised the BOOM! Studios' comic
HI-Fi Fight Club
, though I did mention that, since at no time do any of the members of the club fight each other, it wasn't much of a "fight club." Well, according to a piece on
Bleeding Cool
, "
The First Rule of Fight Club? Don't Call Your Comic 'Hi-Fi Fight Club'
," with its fourth and final issue the comic would be changing its name to
Heavy Vinyl
.
Bleeding Cool
intimated this was due to possible infringement on a better known novel and movie also known as
Fight Club
. I am indifferent to the cause, but applaud the effect;
Heavy Vinyl
is just a better, and more accurate, title.
* In the 80s, Disney threatened to sue Marvel for copyright infringement over
Howard the Duck
because they believed since neither of them wore pants Howard could be mistaken for Donald. Which is why to this day Howard still wears pants, in spite of the fact Disney now owns Marvel.
The opinions expressed in this column are solely those of the writer, and do not necessarily reflect the views of the editorial staff of ICv2.com