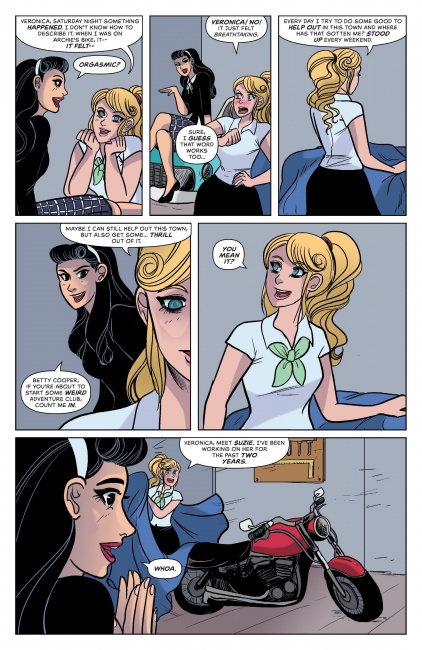 Confessions of a Comic Book Guy is a weekly column by Steve Bennett of Super-Fly Comics and Games in Yellow Springs, Ohio.
This week, Bennett looks at groundbreaking comics, MST3K news, and the latest Nicktoons revivals.
While the holidays can be problematic, I have to confess I tend to have pretty good Thanksgivings. This year's was practically perfect, with not a false step or harsh word heard, but what made this one extra special came at the end of the
MST3K
Turkey Day Marathon. This was when original host Joel Hodgson unexpectedly announced Netflix has officially renewed
Mystery Science Theater: The Return
for a second season. Now, if only there was some word about Dark Horse's
MST3K
comic...
I can't say I particularly cared for the first issue of
Betty & Veronica: Vixens
, though admittedly I did like it more than
Gotham City Garage
, the DC title which also reimagines classic female characters as bikers (but not by much). It's not that I actively disliked either comic, it's more a matter of not quite getting the appeal of the premise. Plus, I honestly can't believe there are two comics out at the same time with the same outre concept. At least
Betty & Veronica: Vixens
#1 broke some new ground; as far as I can tell, it's the first Archie comic to use the word "orgasmic."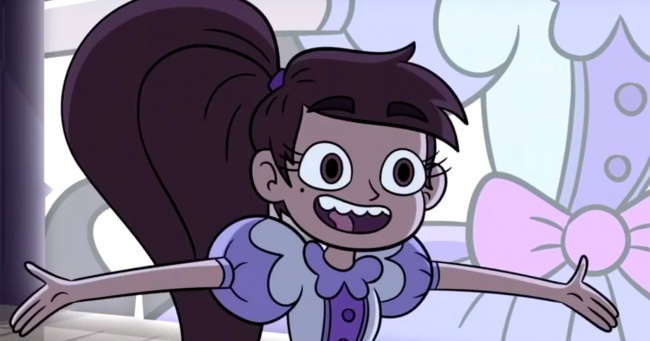 Back in March (see "
Confessions of a Comic Book Guy--Toys R Steve
"), I noted that during a crowd scene in an episode of the Disney XD show
Star vs. The Forces of Evil
there were at least two confirmed same-sex kisses. It was very brief and if you weren't paying close attention you might have missed it -- I know I didn't catch it the first time myself. Well, the series broke more new ground in a recent episode where, as the headline of an
Entertainment Weekly
piece put it "
Disney XD gets a male princess in Star vs. the Forces of Evil
."
Needing to go undercover at a repressive School for Wayward Princesses, with the aid of hair extensions and an off-the-rack princess ball gown, Star's best friend Marco assumed the identity of "Princess Turdina" (yes, you read that right). The TV Tropes website refers to this as "Disguised in Drag," defining it as "any scenario where a man dresses as a woman for purposes of disguise." This, of course, is a standard comedy staple, at least it once was, but here the trope gets a twist - when the evil headmistress reveals that Marco is a boy, not only doesn't the student body feel betrayed, they're very supportive. Or as one princess puts it, "He can be a princess if he wants to!"
Equally as interesting, as "Princess Marco" he doesn't put on a high-pitched "feminine" voice or behave any differently than he ordinarily does; he's just Marco, in a dress. Speaking of which, the character is shown to be surprisingly comfortable wearing women's clothes, never feeling shamed or demeaned by his disguise. But the most surprising thing about this development is, while the story made quite a number of headlines online, the majority of the pieces reported the story with the same neutral tone.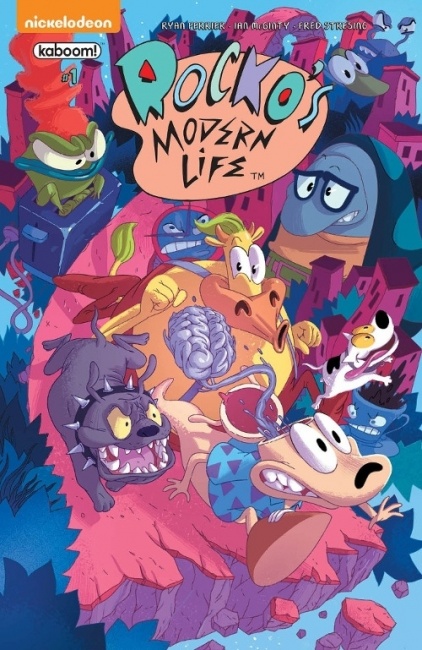 I was a big fan of Nickelodeon's Nicktoons back in the 90s and was much pleased when I read they were making a television movie based on one of my favorite series,
Rocko's Modern Life
, about a wallaby who worked in a comic shop. It won't be out until 2018 but in the meantime, in December, BOOM! Studios will be releasing the first issue of a
Rocko's Modern Life
comic as part of their all-ages KaBOOM! line (see "
Kids' Comic Roundup: Rocko Comes to Comics
").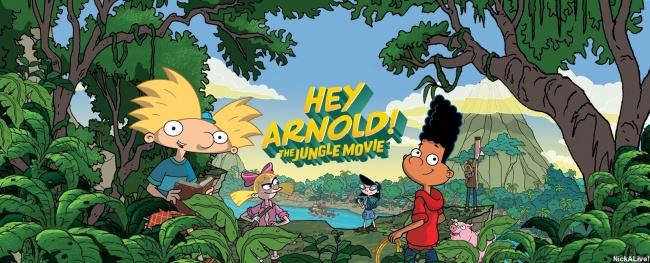 Nickelodeon also just aired a movie-length version of the
Hey Arnold
series,
Hey Arnold: The Jungle
. While I was never the show's biggest fan, I caught the occasional episode and always admired its creativity and commitment to do the unexpected. So my expectations going in were fairly neutral, but I soon found the movie more than lived up to the show's legacy. It's a nearly flawless continuation that isn't afraid to definitively deal with two of the series' unresolved ongoing plots: the whereabouts of Arnold's long-absent parents, and the genuinely poignant love that school bully Helga secretly holds for the show's football-headed hero. In short, it's wonderful and well worth seeing even if you've never seen
Hey Arnold!
The opinions expressed in this column are solely those of the writer, and do not necessarily reflect the views of the editorial staff of ICv2.com.