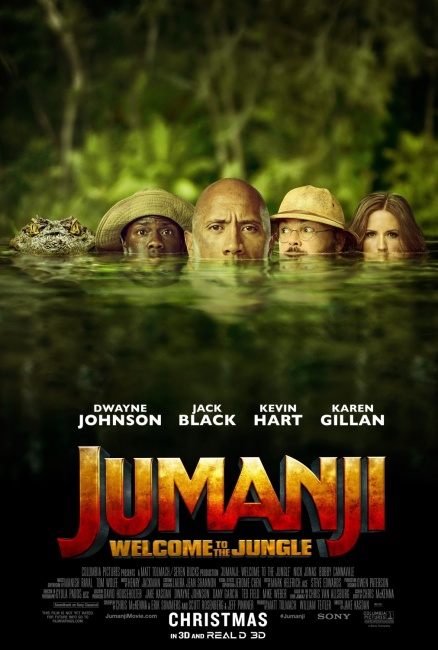 Sony's
Jumanji: Welcome to the Jungle
topped the box office for the third weekend in a row as it solidified its status as a "monster hit." Meanwhile two new films debuted above modest expectations, but a new anime from a studio founded by former Ghibli animators faltered in limited release, failing to capture the Ghibli box office magic. Overall the total of the top 12 films was down 9.6% from the same weekend last year when M. Night Shayamalan's horror film
Split
debuted with over $40 million.
Dropping just 28.7%,
Jumanji: Welcome to the Jungle
earned $20 million, which was more than enough to win the crown again.
Welcome to the Jungle
has now earned almost $317 million here in North America, surpassing
Skyfall
($304 million) to become Sony's fifth biggest film ever (not adjusting for inflation). With a current worldwide total of $767.8 million, the $90 million production has to be seen as a huge win for Sony, and it's far from completely done yet.
Given the success of
The Last Jedi, Welcome to the Jungle
, and
The Greatest Showman
, viewers can expect to see more "family fare" released at Christmas time in the coming years.
Second place went to the Afghan War saga
12 Strong
, which earned $16.5 million as well as an "A" CinemaScore from opening weekend audiences that skewed male (55%) and very much older (80% 25 or over). With solid audience reaction this patriotic saga about the initial American response to the 9/11 attacks, should demonstrate solid "legs" over the coming weeks.
In third place, the cops vs. crooks heist drama
Den of Thieves
earned a surprising $15.3 million, well above industry expectations that pegged the film to debut in the high single digits. This R-rated crime drama, which didn't please the critics (it received just a 40% positive rating on review aggregator Rotten Tomatoes), earned a "B+" CinemaScore from audiences that skewed male (60%). While Gerard Butler and Pablo Schreiber are the ostensible "stars" in this cops vs. robbers drama that recalls Michael Mann's 1995 film Heat, it is Curtis "50 Cent" Jackson, who demonstrates the real "drawing power" here. How else do you explain the 30% of the audience made up by African-Americans, more than double the percentage that other films in the genre typically enjoy.
Steven Spielberg's
The Post
earned $12.1 million to bring its domestic total to $45.2 million.
The Post
is one of several films that could get a major boost from the Academy Award nominations, which will be announced on Tuesday—though some, citing changing attitudes in Hollywood, suggest that
The Post
might be the first Spielberg film in quite some time that won't receive a "Best Picture" nomination.
Fifth place went to the leggy Fox musical
The Greatest Showman
has now earned $113.5 million after a disastrous debut weekend in which it made just $8.8 million.
The Greatest Showman
has a chance at earning one of the highest "multipliers" of all time (the multiplier is the number it takes to multiply a film's debut to arrive at the movie's final total—
The Greatest Showman's
current number is 12.9).
Weekend Box Office (Studio Estimates): January 19-21, 2018

Film

Weekend Gross

Screens

Avg./Screen

Total Gross

Wk#

1

Jumanji: Welcome to the Jungle

$20,040,000

3,704

$5,410

$316,985,148

5

2

12 Strong

$16,500,000

3,002

$5,496

$16,500,000

1

3

Den of Thieves

$15,320,000

2,432

$6,299

$15,320,000

1

4

The Post

$12,150,000

2,851

$4,262

$45,191,402

5

5

The Greatest Showman

$11,000,000

2,823

$3,897

$113,480,607

5

6

Paddington 2

$8,240,000

3,702

$2,226

$25,041,233

2

7

The Commuter

$6,685,000

2,892

$2,312

$25,708,529

2

8

Star Wars: The Last Jedi

$6,566,000

2,456

$2,673

$604,284,476

6

9

Insidious: The Last Key

$5,945,000

2,546

$2,335

$58,728,265

3

10

Forever My Girl

$4,703,070

1,115

$4,218

$4,703,070

1
The live action/animated hybrid Paddington 2 is now the #1 "best reviewed" movie of all time on Rotten Tomatoes with 169 positive reviews and no negative notices (topping Toy Story 2's previous record of 168 glowing reviews). While Paddington 2 posted a solid hold in its second weekend, dropping just 25.1%, it only earned $8.2 million to bring its total to $25 million. Based on both audience and critical reactions, Paddington 2 deserves better, but there are a lot of "family-targeting" films out there now, so Paddington 2 may have to depend on the post-theatrical market to get its due.

Jaume Collet-Serra's action film The Commuter, which stars Liam Neeson, dropped 51.2% in its second weekend, earning $6.7 million and bringing its North American total to $25.7 million.

Rian Johnson's Star Wars: The Last Jedi earned $6.6 million in its sixth weekend, driving its domestic total over the $600 million mark, something that only 5 other films have done. The Last Jedi is easily the top film of 2017 at the domestic box office. With a worldwide total of $1.296 billion, The Last Jedi has now passed Frozen to become the ninth largest release all time (not adjusted for inflation).

While The Last Jedi is the most front-loaded Star Wars film ever with the biggest first to second weekend drop of all time, it was still a huge hit, and while its effect on the franchise won't be known until Episode IX shows up in two years, it will likely finish its run with a total just 33% lower than that of The Force Awakens—a gap that is just a big larger than the 32% divide between the original Star Wars film and The Empire Strikes Back.

The lack of horror movie competition has given Blumhouse's Insidious: The Last Key some surprising "legs." The $10 million production dropped just 52.1% in its third weekend as it added $5.9 million to bring its domestic total to $58.7 million to go along with $68 million earned overseas for an extremely profitable $125.8 million earned so far.

The romance Forever My Girl, which was written and directed by Bethany Wolf, debuted in 1,115 theaters and earned $4.7 million. This bit of counterprogramming attracted an audience that was 78% female and mature (68% over 25)—and they liked the film, giving it an "A" CinemaScore, which could signal some modest box office success in the coming weeks.

Among the domestic market milestones passed by films outside the top ten—Pitch Perfect 3 topped the $100 million mark, and Pixar's Coco slipped past $200 million. Coco, which represents a real return to form (both artistically and financially) for Pixar, has now earned $655 million worldwide, and is yet to open in Japan or Scandanavia.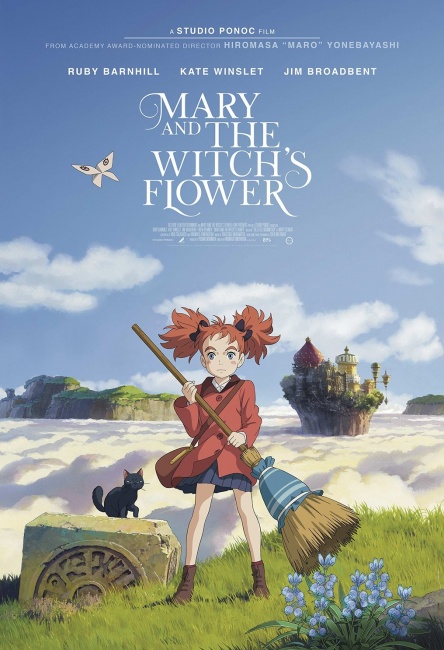 The anime fantasy film,
Mary and the Witch's Flower
, which was directed by Hiromasa Yonebayashi and based on Mary Stewart's
The Little Broomstick
, opened in 161 theaters and earned $329,097, which works out to a poor $2,004 per-venue average. Produced by Studio Ponoc, which was founded by Studio Ghibli animators,
Mary and the Witch's Flower
is a definite attempt to grab the mantle of Hayao Miyazaki, but so far American audiences aren't buying, though the critics surveyed by Rotten Tomatoes have given the film an excellent 88% positive rating. Given the struggles of
Paddington 2,
which has a 100% positive rating, perhaps we can chalk
Mary and Witch Flower's
lack of success to the current intense competition for the family audience, but the film's weak debut is a bit of a disappointment for anime fans.
Be sure and check back here next weekend to see if
The Maze Runner: The Death Cure
, which opens in more than 3,800 locations, can become the first 2018 film to top the box office charts, or if
Hostiles
, which expands into more than 3000 locations, will challenge for the top spot. Also we should start to see the first effects of the Academy Award nominations, which will be announced on Tuesday.