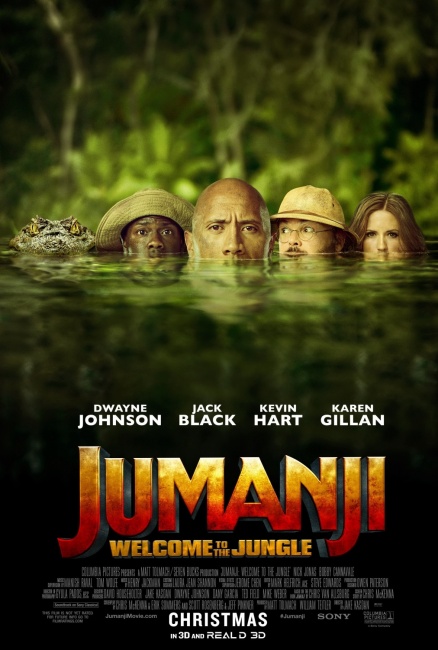 Sony's mega-hit
Jumanji: Welcome to the Jungle
reasserted control over the domestic box office once again, becoming the first December-released film since
Titanic
in 1998 to top the charts in February. Jumanji's "legs" are remarkable, but its victory this weekend (the fourth in the seven weekends since it debuted) is due at least as much to the weak competition with the box office total of the top twelve films down 11.6% from the same frame last year when
Split
reigned for the third time in a row with $14.4 million. So far the 2018 box office has been disappointing in the aggregate, but things will start to heat up next weekend, and then really get going with the earlier-than-ever start of "blockbuster season" with the release of Marvel Studios'
Black Panther
in two weeks.
Jumanji: Welcome to the Jungle
is about to become Dwayne "The Rock" Johnson's biggest hit here in North America as it will pass
Fast & Furious 7's
total of $353 million early this week. With a global haul of $855.7 Jumanji is now the highest grossing "video game-related" film in the relatively short history of the genre.
The YA adaptation
The Maze Runner: The Death Cure
, which topped the charts last weekend, dipped 56% and fell to #2 with $10.2 million, bringing its domestic total to near $40 million. This film has earned 78.2% of its global total overseas, and it's the $142.9 million already earned overseas that will make this $62 million production a modest financial success, though since it is the final film from this property it doesn't matter all that much, except for the funding of adaptations of similar YA science fiction material.
Weekend Box Office (Studio Estimates): February 2-4, 2018

Film

Weekend Gross

Screens

Avg./Screen

Total Gross

Wk#

1

Jumanji: Welcome to the Jungle

$11,000,000

3,352

$3,282

$352,642,752

7

2

Maze Runner: The Death Cure

$10,200,000

3,793

$2,689

$39,760,199

2

3

Winchester

$9,250,000

2,480

$3,730

$9,250,000

1

4

The Greatest Showman

$7,800,000

2,588

$3,014

$137,475,172

7

5

Hostiles

$5,523,000

2,934

$1,882

$21,237,413

7

6

The Post

$5,200,000

2,462

$2,112

$67,184,510

7

7

12 Strong

$4,710,000

2,918

$1,614

$37,303,553

3

8

Den of Thieves

$4,670,000

2,112

$2,211

$36,270,932

3

9

The Shape of Water

$4,300,000

2,341

$1,837

$44,580,050

10

10

Paddington 2

$3,110,000

2,388

$1,302

$36,313,679

4
This week's lone new wide release the period horror film Winchester opened with $92.5 million. This poorly-reviewed horror movie (just 9% positive on review aggregator Rotten Tomatoes-the lowest rating ever for a drama starring Oscar winner Helen Mirren), claims that it is based on "real events" in the life of an heiress to the repeating rifle manufacturer's fortune, who built an elaborate mansion filled with trap doors and stairways to nowhere reportedly constructed to confuse the spirits those killed by Winchester rifles haunting the heiress . Audiences, which skewed female (58%) and a bit older (though 20% was under 18 and 36% under 25), gave the film a poor "B-" CinemaScore, which doesn't indicate strong word-of-mouth.

Fox's musical The Greatest Showman continued its extraordinary run, dropping just 18.3% in its seventh weekend of release as it brought in $7.8 million, the first time that it has earned less than it did during its debut frame (which is also a box office record).

There is a horse race for fifth place with Scott Cooper's grim western Hostiles ($5.5 million) currently ahead of Steven Spielberg's The Post ($5.2 million), though this could change when final figures are released on Monday.

There's not much else to note this week except to point out that Guillermo Del Toro's fantasy The Shape of Water, which has to be the favorite for the "Best Picture" Oscar after it took top honors at both the Directors Guild and the Producer Guild events, earned $4.3 million to bring its domestic total to $44.6 million. Big wins at the Oscars could make The Shape of Water a hit, though the Academy historically hasn't supported the fantasy/horror genre—and Jordan Peele's socially-conscious horror film Get Out, which is also nominated for "Best Picture," could take votes away from The Shape of Water.

Next week we will have a new #1 film as the final Fifty Shades film, Fifty Shades Freed, debuts in 3,700 locations, while Sony's Peter Rabbit (buoyed by a trailer that has accompanied Jumanji) opens in a similar number of venues, while Clint Eastwood's real life thriller The 15:17 to Paris unspools on 3000 screens.