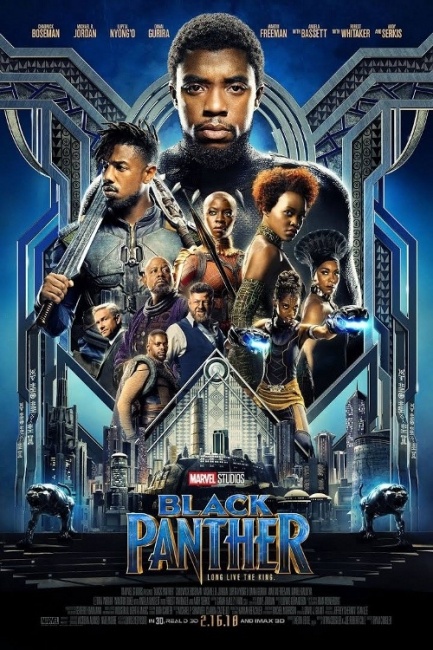 Confessions of a Comic Book Guy is a weekly column by Steve Bennett of Super-Fly Comics and Games in Yellow Springs, Ohio. This week, Bennett
looks at the reaction to
Black Panther
, and notes the upcoming
Moon Girl and Devil Dinosaur
animated series.
I could easily write an entire column about the reception the Black Panther movie has received, but won't. And as for my reaction, not only did I see it, I saw it in 3-D, though this was mostly due to a scheduling mishap. Not only did I love it, I found 3-D had finally gotten to the point where not only was it no longer irritating, it's become nearly undetectable. Which raises the question, what's the point to it, but that's another subject.
There have been enough online stories about the movie to fill a month's worth of columns, and I should know because I've been obsessively following them. Because it's interesting to see just how many different responses it's generated, yes, but I'll confess that it's also been for purely selfish reasons. In these oppressively unbelievable times we currently find ourselves in, one of the few things which has managed to sustain me is the joyous explosion of appreciation the movie has received.*
Like in Hollywood, in particular, the
Variety
piece by Owen Gleiberman titled "
After 'Black Panther' and 'Wonder Woman,' It's Time for the Myth of the Fanboy to Fade
." And by "Fanboy" he doesn't mean comic book readers; as the sub-headline explains; "Hollywood studio executives who are overgrown fanboys need to stop using the young-male demo as an excuse to make whatever they want." Gleiberman goes on to say this variety of fanboy has "…been calling the shots in Hollywood for too long now, justifying the tastes and decisions of the people who work there. He was once a reality. But now, he's just an excuse."
If like me you were curious what the African reaction to the movie was, there's the ABC News piece "Tears, exuberance as 'Black Panther' opens across Africa." According to it, "In Ethiopia's capital, Addis Ababa, Black Panther has been selling out its five-times-a-day screenings at the only theater showing the film."
I was also gratified to discover that other people as well thought Winston Duke's portrayal of M'Baku (the character formerly known as Man-Ape), was an unexpected delight, as in these three articles: "
Black Panther's M'Baku Is Our Man Crush Monday--All Hail The Great Gorilla
" (
The Mary Sue
); "
M'Baku Is The Best Surprise of 'Black Panther'
" (
The Ringer
); "
Winston Duke's M'Baku heats up 'Black Panther' fans
" (
CNN
). Let's hope we'll be seeing more of this version of M'Baku in an upcoming issue of
Black Panther
.
Disney seems to have itself a new Princess in T'Challa's little sister Shuri, according to
Vox
("
Why Shuri, Black Panther's teen girl genius, is Marvel's most promising character in ages
") and
FiveThirtyEight
("
'Black Panther' Is Groundbreaking, But's Shuri Who Could Change The World
"). Seriously, if Marvel doesn't want to publish an ongoing Princess Shuri comic, IDW Publishing, Dark Horse Comics definite should.
And for what appears to be my final word on the subject, with a gobsmacking $242 million four day opening weekend,
Black Panther
has clearly proven itself a viable franchise for Disney. But they might not be fully aware of the fact that they also have something of an undisclosed asset with its setting of Wakanda. As I wrote last week (see "
Confessions of a Comic Book Guy--The Cold Equations
"), I was dead keen on seeing "the wonders of Wakanda." And they were there on the screen, in abundance. During the movie I even found myself whispering "The Techno-jungles, it's the Techno-jungles" (though apparently at some point they were upgraded to "Techno-Organic Jungles").
So, at long last, what is my point? Imagine the people all over the world who would want to visit Wakanda if they could. While this is well outside my wheelhouse, I have a feeling if Disney built a Wakanda "land" for one of their theme parks (or maybe even make it a theme park all its own) a whole lot of those people would visit.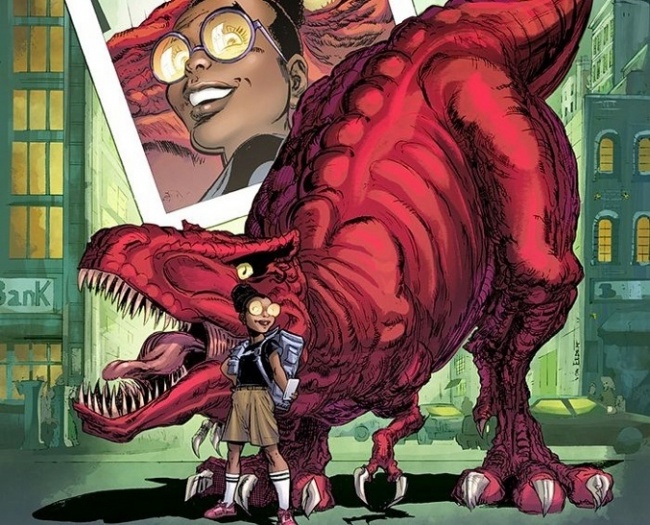 And finally, even I was taken aback when I read an announcement concerning one of my favorite comics. it was announced on the
Nerdist
website, among other places, that "
Disney is Developing a MOON GIRL AND DEVIL DINOSAUR Animated Series
." Actor Laurence Fishburne and his partner on the TV series Black-ish are developing an animated series based on the series created by Amy Reeder, Brandon Montclare, and Natacha Bustos. To anyone still wondering, this is exactly why Marvel publishes comics that "don't sell" -- in the direct sales market. And why diversity is so important, to Marvel's bottom-line.
* Right now it's a pretty short list. Also on it are Internet stories about sick, sad or senior cats who miraculously find forever homes (which is strange, seeing as how I'm far from being a "cat person"), and SNL's Leslie Jones' unbridled enthusiasm for every Olympic event (even though I'm counting the days until the Olympics are over).
The opinions expressed in this column are solely those of the writer, and do not necessarily reflect the views of the editorial staff of ICv2.com.