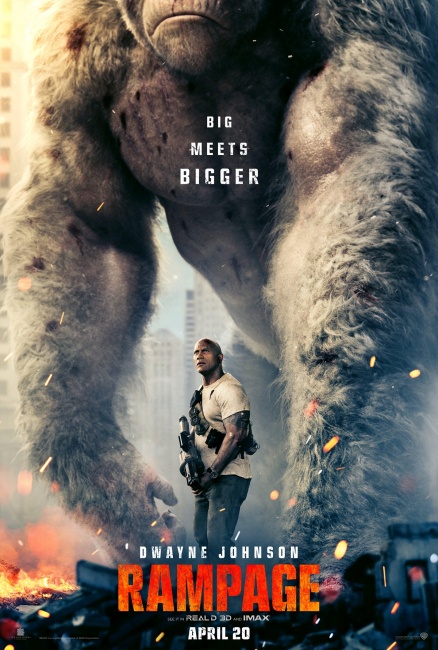 The Dwayne Johnson-starring, video game-based
Rampage
debuted below expectations, but had just enough to post a narrow win over John Krasinski's horror film
A Quiet Place
. Overall it was a good weekend for horror films as the micro-budgeted
Truth or Dare
debuted at number 3. But since this weekend last year saw the $98.8 million debut of
Fate of the Furious
, the year-over-year box office was down 15.9%. Still, thanks to a strong showing last weekend, April is still running 3.3% ahead of last year.
After a slow March (-24%) more than wiped out the gains of a
Black Panther
-powered February (the first Feb. ever to top $1 billion in North America), it is nice to see a positive trend in the April box office, which should get a huge boost with the debut of
Avengers: Infinity War
on April 27). The first quarter of 2018 finished just 2% below 2017's record Q1—with
Black Panther
alone responsible for 23% of the $2.85 billion in ticket sales.
Rampage
, which cost in the neighborhood of $120 million to produce, earned an estimated $34.5 million, a bit below the $35-40 million that advance ticket sales predicted. There is some hope for
Rampage
in that opening weekend audiences, which skewed male (55%) and a bit older (63% over 25) gave the film a solid "A-" CinemaScore. The problem is that
Rampage
has just one more weekend before
Avengers: Infinity War
sucks all the air out of the room.
Rampage
earned $114.1 million overseas where it opened in 61 markets. China led the way with $55 million. While they be box office wet noodles in North America, video game-based movies generally do well in China, since the Chinese are often familiar with the films' source material. Without Dwayne Johnson,
Rampage
would likely have been another video game-based flop, but, though it's a too early to make any definitive judgements, the Warner Bros./New Line production has a chance in spite of its less-than-auspicious North American debut.
Second place went to this year's first certified horror film mega-hit, John Krasinski's
A Quiet Place
, which dropped just 35% from its massive (for a horror movie) $55 million debut, as it earned an additional $32.6 million to bring its domestic total to $99.6 million. This means that
A Quiet Place
will make it to $100 million eight days earlier than
Split,
which went on to earn $138.2 million. It appears likely now that
A Quiet Place
will end up somewhere between
Split's
total and 2017's other horror film hit
Get Out's
$175 million domestic take.
A Quiet Place
is certain to become Paramount's biggest hit since
Star Trek Beyond
($158.8 million in the summer of 2016).
Weekend Box Office (Studio Estimates): April 13-15, 2018

Film

Weekend Gross

Screens

Avg./Screen

Total Gross

Wk#

1

Rampage

$34,500,000

4,101

$8,413

$34,500,000

1

2

A Quiet Place

$32,600,000

3,589

$9,083

$99,635,885

2

3

Truth or Dare

$19,080,000

3,029

$6,299

$19,080,000

1

4

Ready Player One

$11,205,000

3,661

$3,061

$114,607,798

3

5

Blockers

$10,295,000

3,418

$3,012

$36,927,670

2

6

Black Panther

$5,342,000

2,180

$2,450

$673,797,522

9

7

Isle Of Dogs

$5,000,000

1,939

$2,579

$18,450,864

4

8

I Can Only Imagine

$3,837,220

2,553

$1,503

$74,988,485

5

9

Tyler Perry's Acrimony

$3,700,000

1,332

$2,778

$37,875,477

3

10

Chappaquiddick

$3,025,000

1,645

$1,839

$11,006,383

2
Horror movies dominated to box office this weekend as Blumhouse's Truth or Dare, in spite of A Quiet Place's great hold, debuted at #3 with an estimated $19 million. With a budget of just $3.5 million Truth or Dare is already in the black. Opening weekend audiences, which skewed female (60%) and younger (40% under 25), gave Truth or Dare a "B-" CinemaScore, which would be bad for most films, but is generally OK for a horror movie.

Steven Spielberg's Ready, Player One, a video game-themed movie that is based on a novel rather than an actual video game, slipped to #4 in its third weekend of release as it earned $11.2 million to drive its domestic total to $114.6 million. RP1 looks like it should end its North American run with between $140 and $160 million. With a current global cumulative of $475 million RP1 might look like a huge success for Warner Bros., but given the film's enormous cost (reportedly $175 million, plus millions more to market), and relatively weak domestic performance, RP1 will more likely just eke out a modest profit.

The R-rated Blockers took a bigger-than-expected drop for a well-reviewed (and well-liked by opening weekend crowds) comedy as it dropped 50% as it earned $10.3 million to bring its domestic total to nearly $37 million. Is this just a weird second weekend aberration? We should know more after next weekend.

Ryan Coogler's Black Panther fell just 38.6% in its ninth frame as it earned $5.3 million to bring its 2018-leading domestic total to $$673.8 million. It now looks like Black Panther will end its run with just a bit more than the inflation-adjusted $284 million total of Christopher Nolan's Dark Knight, which will make Black Panther the #1 solo superhero film of all time.

Wes Anderson's stop motion-animated Isle of Dogs expanded to almost 2,000 venues and $5 million to bring its domestic total to $18.5 million, while the faith-themed I Can Only Imagine brought in $3.8 million to bring its North American tally to nearly $75 million (versus a cost of just $7 million).

The political thriller Beirut, which stars John Hamm and Rosamund Pike, is the kind of film that the major studios used to make (Bleeker Street produced and is distributing Beirut, which was written by Tony Gilroy, who penned Michael Clayton). But after a disappointing debut for Beirut, which earned just $1.65 million from 755 theaters, the migration of projects like this to cable and streaming is just going to increase.

Next weekend should be interesting with the holdovers doing battle with a trio of newcomers that includes the Amy Schumer comedy I Feel Pretty, which will bow in 3,200 theaters, the police spoof Super Troopers 2, a sequel that was 17 years in the making, and the thriller Traffik, which is due on 1,000 screens.