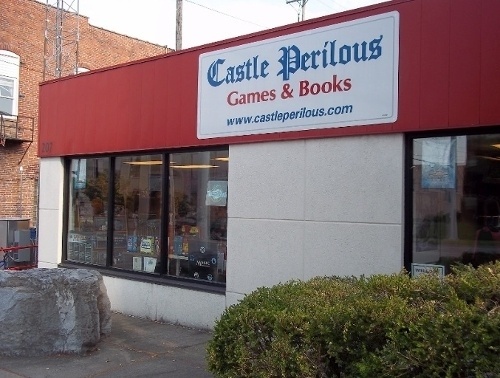 Rolling for Initiative
is a weekly column by Scott Thorne, PhD, owner of Castle Perilous Games & Books in Carbondale, Illinois and instructor in marketing at Southeast Missouri State University. This week, Thorne looks at the question of which companies might be interested in acquiring Asmodee.
As I mentioned in
last week's column
, Eurazeo SE, the private equity firm that owns Asmodee,
has hired investment bankers
to explore the sale of the company, which has annual EBITDA (earnings before interest, taxes, depreciation, and amortization) of around 100 million euros or about $117 million in US dollars. Eurazeo is a
French holding company
with investments in fragrances, parking lots, Europcar and hotels, as well as games. Selling Asmodee could fetch Eurazeo
an estimated 1.5 billion euros
, about $1.8 billion dollars. Given that Asmodee was valued at about $143 million dollars at the time of its acquisition by Eurazeo
back in 2013
, an estimated $1.8 billion valuation represents a significant increase in the value of the company over the past five years.
(Incidentally, this is the same thing Bain Capital and KKR wanted to accomplish when the
firms bought Toys 'R' Us
back in 2005: buy a company, increase its sales and value, then sell it in the expectation of making a significant profit. But in the case of Toys 'R' Us, Bain Capital et. al. engaged in what is called a
leveraged buyout,
having Toys 'R' Us take on a huge load of debt as part of the purchase. Unfortunately, Toys 'R' Us, due to increased competition from Amazon and Walmart, never managed to generate the sales needed to service or pay off the debt, leading the company to declare bankruptcy.)
Of course, the 64 dollar, or in this case $1.8 billion, question is: who buys Asmodee? While I am certainly not privy to anyone's finances in the gaming industry, I think I can safely say that no individual in the industry has that kind of money lying around in order to take the company private. For that matter, given the amount of consolidation that has taken place in the game industry over the past few years, there are only a couple of companies in the industry with the financial wherewithal to purchase Asmodee: Hasbro and NECA.
Hasbro
: Hasbro already has significant exposure in the hobby game industry with its ownership and successful growth of Wizards of the Coast properties
Dungeons & Dragons
and
Magic: The Gathering
. Incidentally, those who have been in the industry for a significant length of time will remember that Hasbro originally had little interest in either property, buying WOTC in order to gain access to the
Pokemon TCG
license, which Nintendo reclaimed several years later. However, since Hasbro owns the Avalon Hill catalog of games, acquired when it purchased WOTC, and has shown little interest in promoting titles from it to any great extent, I think it unlikely that Hasbro would pursue the Asmodee portfolio.
NECA
: NECA successfully entered the games industry back in 2009 with its purchase of WizKids from Topps. Since then, under NECA's auspices, WizKids has successfully grown the
HeroClix
line, introduced a brand new category, collectable dice, with the
Dice Masters
games, and recently pursued an aggressive incursion into the
board game market
, using its line of licensed
D&D
games,
HeroClix
-based board games, and its own line of board and card games to gain significant presence. Given the company's active interest in growing its presence in the Euro-style board game market, I could easily see NECA making an offer for Asmodee.
The opinions expressed in this column are solely those of the writer, and do not necessarily reflect the views of the editorial staff of ICv2.com.