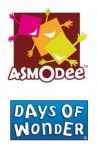 Asmodee has acquired Days of Wonder in a transaction that's technically a merger but will result in Days of Wonder being a wholly owned subsidiary of Asmodee, the companies announced today. In that role, Days of Wonder will operate as a separate game studio under Asmodee, continuing its current development strategy of producing a limited number of products that each "have the potential to be a big product that will last a long time," according to Days of Wonder Vice President Mark Kaufman.
The acquisition will strengthen Asmodee's North American line by adding Days of Wonder hits
Ticket to Ride
and
Small World
(consistently in ICv2's Top 10 Hobby Channel Board Games chart, see "
Top 10 Board Games--Spring 2014
") and others to Asmodee's line of hits including
7 Wonders, Mascarade
(see "
Top 10 Card/Dice Games--Spring 2014
"), and others.
The transaction increases Asmodee's exposure to the U.S. game market, and gives it Days of Wonder's digital games development expertise; the company has successful apps for its
Ticket to Ride, Small World
, and
Memoir 44
games.
Days of Wonder CEO Eric Hautemont and VP Kaufman will continue with the company for a period of time, and then "step back," according to Kaufman. "Eric will consult with the CEO but won't be involved in much day-to-day activity," Kaufman said. "I'll continue to do what I do while they go through the transition... I'll be here until we can make sure it can move forward and become successful as part of their group."
The new top person at Days of Wonder will be Adrien Martinot, according to Kaufman. Martinot has been running European sales and marketing for the company, and took the lead on launching
Five Tribes
, Days of Wonder's newest game (see "
'Five Tribes' Big Box Board Game
").
Asmodee in Europe is a very different company from the Euro-games publisher/distributor it appears to be in North America. In North America, the company has acted as U.S. publisher for its own games and others for which it is the English co-publisher and North American distributor. In that role, it sells to game wholesalers such as Alliance and ACD for the hobby market, and through PSI to the book and other specialty retail and mass channels.
In Europe, Asmodee owns distribution companies in the UK, Germany, and the Benelux countries, in addition to its home country of France, through which it sells many games beyond its own, including those from the U.S., such as
Magic: The Gathering
. It also has exclusive distribution relationships with some game companies, such as Days of Wonder for
Ticket to Ride
in some countries. It is the channel to the market for the
Pokemon TCG
in France, the UK, Belgium, and Spain.
Asmodee acquired several of its distribution companies outside of France, such as in the acquisition of Esdevium in the UK in 2010 (see "
Asmodee Acquires Distributor
").
Asmodee's sales in 2012 were €110 million (according to information released by its parent), or about $145 million at today's exchange rate. We do not have 2013 sales, but the company has been growing rapidly, with 2012 up 13% from 2011, and sales up by a factor of 2.6 in the five years ending in 2012.
In January of 2014, after exclusive discussions that began in November of 2013, 83% of Asmodee was acquired by diversified investment firm Eurazeo at a price that valued the enterprise at €143 million, or about $189 million at today's exchange rate. At the time, Eurazeo COO Virginie Morgon promised an aggressive strategy for Asmodee going forward. "As shareholders, and alongside Stephane Carville and his teams, we will now be able to concentrate on development projects aimed at accelerating the transformation of the company into a world leader in games publishing and distribution."
The acquisition of Days of Wonder will have no immediate impact on distribution, according to Kaufman. Asmodee titles will continue to be distributed by its current hobby distributor network and PSI, and Days of Wonder will continue to be distributed exclusively to the hobby by Alliance Game Distributors and to other channels by PSI.
We asked if those two systems would be aligned at some point in the future, but Kaufman was noncommittal. "At some point, we'll take a look and see what makes the most sense," Kaufman said. "It remains to be seen what changes might happen."
Or, rather than choose one of its two current paths to the market for hobby stores (Alliance exclusive or through a network of hobby distributors), perhaps Asmodee will just do what it's done in other countries, and buy a distributor. The company was already on an aggressive growth path, and the improved access to capital that came with the Eurazeo acquisition gives it the ammo it needs to accelerate that pace if it chooses to do so.
Regardless, this new transaction represents a substantial consolidation of hobby game publishing in North America and raises Asmodee's profile as a much more important player in that market.