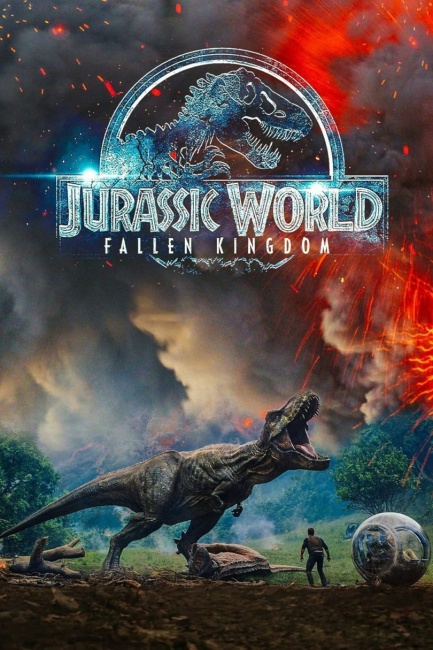 As expected
Jurassic World: Fallen Kingdom
topped the weekend box office with a $150 million bow, which was well above Universal's conservative $130 million prediction. This weekend marks only the second time in domestic box office history that films have opened with over $100 million on two consecutive weekends (the only previous time was in 2007 when
Shrek the Third's
$121.6 million bow was followed by
Pirates of the Caribbean: At World's End's
$114.7 million debut the next weekend. With
Fallen Kingdom's
strong start and last week's mega-opener
Incredibles 2
($182.7 million) dropping just 55.7% (and earning $81 million), the weekend box office was up a huge 97.5% over the same weekend last year when the disappointing
Transformers 5: The Last Knight
debuted with $44.7 million.
Jurassic Park: Fallen Kingdom's
opening was 28% lower than that of the first
Jurassic World
film, but this is similar to the drop-off between the first and second revived
Star Wars
films.
Fallen Kingdom
also received a slightly worse grade from opening weekend audiences (an "A-" versus the "A" that the original Jurassic World received)—and
Fallen Kingdom
will likely receive more competition in the coming weeks than its predecessor, so it's unlikely that it will attain the superb 3.12 multiplier of the first
Jurassic World
film. But
Fallen Kingdom
appears to be on track for a sterling domestic run that could put it closer to $400 million than $300 million—and remember the film's strong debut came in the face of direct competition for youthful audiences from
Incredibles 2
.
Fallen Kingdom
attracted an audience that skewed male (54%) and younger with 56% of the crowd under 25.
Because of the World Cup,
Fallen Kingdom
has already been released in much of the world and has earned $561 million, giving the film a global total of $711.5 million, which means that J.P. Baruna's film, which cost just $170 million to produce, is certain to cross the $1 billion mark before its run is done.
Fallen Kingdom
has already passed
Deadpool 2
to become the #3 film of 2018 so far, and will become the third 2018 film to pass the $1 billion mark. All this in spite of mediocre to bad reviews that give
Fallen Kingdom
only a 50% positive rating on review aggregator, and a heavy dose of competition for
Fallen Kingdom's
youthful audience from Marvel's
Ant-Man and Wasp
,
Hotel Transylvania 3
, and
Skyscraper.
Disney and Pixar's
Incredibles 2
earned an estimated $81 million, which gives the superhero-themed sequel a stellar $350 million, which is already more than
Zootopia
earned in North America in its entire run in 2016. Overseas
Incredibles 2
is rolling out slowly because of the World Cup, so it will be quite some time before all the returns are in—but it is clear that Pixar has another major hit on its hands—the only question is how big? While
Incredibles 2's
second weekend drop was a big one for a Pixar release, i opening was the biggest in animation history, and it faced stiff direct competition from
Fallen Kingdom.
Warner Bros.' distaff caper film
Ocean's 8
is proving to be superb summer counter-programming.
Ocean's 8
dropped just 38.6% as it earned $11.7 million to drive its 17-day domestic total to $100.4 million. The disappointing R-rated comedy
Tag
dropped just 45.1% in its sophomore frame as it earned $8.2 million to bring its 10-day total to $30.4 million.
Weekend Box Office (Studio Estimates): June 22-24, 2018

Film

Weekend Gross

Screens

Avg./Screen

Total Gross

Wk#

1

Jurassic World: Fallen Kingdom

$150,001,000

4,475

$33,520

$150,001,000

1

2

Incredibles 2

$80,928,000

4,410

$18,351

$350,374,690

2

3

Ocean's 8

$11,650,000

3,656

$3,187

$100,385,760

3

4

Tag

$8,200,000

3,382

$2,425

$30,367,545

2

5

Deadpool 2

$5,250,000

2,420

$2,169

$304,150,321

6

6

Solo: A Star Wars Story

$4,045,000

2,338

$1,730

$202,176,870

5

7

Hereditary

$3,809,000

2,002

$1,903

$35,000,966

3

8

Superfly

$3,350,000

2,220

$1,509

$15,266,395

2

9

Avengers: Infinity War

$2,482,000

1,456

$1,705

$669,466,449

9

10

Won't You Be My Neighbor?

$1,875,000

348

$5,388

$4,129,778

3
The fifth spot went to Deadpool 2, which earned $5.2 million to bring its domestic total to a stellar $304.2 million. Overseas the latest Merc-with-a-mouth epic has brought in $403 million overseas for a global haul of $707.2 million. Deadpool 2 won't be able to match the original Deadpool's $363 million domestic total, but it should surpass the first film's $420 million overseas earnings.

Ron Howard's Solo: A Star Wars Story dropped 60% in its fifth weekend in theaters. The disappointing Star Wars spin-off has earned over $202 million here in North America, but just $151.3 million overseas for $353.5 million. With a cost of over $250 million, Solo, which will likely end its run with about $370 worldwide, will be the first of Disney's revived Star Wars films to lose money. Many, especially those who haven't seen Solo, blame the film, but why did Disney, which had a great thing going with family audiences by screening a new Star Wars epic over three consecutive Christmas holiday seasons, chose to open Solo just a few months after the The Last Jedi vacated theaters--certainly one of the biggest movie scheduling blunders of the Century?

Nearing the end of its lengthy and successful run, Marvel Studio's Avengers: Infinity War earned $2.5 million to bring its domestic total to $669.5 million. Infinity War won't catch the domestic total of Black Panther, which keeps inching closer to the $700 million mark even as its home entertainment releases soar, but the third Avengers film has earned an astounding $2.03 billion worldwide.

Mention should be made of the Mr. Rogers documentary, Won't You Be My Neighbor, which earned nearly $2 million from just 348 theaters to bring its domestic total to $4.1 million. It now appears that the Mr. Rogers film could give the Ruth Bader Ginsberg documentary, RBG, which has already earned over $10 million, a close contest for the most successful documentary of the year.

Next weekend should provide Fallen Kingdom and Incredibles 2 a solid opportunity to pad their totals before competition heats up with the release of Ant-Man and Wasp on July 6, but there are two interesting films opening, the drug war action movie Sicario: Day of the Soldato, and the basketball comedy Uncle Drew that stars Kyrie Irving and a bunch of NBA stars (former and present), and which has developed a bit of pre-release buzz.