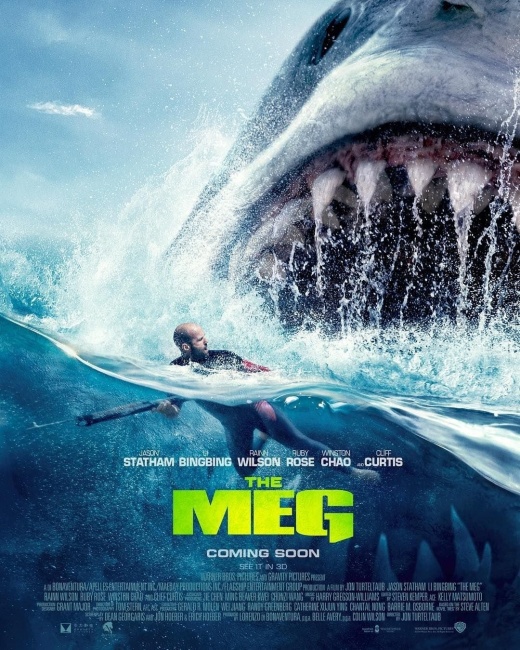 If the perverse popularity of the feeble
Sharknado
TV movies weren't proof enough of the public's fascination with sharks, then the fact that
The Meg
, a years-in-the-making action fantasy about a mammoth prehistoric shark with a B-list cast of western actors led by Jason Statham, could double its tracking numbers and take a $44.5 million dollar bite out the box office, certainly is.
The Meg
helped power the box office to a 24% gain over the same frame a year ago when Annabelle 2 opened with $35 million.
The Meg,
which was largely financed by a Chinese company (hence the presence of A-list Asian star Li Bingbing), opened with an even better $50.3 million in the Middle Kingdom, earning $96.3 million overseas for a global debut total of $141 million. With a production cost reported to be $150 million, plus considerable marketing expenses,
The Meg
still has a long way to go to reach black ink, but it is off to a solid start.
Weekend audiences for
The Meg
skewed slightly male and definitely older with 70% over 25, and they gave the film an OK "B+" CinemaScore. Warner Bros., which is distributing
The Meg
here in the U.S., noted that
The Meg
is doing especially well in Hispanic markets such as San Antonio, Miami, and Corpus Christi.
Mission: Impossible-Fallout
continued its strong run, dropping just 43.4% in its third weekend in theaters as it earned an estimated $20 million to bring its domestic total to $162 million. Overseas
Fallout
, which is yet to open in China, has earned $275.6 million for a global haul of nearly $438 million.
Weekend Box Office (Studio Estimates): August 10-12, 2018

Film

Weekend Gross

Screens

Avg./Screen

Total Gross

Wk#

1

The Meg

$44,500,000

4,118

$10,806

$44,500,000

1

2

Mission: Impossible - Fallout

$20,000,000

3,888

$5,144

$161,967,284

3

3

Disney's Christopher Robin

$12,430,000

3,602

$3,451

$50,019,317

2

4

Slender Man

$11,325,000

2,358

$4,803

$11,325,000

1

5

BlacKkKlansman

$10,799,000

1,512

$7,142

$10,799,000

1

6

The Spy Who Dumped Me

$6,600,000

3,111

$2,122

$24,560,385

2

7

Mamma Mia! Here We Go Again

$5,820,000

2,812

$2,070

$103,831,200

4

8

The Equalizer 2

$5,500,000

2,373

$2,318

$89,645,928

4

9

Hotel Transylvania 3: Summer Vacation

$5,110,000

2,589

$1,974

$146,887,391

5

10

Ant-Man and the Wasp

$4,048,000

1,863

$2,173

$203,518,344

6
Disney's live-action/hybrid Christopher Robin slipped a relatively modest 49.4%, from its less-than-stellar debut, as it added $12.4 million to bring its ten-day total to $50 million. Can this Winnie-the-Pooh film attract enough parents with young children? The foreign markets may make a difference, but Disney's Christopher Robin is still underperforming for a Winnie-the Pooh vehicle.

Fourth place went to Sony's horror film take on the Slender Man urban legend. Despite ghastly reviews (only 15% positive on Rotten Tomatoes), the Slender Man movie earned an estimated $11.3 million, proof of the increasing "power" of these urban legends in the era of a fan fiction-fueled Internet. Slender Man earned a "D-" CinemaScore, which is bad, even for a horror movie (most movie audiences grade on a curve, horror movie fans are much more rigorous).

Spike Lee's BlacKkKlansman is based on the true story of two Colorado policemen, one black and one Jewish, who infiltrated the Ku Klux Klan in the 1970s. With a 97% positive rating on Rotten Tomatoes, and a cover story in Time Magazine, BlacKkKlansman is set to become the director's biggest hit in years. Caucasians made up 55% of the opening weekend crowd with African-Americans accounting for 23%, Hispanics for 13%, and Asians 6%--and they gave the film a solid "A-" CinemaScore. The film's audience skewed slightly female (52%) and older with 60% over 35.

In the bottom half of the top ten Mamma Mia! Here We Go Again topped $100 million here in North America in its fourth weekend of release, while Marvel Studio's Ant-Man and the Wasp spent its sixth weekend in the top 10 at #10, earning $4 million and driving its domestic total to $203.5 million.

Just outside the top ten, Pixar's Incredibles 2, added $3.5 million to bring its record-breaking total for an animated film to $589.9 million, while the family comedy, Dog Days, rolled over and died, earning just $2.6 million from almost 2,500 theaters.

Be sure to check back here next week to what happens when a bevy of new films, including the romantic comedy Crazy Rich Asians, and the Chinese-financed (noticing an increasingly common pattern here) Mark Wahlberg action thriller Mile 22, hit theaters