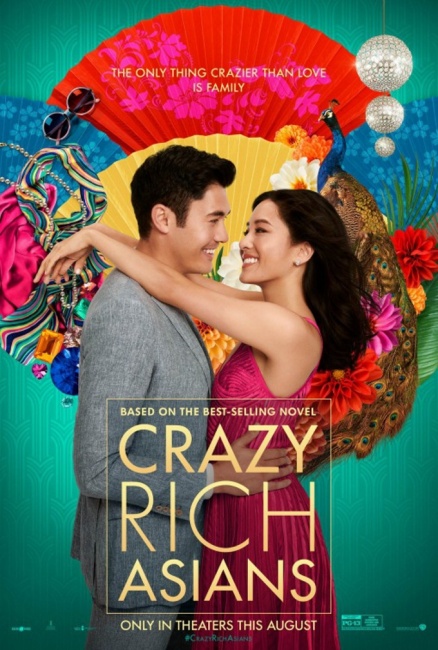 Despite opening on Wednesday, John M. Chu's romantic comedy
Crazy Rich Asians
won the weekend box office with a $25.2 million 3-day total, providing Warner Bros. with a second straight over-performing box office champ. Hollywood's August win streak continued as the box office soared 30% over the same frame last year when
The Hitman's Bodyguard
topped the charts with $21.4 million. Currently August box office revenues are up almost 24% from 2017, but then August 2017 had the lowest total in 20 years, so this year's modest late summer successes should be kept in perspective. However, unlike last summer the box office hasn't fallen off a cliff and remains on a record pace.
Crazy Rich Asians
is the first studio production with an Asian cast since
The Joy Luck Club
was released in 1993, and it posted the best opening for a rom com so far in 2018, a year that has not been kind to comedies of any kind at the box office. Opening weekend audiences, which skewed heavily female (68%) and older (64% over 25) gave the film an "A" CinemaScore, which along with glowing reviews should eventually propel
Crazy Rich Asians
over $100 million at the domestic box office.
Caucasians made up 41% of the opening weekend audience for
Crazy Rich Asians
, followed by Asians (38%), Hispanics (11%), and African-Americans (6%). Of all the major movie genres, romantic comedies have been the most affected by streaming competition in the "Netflix and chill" era, so it is especially heartening to see
Crazy Rich Asians
(a property that Netflix did pursue) succeed at the box office.
Last week winner, the shark movie
The Meg
, dropped just 53.4%, proving that sharks can overcome both bad reviews from the critics and poor word-of-mouth from audiences who bestowed a lowly B- CinemaScore on
The Meg
last weekend. While the $150 million project is not in the black yet, it is getting closer with an $83 million domestic total and a global haul of $314 million.
Peter Berg's
Mile 22
, an action thriller starring Mark Wahlberg, debuted disappointingly with $13.6 million. The idea here was to create a moderately-budgeted action thriller series, but
Mile 22's
lackluster bow may doom the entire enterprise. Opening weekend audiences skewed male (60%) and older (73% over 25), and they gave
Mile 22
a lousy "B-" CinemaScore.
With its $30 million budget (and foreign sales)
Mile 22
still has a solid shot at making its money back, but Albert Hughes' prehistoric "boy and his dog" saga
Alpha
, which cost a reported $55 million, and debuted in a tie for fourth place with $10.5 million, appears to be in real trouble, in spite of a sterling 84% positive rating on review aggregator Rotten Tomatoes. Audiences, which skewed male (56%) and younger (just 41% over 25), gave
Alpha
a solid "B+" CinemaScore, so perhaps there is some hope.
Weekend Box Office (Studio Estimates): August 17-19, 2018

Film

Weekend Gross

Screens

Avg./Screen

Total Gross

Wk#

1

Crazy Rich Asians

$25,235,000

3,384

$7,457

$34,001,769

1

2

The Meg

$21,150,000

4,118

$5,136

$83,759,062

2

3

Mile 22

$13,620,000

3,520

$3,869

$13,620,000

1

4

Mission: Impossible - Fallout

$10,500,000

3,482

$3,016

$180,738,721

4

4

Alpha

$10,500,000

2,719

$3,862

$10,500,000

1

6

Disney's Christopher Robin

$8,862,000

3,602

$2,460

$66,879,410

3

7

BlacKkKlansman

$7,000,000

1,788

$3,915

$23,009,490

2

8

Slender Man

$4,965,000

2,358

$2,106

$20,741,579

2

9

Hotel Transylvania 3: Summer Vacation

$3,675,000

2,187

$1,680

$153,868,700

6

10

Mamma Mia! Here We Go Again

$3,385,000

2,270

$1,491

$111,204,490

5
Mission: Impossible-Fallout dropped just 45% as it added $10.5 million to bring its domestic total to $180.7 million, and its global cumulative to $501.4 million.

Also demonstrating solid "legs" were Disney's Christopher Robin, which added $8.9 million to bring its domestic total to $66.8 million, Spike Lee's BlacKkKlansman, which slipped just 35.5% as it added $7 million to bring its total to $23 million, Hotel Transylvania 3, which has now spent six weeks in the top ten and earned $153.9 million, and Mamma Mia! Here We Go Again, which has now earned $111.2 million.

Be sure to check back here next weekend to see if either the R-rated puppet movie, The Happytime Murders, which opens in over 3000 theaters, or the "boy with a robotic dog" saga A.X.L., which debuts in over 1500 venues, will make much of an impression on the box office.