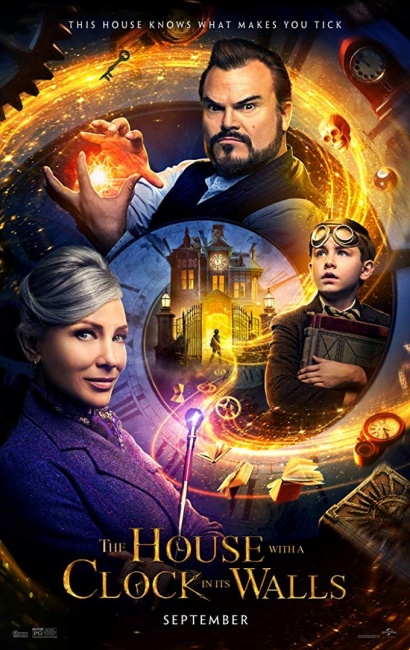 Eli Roth's adaptation of the gothic children's book
The House With a Clock In its Walls
topped the weekend box office with an estimated $26.8 million, but Tinseltown's September swoon continued as three other new films tanked, and the total of the top 12 box office movies was down 25.3% from the same frame last year when
Kingsman 2
debuted with $39 million. With solid box office growth in recent years in both the first and second quarters, it now appears that the period from Labor Day to Thanksgiving is Hollywood's fallow time (or from another perspective the only period of the year that is blessedly free from "blockbuster" films).
For Eli Roth adapting a children's horror novel with a cast headed by Jack Black and Cate Blanchett represents a departure from the director's previous penchant for hardcore horror (the
Saw
movies). But the early results are promising.
The House With a Clock In Its Walls'
$26.8 million debut was higher than the $23.6 million 2015 bow of the Jack Black-starring
Goosebumps,
which was based on similar "kids horror books." Look for
House
, which received a "B+" CinemaScore compared with
Goosebumps
"A," to end its domestic run in the same neighborhood as
Goosebumps
(around $80 million).
One advantage that
The House With a Clock in its Walls
has, is exposure in 400 IMAX theaters where it is accompanied by a 3D version of the classic Michael Jackson "Thriller" video directed by Jon Landis in 1983.
Paul Feig's neo-noir black comedy
A Simple Favor
dropped just 35% as it earned an estimated $10.4 million to bring its ten-day total to $32.6 million.
A Simple Favor
surpassed expectations with its opening, and it continues to shine, though this is the fall season where "hits" are typically of a smaller order of magnitude than during the summer.
The Nun
, the latest installment in
The Conjuring
franchise, became the fourth film in that group to surpass $100 million at the North American box office. Declining just 43.8% in its third weekend,
The Nun
continues to shine overseas as well where it has earned $191 million for a $292.6 million global haul against a cost of just $22 million.
Last week's box office "winner," Fox's
The Predator
, tumbled almost 65% in its sophomore frame, proving that last week's below-expectations-bow was not a result of bad weather, but rather an indication that this franchise, sans a Schwarzenegger at the height of his box office appeal as he was in 1987 in the original
Predator
, is in serious decline.
The hit Warner Bros. comedy
Crazy Rich Asians
continues to show great "legs" as it finished fifth in its sixth weekend in theaters and pushed its domestic total to $160 million, which means that it is now the seventh most successful screen comedy of the modern era (not adjusting for inflation).
Weekend Box Office (Studio Estimates): September 21-23, 2018

Film

Weekend Gross

Screens

Avg./Screen

Total Gross

Wk#

1

The House With A Clock In Its Walls

$26,850,000

3,592

$7,475

$26,850,000

1

2

A Simple Favor

$10,400,000

3,102

$3,353

$32,562,414

2

3

The Nun

$10,250,000

3,707

$2,765

$100,895,307

3

4

The Predator

$8,700,000

4,070

$2,138

$40,435,122

2

5

Crazy Rich Asians

$6,515,000

2,802

$2,325

$159,439,483

6

6

White Boy Rick

$5,000,000

2,504

$1,997

$17,410,368

2

7

Peppermint

$3,720,000

2,680

$1,388

$30,332,559

3

8

Fahrenheit 11/9

$3,101,000

1,719

$1,804

$3,101,000

1

9

The Meg

$2,350,000

2,003

$1,173

$140,522,919

7

10

Searching

$2,175,000

1,787

$1,217

$23,115,344

5
Three new "festival favorite" films also opened this weekend, and none of them did well. Michael Moore's anti-trump documentary Fahrenheit 11/9 earned just $3.1 million from over 1700 theaters, a far cry from Moore's Fahrenheit 9/11, which debuted with $23.9 million from just 868 venues in 2004.

Faring even worse was Dan Fogelman's multi-generational drama Life Itself, which earned just $2.1 million from over 2,600 theaters, the second worse opening of all time for a film debuting in more than 2,500 theaters. Fogelman, the creator of TV's This Is Us, found things a bit more difficult on the big screen, especially the critics, who gave Life Itself a pitiful 13% positive rating on review aggregator Rotten Tomatoes—though it should be noted that audiences gave the film an OK "B+" CinemaScore.

But the worst showing among this week's new films belongs to Sam Levinson's black comedy Assassination Nation, which opened in 1403 theaters and earned just $1 million, for a poor average of just $733 per location.

Be sure to check back here next week to see if there will be more than one success among a quartet of new films that includes the Warner Bros. animated feature Smallfoot (4000 theaters), the horror movie Hell Fest (2200 venues), the Kevin Hart/Tiffany Haddish comedy Night School (2,800 locations), and the period drama Little Women (600 screens).