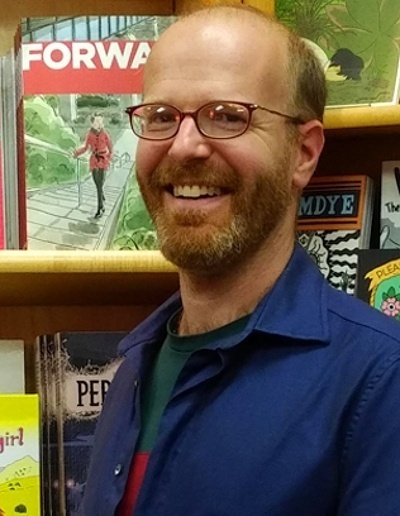 In Business 3x3, a business retailer or executive will share their experience with three things they've done right, three things they've done wrong, and what else they've learned along the way.
Tim Finn already had three jobs, so what the heck—why not add a fourth?
Finn was teaching animation and animation history at Lesley University in Cambridge, Massachusetts in addition to writing a book and publishing mini-comics in 2011 when he got some sad news. The owner of his local comic store had just passed away.
"The manager said the family was going to liquidate the store if there wasn't a buyer," Finn remembers today. "He knew I spent my money there and knew I loved comics, and asked if I wanted to buy the store. I thought, 'Geez, I'm so busy with teaching and writing and making comics, but… it would be sad if we lost this store.' So I did it."
Finn had some previous retail experience working at Big Planet Comics in Bethesda, Maryland back in high school and college. So he had at least some of the road map. Finn kept the existing staff, kept teaching, kept doing comics, and kept hammering at the book, a complete history of
GI Joe
titled
A Real American Book
. He's done 227 interviews for the book to date.
"The jobs I had before the store, I still have now" he says. "The store just cut up my pie into smaller pieces."
Finn took over a store that, in his words, had "fallen on hard times." Hub Comics of Somerville, Massachusetts had lost its website, lost its Diamond account (!), and wasn't accepting credit cards.
"Over several months, we renovated, we painted, we hired a new employee," Finn says. "We thinned out some old, dead stock, and we started having events. We made a go of it."
THE GOOD
FOCUS ON WHAT YOU WANT TO SELL
As Finn thinned his stock, he learned his first lesson—not that he knew it was a lesson.
"I didn't
realize
I was doing it at the time, but what I was doing was getting rid of stuff I didn't want to sell or focus on," he says. Hub Comics is all about books, books, books. And whereas, yes, you can get your monthly superhero fix, the "book" aspect comes first.
"You have to carry what people are going to buy, but my manager and I think alike, and our community wants a lot of the books that we want to support," he says. "It's been a wonderful fit."
Finn knows there are other product lines. They're just something he doesn't concentrate on.
"I love toys and gaming and looking at statues," he says. "But none of us sell that really well. So we really don't carry that. We focus on books. We have some T-shirts and posters as well, but that's about it."
STAFF WITH INTEREST
Finn considers himself very lucky. Since buying the store in 2011, he's had almost no employee turnover. And the employees he has bring their life experience to the job, and to the customers.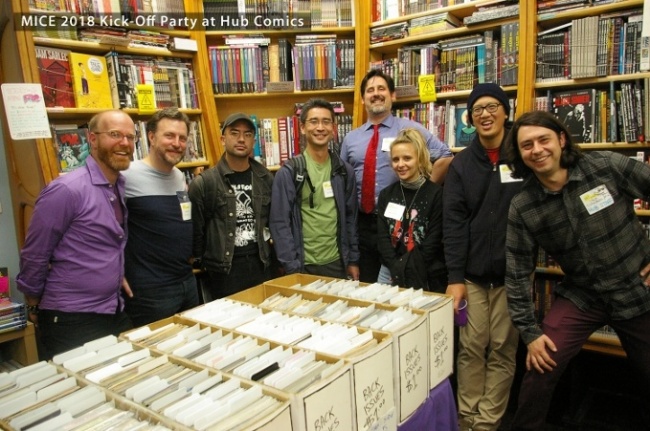 "Each of brings something to the table," he says. "Each of my employees has another job or hobby that is creative: writing, drawing, sculpting, acting, and we now have a musician. All of my employees 'get it,' that we're on this mission to get more people to read, to read more comics, to love and talk about comics. We're not just hiring some 16-year-old kid to alphabetize the stuff in the basement
And Finn is happy to stand pat where he is.
"Would another set of eyes bring another set of authors to our attention?" he asks. "Absolutely, but we're all pretty active already when it comes to keeping up on what's in the news, in comics news, what's selling. The stability of having these longterm employees who want to stick around and who love comics is a great benefit."
LOOK FOR NEW TALENT
Finn loves his
events
, and puts particular importance on finding new voices.
"I feel like we were ahead of the curve on a few author and artist signings here," he says. "We had Erica Henderson for a
Squirrel Girl
#1 signing two days after it came out. Maris Wicks, who's kind of a science comics graphic novel machine, we had her sign a couple times."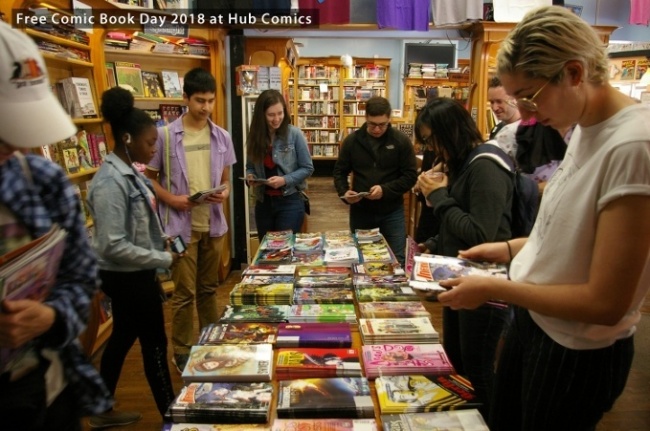 Finn believes that a particular type of creator or book is like a chain where you can keep adding links.
"Those types of books, the YA kind of stuff, constantly bring in parents and teachers. The 'my 7-year-old liked this, what do you have that's similar?' is a great way to lead customers from one set of books into another. So I think many of the people we have picked to do signings have been a really good fit for the store. They're the kind of people and the kind of books we can always talk up and really support."
THE BAD
KNOW WHAT'S IN THE JOB
Yeah, buying a comic store sounds like a lot of fun. But Tim, what's your lumbar say?
"It's been a lot of heavy lifting!" Finn laments. "When I took over the job, the friendly competition in Somerville said, 'You're probably discovering that owning a comic book store is a lot of lugging boxes, right?' They were right."
Finn thinks that many people who look at his store and his job have stars in their eyes.
"When people think about owning and operating a comic store, they might think. 'It's such a cool job! I can read books all day and make recommendations!' And that's all true, but a lot of it is just… opening boxes, moving boxes, and putting things on shelves. It's a lot of boxes."
DON'T ORDER TOO DEEP
Stars in your eyes can apply to ordering as well. And always remember: Past performance is not an indicator of future success.
"Fantagraphics often publishes to order, not a big overprint," Finn says. "Sometimes we order one copy of a book and it sells, and it's tough to get more. But then the next weird, cool graphic novel comes out and I order four copies, and we sell zero or one."
Finn is learning to cut ordering a little closer to the bone. But it's tough.
"When Marvel does its quarterly liquidation sales, I sort of revert to the kid in the candy store and think 'At these prices, I'd be a fool not to stock up on this stuff!'" he says. "And a lot of it doesn't sell. I've got to moderate."
LOOK AT NEW REVENUE STREAMS
Finn calls his store's website simply "informational," and has mixed feelings about it.
"I think I missed the boat with e-commerce. We don't have an eBay store, either," he says. "Those could be revenue streams, but those also require time. I think I'm satisfied with us being, in finger quotes, 'just an old-fashioned book store.'"
Hub Comics does not hit conventions either, with the exception of two small, highly focused shows a year.
"That's a missed opportunity. That could be a revenue stream," Finn says. "But I don't feel too badly about it. Packing up a van and driving to a 'real comic book convention,' well, that's a lot of time, and again, a lot of boxes of books."
AND WHAT ELSE?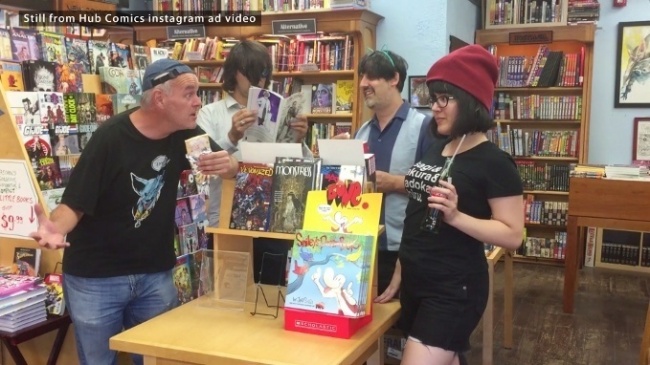 "We had a pop-up shop for two weeks around the corner at this really cool space, like an outdoor market that had been turned into a brewery and some little shops. We thought that if people would buy a $9 beer, we could sell them a $15 volume of
Saga
. We filled it with just about 100 items, and it was a wonderful idea, but the weather was bad, and the venue hadn't fully opened. It was in a soft launch. Bottom line, we did not have success with that. It was a lot of work for a very, very small PR win. Having a secondary temporary location can be a lot of extra work, sometimes without a lot of return."
"We have a designated all-ages section facing a designated YA section. A parent came in with three kids, about a 5-, 7-, and 10-year-old. The parent was asking for books for the two older kids and said, 'Well, but you don't have comics for my 5-year-old, do you?' And I'm able to say, 'Oh, but we do.' The Francoise Mouly and Art Spiegelman Toon Books have an entire section. Toon books are gorgeous, and really well thought-out. There are different tiers with different age groups or reading levels, all explained on the back cover. In terms of connecting to an audience, they're amazing. We now have this entire section, about 12 Toon Books, all face-out on little easels."
"We're always interested when teachers and librarians come in. They're the ones on the front lines of getting 5-year-olds, 10-year-olds to read. That's the groundbreaking work that needs to be done."
"When we've had author signings, we don't have a big turnout when it's
just
a signing. It has to have some kind of artist's talk, slideshow, whatever, to let people see the author, learn about the book, make that connection. When we can make that connection, people get excited, and that sells the book."
"We installed an awning. It's a really good idea. It's bright red; you can see it from down the street."
"A category of books we're always selling are what I call the Big Five:
Maus
,
Persepolis
,
Fun Home
,
My Friend Dahmer
, and
March
. I don't have to do any work to sell those books."
"I read
Amazing Spider-Man
, and I love it. I wish we could sell 'Brand New Day' and 'Big Time' like I sell those 'Big Five.' But there are just too many SKUs. As a fan, I love it. As a fan, I love three monthly
Transformers
comics from IDW, but the publishers are just publishing too much. The
Transformers
books have been amazing for years. For my taste as a reader, great. But as a retailer, that's too many."
"I've designed and printed signs we put up in the store telling people how to read Spider-Man from 'Brand New Day' on. But it really doesn't inspire too many Spider-Man sales."
"Somerville and Cambridge, this section of what borders Boston…we have six comic book stores within a five-mile radius. I pass a comic book store to get to my comic book store from home. Two miles away, there's a store that has tons of toys and games and we're constantly sending people there. Part of what helps us is that the stores in the area are kind of cooperative. We send people to the other stores; they send people to us when they don't have stuff. I think it's reflective of the population in around Boston, which is people who want to read, on paper."
Click Gallery below for store photos!