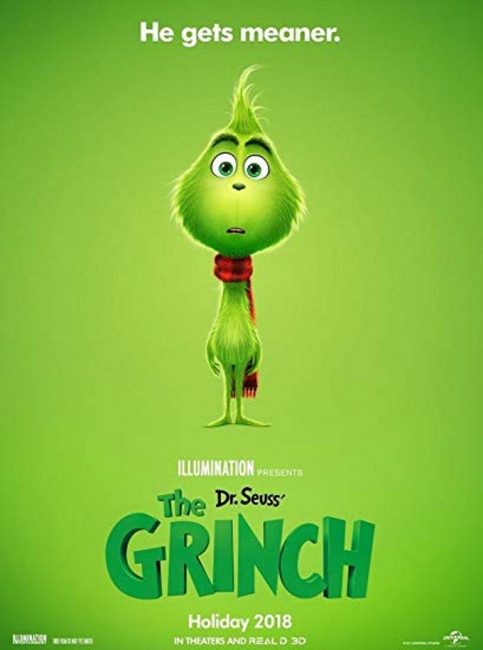 Illumination Entertainment's animated
Dr. Suess' The Grinch
easily took the box office crown with an estimated $66 million, while two other newcomers, the Nazi zombie fantasy
Overlord
and the Lisabeth Salander thriller
The Girl in the Spider's Web
faltered, ending up in third and fifth place respectively. Overall the total of the top 12 films was up a healthy 9.2% from the same weekend a year ago when
Thor: Ragnarok
reigned for the second consecutive week with $57 million.
Overseas the big news was the debut of Sony's Venom in China, where the
Spider-Verse
spin-off earned a healthy $111 million, the second best debut ever for a superhero film, trailing only the
Avengers: Infinity War's
massive $190 million bow.
Venom
has now earned $673.5 worldwide and could finish its highly successful run with over $800 million, if it continues to perform well in the Middle Kingdom.
While
The Grinch's
$66 million bow pales in comparison to other recent Illumination Entertainment launches such as
The Secret Life of Pets
($104 million) and
Minions
($115 million), the film's opening was the third best for a November-bowing animated film trailing only
Frozen
($67.9 million) and
The Incredibles
($70.4 million). Like those two films, the Benedict Cumberbatch voiced
Grinch,
which cost around $75 million to produce, is well-positioned for long run into the upcoming holiday season thanks to a solid "A-" CinemaScore from opening weekend audiences (which skewed female by 53% to 47%, and could well finish its domestic run with over $200 million.
Last week's winner, the Queen/Freddie Mercury biopic
Bohemian Rhapsody
, dropped just 40% in its second frame, signaling a long run for this rock musical, which has already earned $100 million in just ten days of release here in North America, and over $185 million overseas for a worldwide total that is fast approaching $300 million.
Third place went to the well-reviewed (currently 81% positive on review aggregator Rotten Tomatoes) G.I.s versus Nazi zombies epic,
Overlord,
which came in well below expectations (which were mid-teens) with just a $10.1 million debut. Unfortunately
Overlord
appears to be the kind of genre-expanding, non-franchise, original movie that critics love and people say they want to go to, but actually don't. This R-rated period horror film attracted an audience that skewed heavily male (69%), and which gave the film a middling "B" CinemaScore.
The Disney holiday film
The Nutcracker
and the Four Realms
is another, gentler kind of fantasy. The $120 million production debuted below expectations last week and dropped 53% in its second frame. In ten days
The Nutcracker
has earned $35.3 million domestically and nearly twice that overseas. If
The Nutcracker
can keep going through the holidays, it has a chance to break even, but given today's marketing costs and the lower return from overseas ticket sales, the financial future of
The Nutcracker
still looks bleak, at least in terms of theatrical ticket sales.
Weekend Box Office (Studio Estimates): November 9-11, 2018

Film

Weekend Gross

Screens

Avg./Screen

Total Gross

Wk#

1

Dr. Seuss' The Grinch

$66,000,000

4,141

$15,938

$66,000,000

1

2

Bohemian Rhapsody

$30,850,000

4,000

$7,713

$100,010,548

2

3

Overlord

$10,100,000

2,859

$3,533

$10,100,000

1

4

The Nutcracker and the Four Realms

$9,565,000

3,766

$2,540

$35,256,534

2

5

The Girl in the Spider's Web: A New Dragon Tattoo Story

$8,015,000

2,929

$2,736

$8,015,000

1

6

A Star is Born

$8,010,000

2,848

$2,813

$178,020,388

6

7

Nobody's Fool

$6,540,000

2,468

$2,650

$24,276,108

2

8

Venom

$4,850,000

2,351

$2,063

$206,233,603

6

9

Halloween

$3,840,000

2,717

$1,413

$156,810,845

4

10

The Hate U Give

$2,070,000

1,108

$1,868

$26,705,883

6
Currently in fifth place, the Claire Foy-starring The Girl in the Spider's Web seeks to extend the franchise based on Sieg Larsson's popular Girl with the Dragon Tatoo novels. While The Spider's Web saga is based on a novel featuring Larsson's characters that was written by another author, it does feature the character of Lisabeth Salander, the tough and resourceful heroine of the Dragon Tattoo series. Again, while many viewers bemoan the lack of action films with strong female protagonists, they didn't show up for The Girl in the Spider's Web, which debuted in a virtual tie with A Star Is Born, which has been in theaters for six weekends.

The real winner of fifth place won't be known until official figures are released tomorrow. It could well be Bradley Cooper's A Star Is Born, which dipped just 27% as it added $8 million pushing its domestic total to $178 million. It should be interesting to see if Bohemian Rhapsody will be able to catch and surpass A Star Is Born, which is currently the 12th highest-grossing film that never made it to #1 on the weekend box office chart.

It is likely that A Star Is Born will eventually surpass the domestic total of Ruben Fleischer's Venom, which earned $4.9 million it is sixth weekend, driving its North American cumulative to $206.2 million., though the musical remake will never overtake Venom on the global stage where the Symbiote's total is approaching $700 million thanks to a boffo debut in China (see above).

Be sure to check back here next weekend as the competition will get even tougher with the release of the Harry Potter spin-off Fantastic Beasts: The Crimes of Grindelwald, which debuts in over 4,000 theaters, while the Mark Wahlberg comedy Instant Family, and the Steve McQueen/Gillian Flynn thriller Widows bow in over 3000 venues each, and the Venice Film Festival favorite At Eternity's End, which stars Willem Dafoe as Vincent Van Gogh, and the socially conscious Green Book, which refers to a guide book that African-American's used to navigate the segregated South during the Jim Crow era, both open in limited release.