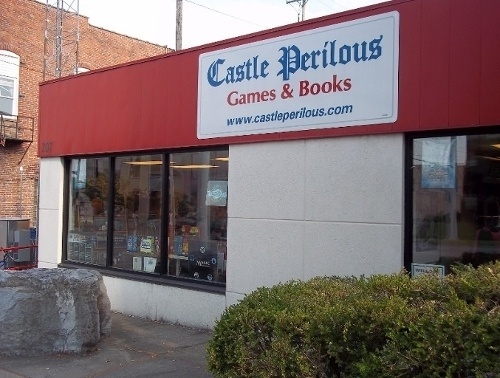 Rolling for Initiative is a weekly column by Scott Thorne, PhD, owner of Castle Perilous Games & Books in Carbondale, Illinois and instructor in marketing at Southeast Missouri State University. This week, Scott Thorne discusses three ways publishers can reach retail stores.
I sent a couple of my staff to the annual Southern Hobby Retail Expo in Nashville earlier this month. They had a great time and came back with piles of promotional materials and demo games. Thanks to Southern Hobby Supply for putting the show on again.
During a demo session or discussion, one of the publishers attending asked a question of them and a number of other retailers in attendance. The publisher, a well-known one, said the company develops good games and play-testers like them, as do beta-testers and focus groups. However, when the game hits actual store shelves, it sells significantly fewer copies than the prelaunch period indicated it should. Since retailers are the best method of getting large numbers of a game out to the public the company wanted recommendations on how to better get the word about its games out to the buying public. So, since they asked, here are some suggestions from the retail end regarding getting word out about your game to retailers and the ultimate player.
Print.
Yeah, I realize that this is the era of digital media and that you have to be online in order get word out about your product, but there is still something to be said for the
old fashioned printed flyer, press release or catalog
. Although large print catalogs covering the game industry do not get a lot of use (I read through my
Greater Games Industry
catalog when it arrives but I also know a lot of retailers that do not (speaking of which, getting a listing in the
GGI
catalog doesn't cost anything, last time I checked). Research shows that, when you combine an email with some form of print communication, such as a postcard or flyer dropped into a shipment, response from retailers increases about 17%. There is something about the tactile nature of print that makes us want to read it over. Once it is in hand, it is harder to ignore than an email, which can easily be deleted. Speaking of which…
Email.
I just pointed out how easy it is to delete an email but it still amazes me how few publishers send out emails about their products, both new releases and catalog titles. After all, once you have your list set up (which a publisher can gather through its website or by purchasing an email list), emails are virtually free to send out. If you use a provider such as Constant Contact or Mail Chimp, there is a fee to use their services, but the actual email itself goes out at no cost and, if you have a highly targeted mailing list, open rates for emails can reach 25%. Given that the typical open rate of a non-targeted email hovers somewhere in the neighborhood of 2-3%, a 25% open rate is fantastic. Can you send out too many emails? Most marketers say one a month or one a week is plenty, although
copywriter Ben Settle
says daily emails are perfectly fine. If the target market doesn't want to receive them, all they have to do is unsubscribe.
Kickstarter.
Though retailers are generally not big fans of Kickstarter, I have known several prominent publishers to use the platform, not so much to launch a new game as to benefit from the promotional possibilities of it. After all, being able to announce that there is so much demand for your game that it funded in 24, 48 or 72 hours attracts a lot of attention. Of course, should a publisher choose to go this route, they need to be sure to include a retailer option or risk annoying those same retailers the publisher wants to reach.
Those are just three methods. There are plenty others out there, which I will look at in future columns.
The opinions expressed in this column are solely those of the writer, and do not necessarily reflect the views of the editorial staff of ICv2.com.