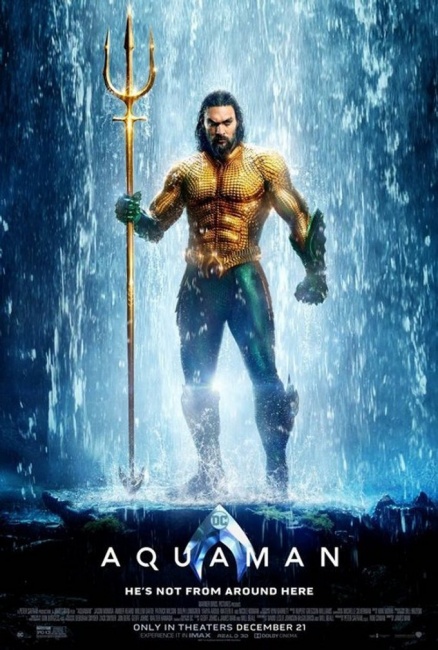 The big box office news this weekend didn't happen in the fallow North American market where a re-release of
Schindler's List
was the only new entry with over 1,000 locations, rather it took place in the Middle Kingdom where Warner Bros. debuted its DC Comics-based
Aquaman
, which posted the fourth best opening ever for a superhero film in the Middle Kingdom as it earned nearly $94 million in what will soon become the world's biggest movie-going marketplace.
Aquaman
will open in 40 additional territories next weekend, and here in North America in two weeks. The big budget superhero film, which reportedly cost between $175 and $200 million to produce, won't be able to make its cost back in China (where Warner Bros. gets only 25 cents out of every ticket dollar), but the film's boffo debut in the Middle Kingdom does take some pressure off its openings elsewhere as well as providing a strong buzz for subsequent debuts.
Aquaman's
debut was the fourth best ever for a superhero film in China, behind only
Venom
and the last two
Avengers
films.
Venom
in fact is still going strong in China where it has now earned $267 million, considerably more than the symbiote saga has brought in here in North America ($213.7 million). So far the prospects for
Aquaman
in the Middle Kingdom all look good.
Aquaman
posted the biggest Friday to Saturday jump for a superhero film in Chinese box office history (up 55%), as well as the lowest Saturday to Sunday decline (just 14%), which coupled with strong word-of-mouth and critical receptions registered on the Chinese equivalents of Rotten Tomatoes, etc., means there is little likelihood that
Aquaman
will be a one-week wonder in Chinese theaters.
Meanwhile back in North America,
Ralph Breaks the Internet
and
The Grinch
continued their reign as the top two films for the second week in a row—the first time two animated films have shared the top spot for two weeks straight in North American box office history.
Ralph
earned $16.1 million to bring its 19-day domestic total to just over $140 million, while
The Grinch
dropped just 15% as it earned $15.1 million to bring its North American cumulative to nearly $225 million.
The Grinch
has also earned $98.9 million overseas for a worldwide total of $322.4 million with two more weekends to go before Christmas will make
The Grinch
saga more or less irrelevant.
Third place went to the boxing drama
Creed II
, which has done solid, though unspectacular, business, earning $96.5 million over its first three weekends.
Weekend Box Office (Studio Estimates): December 7-9, 2018

Film

Weekend Gross

Screens

Avg./Screen

Total Gross

Wk#

1

Ralph Breaks the Internet

$16,141,000

3,795

$4,253

$140,858,885

3

2

Dr. Seuss' The Grinch

$15,175,000

3,841

$3,951

$223,463,175

5

3

Creed II

$10,322,515

3,752

$2,751

$96,471,912

3

4

Fantastic Beasts: The Crimes of Grindelwald

$6,805,000

3,451

$1,972

$145,207,524

4

5

Bohemian Rhapsody

$6,000,000

2,953

$2,032

$173,569,170

6

6

Instant Family

$5,600,000

3,426

$1,635

$54,160,742

4

7

Green Book

$3,935,000

1,181

$3,332

$19,976,911

4

8

Robin Hood

$3,585,000

2,573

$1,393

$27,289,193

3

9

The Possession of Hannah Grace

$3,175,000

2,298

$1,382

$11,506,549

2

10

Widows

$3,100,000

2,161

$1,435

$38,155,806

4
The Harry Potter spin-off/prequel, Fantastic Beasts: The Crimes of Grindelwald, continues to lag well behind the first Fantastic Beasts film here in North America, though it has done better overseas, where it has earned 75% of its $568.5 million worldwide total. One would think that a $568.5 million cumulative would translate into a huge financial success, but actually not so much, when 75% of the total is earned overseas, and the movie cost an estimated $200 million just to produce. Still it's not an abject failure either, and Warner Bros. will likely continue the franchise, though the studio would be well-advised to keep the budgets of future Fantastic Beasts films a bit lower.

Bryan Singer's Queen biopic, Bohemian Rhapsody continues to perform exceptionally well, earning $6 million to drive its domestic total to $173.6 million, drawing ever closer to 2018's other huge musical hit A Star Is Born, which has now earned $197.1 million. Warner Bros. added 550 theaters in an attempt to drive A Star Is Born's domestic total over the $200 million mark, which it may manage to do over the next few weekends.

The Jim Crow-era racial drama The Green Book also added theaters (116, to bring the total to 1,181) to take advantage of Golden Globe nominations as well as a "film of the year" award from the National Board of Review. The feel-good drama has earned almost $20 million, and it remains one of those films that the right Oscar nods (and wins) could push to a modest success in the domestic market (somewhere over $50 million).

The tail end of the top ten includes flops like Robin Hood and The Possession of Hannah Grace as well as Steve McQueen's Widows (the jury is still out on this one, which really could use some sort of awards-push).

Two period dramas in limited release have the potential to become at least arthouse hits. The Favourite added 57 theaters for a total of 91 and averaged a solid $15,714 per venue, while Mary, Queen of Scots, which stars Saoirse Ronan and Margot Robbie, averaged over $50K from four theaters.

This week's only new wide release was actually a re-release of Steven Spielberg's Schindler's List, which predictably bombed, averaging just $535 from over 1,000 locations. Re-releases just don't make much sense in the era of streaming and BDs where virtually all recent films are available to watch at home.

Be sure to check back here next weekend as the holiday movie season will start in earnest as Sony will release the already well-reviewed animated film Spider-Man: Into the Spiderverse into 3,400 theaters, while Universal will debut the Peter Jackson-produced post-apocalyptic fantasy Mortal Engines into 3,000 locations, Warner Bros. will drop the Clint Eastwood drug smuggling drama The Mule into 2,400 venues, and Fox will slip a PG-13 re-edited version of Deadpool 2 (now called Once Upon a Deadpool, and probably intended to get the Merc-with-a-mouth a shot at the Chinese market) on to 500 screens.