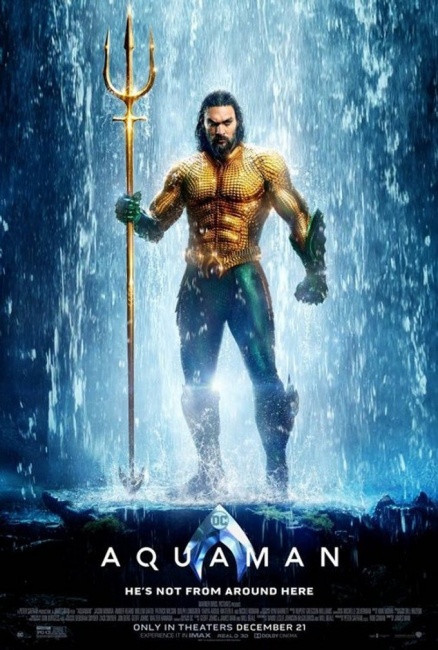 James Wan's
Aquaman,
the latest major expansion of the DC Cinematic Universe, earned an estimated $67.4 million over the 3-day weekend, performing almost exactly as analysts had predicted, and appears to be well on its way to reach a $100 million 5-day total on Tuesday (Christmas Day being traditionally the #1 movie-going day of the year).
Aquaman's
debut was enough to obscure the box office prospects of Disney's pricy
Mary Poppins
musical, and
Bumblebee
, the sixth Transformer's movie.
Despite five new films opening this weekend the year-over-year box office total was down 33.2% from the same frame last year when
Star Wars: The Last Jedi
earned $71.6 million over the 3-day December 22-24 weekend. While the 2018 box office is still running comfortably ahead of 2017, these year-over-year comparisons demonstrate the power of Disney's Christmas
Star Wars
releases, which have boosted the yearly box office total significantly over the previous 3 years.
While not overwhelming,
Aquaman's
debut was right in line with expectations. If you add in the various preview showings, the underwater epic has earned $72.1 million here in North America, with a solid chance to vault past the $100 million mark by the end of Christmas Day. Although it has the lowest critical ratings of the 3 major new films (64% positive versus 94% for
Bumblebee
and 77% for
Mary Poppins
), all three films received the same solid "A-" CinemaScore from audiences—and
Aquaman
certainly attracted a far bigger audience than either of the other films.
The audience for
Aquaman
skewed male (55%) and older 58% over 25. While a North American finish over $200 million seems assured for
Aquaman
, it is doubtful that Wan's film will earn as much here in North America as it will in China where it has already pulled in $233 million and could end up somewhere in the $275-300 million range.
Once again
Aquaman
was the #1 film overseas where it has now earned $410.7 million, and is tracking far better than any previous DC Cinematic Universe film. With a worldwide total of $482.8 million already,
Aquaman
is on track to become the highest-grossing DCU film ever (not adjusting for inflation), and will cement 2018's reputation as a year when superheroes did indeed dominate the silver screen as never before (as noted in our last column, a film based on a Marvel Comics character was #1 at the box office for 1 out every 4 weekends during the entire year). The question becomes will this be the high water mark for the superhero genre, or will the tide of spandex-wearing heroes continue to rise?
Weekend Box Office (Studio Estimates): December 21-23, 2018

Film

Weekend Gross

Screens

Avg./Screen

Total Gross

Wk#

1

Aquaman

$67,400,000

4,125

$16,339

$72,100,000

1

2

Mary Poppins Returns

$22,235,000

4,090

$5,436

$31,049,671

1

3

Bumblebee

$21,000,000

3,550

$5,915

$21,000,000

1

4

Spider-Man: Into The Spider-Verse

$16,700,000

3,813

$4,380

$64,800,063

2

5

The Mule

$9,950,000

2,656

$3,746

$35,653,465

2

6

Dr. Seuss' The Grinch

$8,180,000

2,780

$2,942

$253,218,975

7

7

Second Act

$6,501,000

2,607

$2,494

$6,501,000

1

8

Ralph Breaks the Internet

$4,599,000

2,495

$1,843

$162,093,930

5

9

Welcome to Marwen

$2,358,000

1,911

$1,234

$2,358,000

1

10

Mary Queen of Scots

$2,240,000

795

$2,818

$3,544,755

3
With a reported $135 million price tag, Disney's Mary Poppins Returns will need to do strong business over the coming weeks to reach the black. The musical's $31 million five-day total (it opened on Wednesday) is underwhelming, but not surprising considering the level of competition. Last year another musical, The Greatest Showman, opened weakly during the holidays, but went on to record one of the "leggiest" performances in box office history, which is something that should give the folks at Disney some comfort. With its solid reviews and "A-" CinemaScore from opening day audiences, which skewed heavily female (59%) and older (61% over 25), this Mary Poppins should have a long run, the question is how long will it be, and will it do enough business overseas to make up for any domestic shortfalls?

Finally free from the woeful efforts of Michael Bay, the sixth Transformers film, Travis Knight's Bumblebee, has earned ecstatic reviews and a solid "A-" CinemaScore from opening weekend audiences. But Bumblebee brought in just $21 million over the 3-day weekend. The problem is competition from Aquaman and the animated Spider-Man: Into the Spider-Verse, which opened just last weekend. Bumblebee should benefit from the international popularity of the Transformers franchise, though it earned just $31.1 million from its openings in 38 international markets (though not yet in China where it bows on January 4).

Last week's number one film, Sony's animated Spider-Man: Into the Spider-Verse, slipped 52.8% in its second frame, not a terrible drop considering the intense level of competition from Aquaman and Bumblebee for the younger, superhero-loving demographic. The Spider-Verse epic debuted in China this weekend where it finished at #1, earning $26.1 million and driving its overseas total to $64.8 million. If either of the well-reviewed Bumblebee or Into the Spider-Verse eventually falters, analysts will definitely question the timing of the their release (though the release calendar is getting so crowded with superhero/fantasy comic book fare, that finding spots without competition is becoming more and more difficult).

Coming in at #5 is the adult male-targeting The Mule, directed by and starring Clint Eastwood, which made an estimated $9.95 million, just a 43.2% drop from last week's debut totals. This $50 million production appears to right on course to make a modest profit, especially since the older, male, "get off my lawn crowd" takes its time in heading to the cinemas.

Also doing well, though perhaps not for much longer, is the holiday-themed The Grinch, which slipped just 30.4% as it earned $8.2 million to drive its domestic total to $253.2 million.

The Jennifer Lopez romcom Second Act appears to be a less successful attempt at counterprogramming than The Mule, since it debuted with just $6.5 million, but the movie's $16 million production should limit any losses. Second Act earned a "B+" CinemaScore from audiences that skewed heavily female (70%) and older (75% over 25).

Robert Zemeckis' Welcome to Marwen, which stars Steve Carrell, bombed, debuting at #9, earning just $2.3 million from nearly 2,000 theaters for a horrible $2,344 per venue average, the lowest in the top ten.

Be sure to check back here next week for what will be essentially the last releases of any major box office entries until M. Knight Shyamalan's Glass debuts on January 18. Until then we will have to make do with what is in theaters now plus two releases next week the Will Ferrell/John C. Reilly comedy Holmes and Watson, which will bumble into 2,700 theaters and the political drama Vice, which stars Christian Bale as Dick Cheney, and roars its way into 2,300 venues with all the force of a shotgun blast to the face.