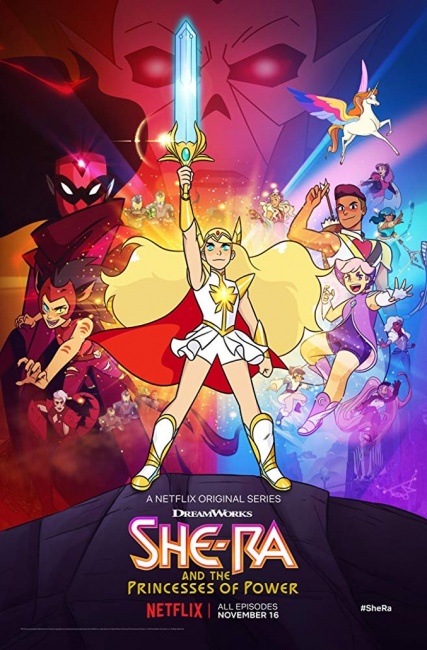 Confessions of a Comic Book Guy is a weekly column by Steve Bennett of Super-Fly Comics and Games in Yellow Springs, Ohio. This week, Bennett looks at the new She-Ra series and why a He-Man series seems unlikely.
Having been too old to have watched
She-Ra: Princess of Power
back when it was originally on in the 80s, I was in no particular hurry to see
She-Ra and the Princesses of Power
, the reboot currently streaming on Netflix. While they don't mean much to me, I know both
She-Ra
and
He-Man and The Master of the Universe,
the series it spun off of, have fervid fan bases and I don't mean to denigrate them. But it is admittedly a bit difficult for me not to give fans who take the characters too seriously serious side-eye. A good example of what I mean by "too seriously" being those who were opposed to
She-Ra and the Princesses of Power
even before it premiered.
The first time I remember reading about
She-Ra and the Princesses of Power,
it was in the context of complaints from some He-Man fans who were profoundly aggrieved that the spin-off series was being revived ahead of the original. Their anger only escalated when a character design of the new version of She-Ra was leaked online and was instantly condemned because she (a character intended for kids, primarily girls) was "less sexy than she used to be" (one fan called her "a gender dysphoric Dennis the Menace"). Or as the piece on the
Junkee
website put it,
Adult Men Are Just Furious About The New 'She-Ra' Cartoon And It's Hilariously Pathetic
.
These traditionalists were also annoyed that "the original cast of characters has been casually diversified, and newly illustrated to boldly suggest human beings have all shapes and sizes" (as an
Entertainment Weekly
review put it). Knowing some people consider them overused buzzwords, instead of using terms like "diversity" and "representation" I'll share a quote from an interview with
She-Ra
showrunner and executive producer Noelle Stevenson (who co-created
Lumberjanes
and has written both
Thor
and
The Runaways
), because I think it conveys in a simple relatable way why inclusion is so important:
"And we don't always get to see the characters who are, so often, put into the background or put into very minor roles. We don't often see the world through their eyes. So I think that enriches the story and deepens it by showing the world through the eyes of people who might not always get a starring role."
These fans also didn't seem to care much for the series' gayness, or what one referred to as its "
Blatant Tumblr LGBT Content
." There is unquestionably LGBT content in the series, but the only overt moment I'm aware of is a brief mention of the character Bow having two dads. And the only confirmed relationship among the Princesses of Power is between Spinerella and Netossa, two characters who got nearly no screen time this season. But since there is no universally accepted means of measuring "gayness," what constitutes "blatant" is open to debate.
For the record, the quote from Stevenson, who is gay, comes from a piece on the
Queerty
website;
'She-Ra' revivalist Noelle Stevenson on queering the iconic series
. It says the series has "lots and lots of gayness" while a piece on
The Beat
says that
She-Ra's Queer Rep Might Be Too Subtle
and so far the content in question is, mostly, subtextual.
Since I'm both Cishet (defined as "used as both an adjective and a noun, describes a person who is both cisgender and heterosexual," a word new to me too) and very often oblivious* I know I should really keep well out of this. But if I was going to hazard an opinion, I'd suggest that like other aspects of diversity in it, while the LGBT content is an integral part of
She-Ra and the Princesses of Power
, the series never makes a big deal about it.
Since the series is intended for children of all ages I thought it would be informative to check out sites intended for parents that review children's media. I found reviews of
She-Ra and the Princesses of Power
on
Common Sense Media
,
Plugged In
and
Rompers
, none of which mentioned any LGBT content. The only one which did was the website of conservative Christian organization Focus on the Family. In a mostly positive review, it informs parents Bow has two dads, which they know "...leaves many Christian parents in a difficult spot when considering these shows that otherwise have some positive things going for them." But then the content is put in the context of the fact that it's "...rare these days for a show, even a kids' show, not to include socially progressive messaging and LBGTQ characters." But instead of advocating outrage they seem to suggest now "It's part of the lay of the land," that whether they like it or not, this kind of content is now just a given.
Since Netflix doesn't release its ratings, it's hard to tell just how well
She-Ra and the Princesses of Power
is doing with viewers. And while a Season 2 has yet to be confirmed, a lot of its fans are assuming there will be one, and many of them have wondered whether He-Man would be making an appearance in it. But according to a story on the ComicBook.com website
'She-Ra' Showrunner Confirms He-Man Isn't Coming to Netflix Reboots.
According to Stevenson...
"It would be a challenge, I think, to bring He-Man to life in the present day. Even more so than She-Ra," Stevenson said. "He's a very iconic character. It'd be a lot of fun to incorporate him into the world of She-Ra, but I don't know what my approach would be."
I know what she means. For starters, there's the name. He-Man is defined as "a strong, tough, virile man," a concept that seems outdated, conjuring up phrases like "be a man," "man up," and "boys don't cry" (and, if you're of a certain age, the He-Man Woman Haters Club from the
Little Rascals/Our Gang
shorts). Not to mention outmoded and emblematic of what's become known at best hyper-masculinity and at worst toxic masculinity. Something which supposedly perpetuates unobtainable standards and stereotypes of what a man is and does and which some credit for an epidemic of loneliness among men. Even if you don't agree, that is the perception and something anyone trying to reboot the franchise will have to deal with.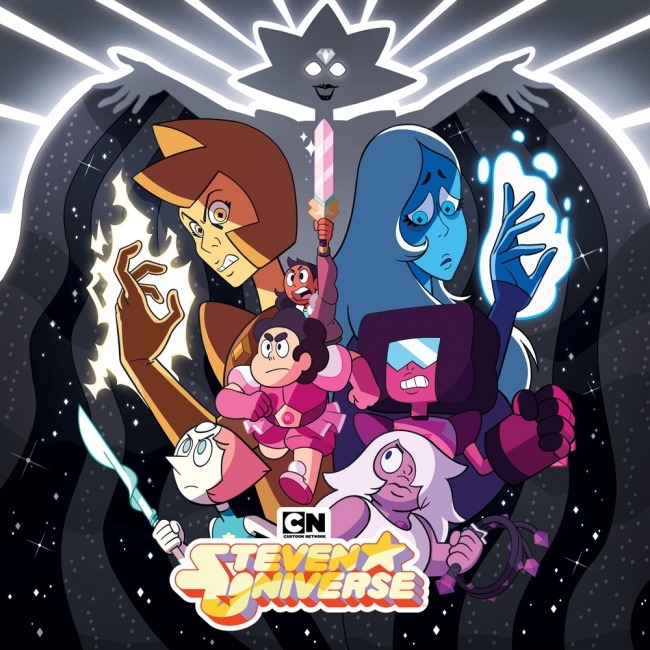 Then there's the indisputable fact that the world as well as the world of kids' entertainment is a lot different than what it was in the 80s. Look at the male heroes in kids cartoons today. Right now during the
Steven Universe
Diamond Days event on Cartoon Network, Steven is attempting to finally end thousands of years of conflict with an expansionist alien empire by throwing a gala ball. On Disney's
Star Vs. The Forces of Evil
, along with being a trained martial artist and skilled swordsman, Star Butterfly's faithful male companion Marco Diaz is sensitive, thoughtful and perfectly at home in a poufy purple princess gown. Let's see He-Man try that.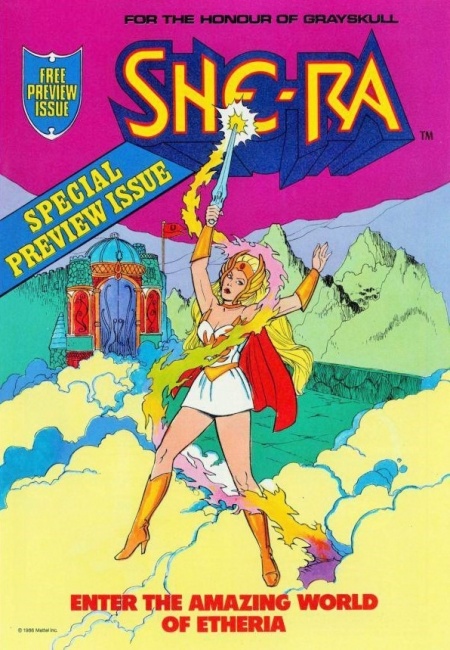 For the record, I've since seen
She-Ra and the Princesses of Power
and liked it, well enough I do hope there is a Season 2. Not to mention a long overdue comic book. Because while there have a been a lot of He-Man comics, most recently DC's
Injustice Vs. Masters of the Universe
, there's never been a She-Ra comic. In America anyway, Back in the'80s, London Edition Magazines published 15 issues of
She-Ra, Princess of Power
. And it just doesn't seem right that Rainbow Brite currently has a comic book and She-Ra doesn't.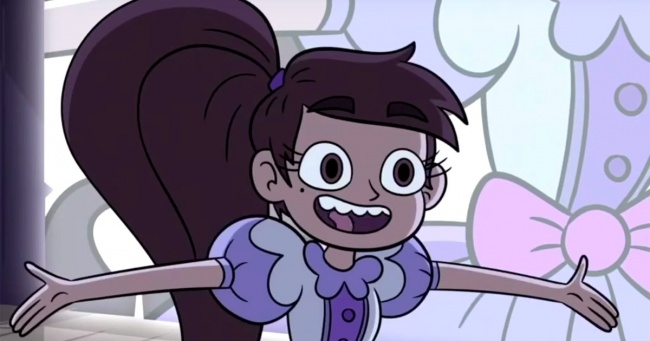 *I can be oblivious about a lot of things but I was specifically referring to how I had zero ideas Shego from Disneys
Kim Possible
had become a gay icon (see "
Confessions of a Comic Book Guy - A Harley Quinn Christmas
") Well, according to Noelle Stevenson the same is true of She-Ra. She's quoted as saying that the character of She-Ra is "...important to queer people, and kind of a queer property in general." And that there's a "... die-hard gay fanbase that still follows She-Ra after 30 years." To which I can only invoke the title of a song by Pink, "Who Knew?"
The opinions expressed in this column are solely those of the writer, and do not necessarily reflect the views of the editorial staff of ICv2.com.