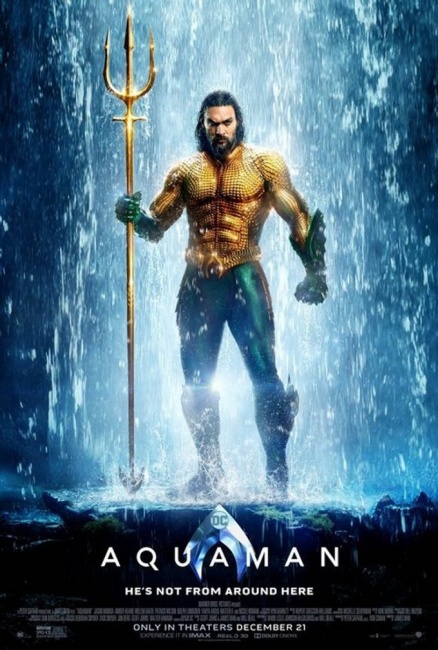 James Wan's
Aquaman
topped the box office for the third weekend in a row, remaining on track to set a record for DCU films by topping the charts for four straight weekends. Despite a better than expected debut from Sony's horror film
Escape Room
, the total box office was down 17.1% from the same weekend a year ago when the incredibly leggy
Jumanji
took the #1 spot for the first time in its fourth weekend as it earned $37.2 million.
Aquaman
slipped just 41% as it added $30.7 million to bring its domestic cumulative to $259.7 million, which puts it roughly even with
Wonder Woman
after 16 days of release, though it is doubtful that
Aquaman
will manage to even come close to
Wonder Woman's
massive $413 million domestic total, it has already surpassed admirable Amazon's worldwide total ($940 million to
Wonder Woman's
($822 million). In fact
Aquaman's
overseas total of $681 million is the most for any DC Comics-based films (of course the overseas market was not nearly as developed when DC's previous record holders, the Chris Nolan
Dark Knight Trilogy
were in release).
Domestically it now appears that
Aquaman
has a decent shot at crossing $300 million, and the film is certain to surpass $1 billion worldwide, and the undersea epic is likely to top
The Dark Knight
($1 billion), and
The Dark Knight Rises
($1.084 billion) to become the highest grossing DCU film of all time (not adjusting for inflation).
Sony's horror film
Escape Room
, which may have benefited from a tragic fire that took the lives of five teens who were at a Polish escape room, performed well above expectations, debuting with $18 million, and demonstrating once again the first quarter is an excellent time to launch horror films. By doubling its $9 million production cost
, Escape Room
already appears to be a winner for Sony, though it will receive heavy competition once M. Night Shyamalan's
Glass
debuts on January 18.
Disney's musical
Mary Poppins Returns
slipped 44.8% (a great hold for any sort of a film, except perhaps for "leggy" musical), as it earned $18 million to bring its domestic total to $138.8 million. The "PG" musical is rolling out slowly overseas, where it has made $120 million so far. With a worldwide gross of $258 million, most musicals would be well into the black, but this new
Mary Poppins
cost $130 million to produce, which means it will need to stay in theaters for some time to become profitable.
Weekend Box Office (Studio Estimates): January 4-6, 2019

Film

Weekend Gross

Screens

Avg./Screen

Total Gross

Wk#

1

Aquaman

$30,700,000

4,184

$7,337

$259,720,880

3

2

Escape Room

$18,000,000

2,717

$6,625

$18,000,000

1

3

Mary Poppins Returns

$15,773,000

4,090

$3,856

$138,729,305

3

4

Spider-Man: Into The Spider-Verse

$13,010,000

3,419

$3,805

$133,861,346

4

5

Bumblebee

$12,775,000

3,597

$3,552

$97,128,140

3

6

The Mule

$9,040,000

3,212

$2,814

$81,108,110

4

7

Vice

$5,803,490

2,534

$2,290

$29,796,477

2

8

Second Act

$4,910,000

2,523

$1,946

$32,947,075

3

9

Ralph Breaks the Internet

$4,685,000

2,050

$2,285

$187,164,171

7

10

Holmes and Watson

$3,400,000

2,780

$1,223

$28,410,922

2
Two highly-praised, kid-targeting films, Sony's animated Spider-Man: Into the Spider-Verse and Paramount's Transformers film Bumblebee, continue to battle it out in the shadow of Aquaman. Into the Spider-Verse got the better of it this weekend, dropping just 30.8% as it earned $13 million to bring its domestic total to $134 million, while Bumblebee fell just 38.9% as it added $12.75 million to bring its North American total to $97.1 million. Internationally however, the story was reversed with Bumblebee earning $82.7 million (including $59.4 million from China), the most of any film in the world this weekend.

Continuing to do well in its own modest way this holiday season, Clint Eastwood's The Mule, a clever bit of counter-programming aimed at older viewers, added 425 theaters and dipped just 26% as it earned $9 million to bring its domestic total to $81 million.

Also adding theaters was Adam McKay's political drama Vice, which stars Christian Bale as former Vice President Dick Cheney. Vice slipped just 25.3% as it earned $5.8 million to bring its domestic total $29.8 million. With its $60 million production cost, Vice will need to do well at the awards shows (starting with tonight's Golden Globes), in order to become profitable.

Outside of the top ten, Oscar hopefuls Mary Queen of Scots, The Favourite, If Beale Street Could Talk, and the Ruth Bader Ginsburg biopic On the Basis of Sex all continued to perform well enough to keep them in awards contention.

Next weekend will see the introduction of three new films in relatively wide release including the family-targeting A Dog's Way Home (3000 theaters), the Keanu Reeves-starring sci-fi thriller Replicas (2500 locations), and the oft-delayed remake of the French film The Intouchables, which stars Kevin Hart and Brian Cranston in an American version entitled The Upside (3000 venues).