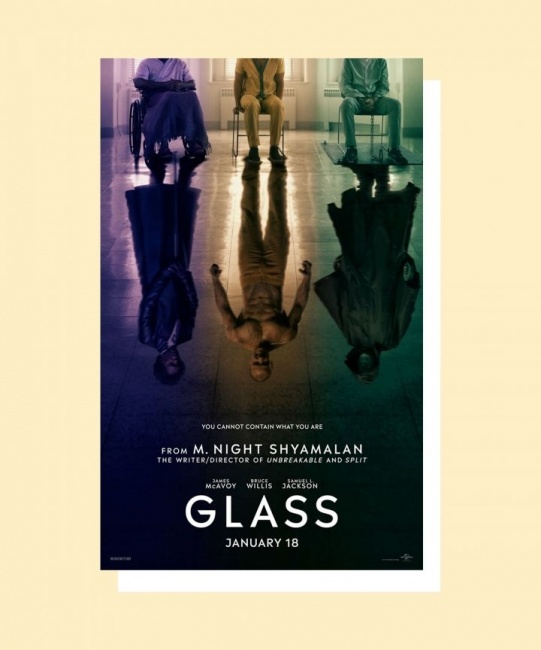 M. Knight Shyamalan's
Glass
posted the third best Martin Luther King debut yet, but its $40.6 million 3-day opening was below expectations. While the other studios stayed away from direct competition with
Glass
, Funimation opened
Dragon Ball Super: Broly
, the twentieth Dragon Ball-based anime movie, in just 467 theaters where it posted the highest per-venue average of the weekend ($22,821) and surprisingly moved into third place on the weekend chart.
This weekend was supposed to be the point at which the 2019 box office was supposed to finally score a year-over-year win in its battle with the record-setting 2018, but with
Glass's
somewhat disappointing debut, the overall gross looks to be about 4.6% behind the same frame last year when
Jumanji
topped the charts with $19.5 million.
Glass
, which Shyamalan financed himself, earned $40.58 million for the 3-day weekend, with Universal estimating that it will bring in $47 for the entire 4-day MLK weekend. The opening for
Glass
, which is a sequel of sorts to Shyamalan's
Unbreakable
(2002) and
Split
(2017), was just a bit better than that of
Split
($40 million), and
Split
went on to earn $138 million here in the U.S., but both audience and critical reviews for
Glass
were lower than they were for
Split
, which means that
Glass,
which was widely expected to earn well over $50 million for the weekend, will have a hard time matching
Split's
totals.
While
Split
attracted more of a traditional horror film audience (skewing slightly female—52%--and younger with just 48% over 25), the majority of ticket buyers for
Glass
were male (54%) and older with 65% over 25. And, while
Split
received a "B+" CinemaScore from audiences and a 76% positive rating on review aggregator Rotten Tomatoes,
Glass
was given just a "B" CinemaScore and could manage only a 35% positive rating on RT.
But with a cost of just $23 million
Glass
is already in the black, as it earned an additional $48.5 million from 55 overseas territories.
Weekend Box Office (Studio Estimates): January 18-20, 2019

Film

Weekend Gross

Screens

Avg./Screen

Total Gross

Wk#

1

Glass

$40,586,000

3,841

$10,567

$40,586,000

1

2

The Upside

$15,670,000

3,320

$4,720

$43,983,439

2

3

Dragon Ball Super: Broly

$10,652,565

1,233

$8,640

$21,072,594

1

4

Aquaman

$10,330,000

3,475

$2,973

$304,336,848

5

5

Spider-Man: Into The Spider-Verse

$7,255,000

2,712

$2,675

$158,256,385

6

6

A Dog's Way Home

$7,110,000

3,090

$2,301

$21,278,496

2

7

Escape Room

$5,275,000

2,709

$1,947

$40,700,948

3

8

Mary Poppins Returns

$5,244,000

2,810

$1,866

$158,731,814

5

9

Bumblebee

$4,660,000

2,711

$1,719

$115,943,676

5

10

On the Basis of Sex

$3,965,000

1,957

$2,026

$16,876,747

4
Last week's winner the Kevin Hart/Bryan Cranston dramedy The Upside slipped just 23% as it earned $15.7 million to bring its domestic total to $44 million.

Despite its limited release (467 theaters) Dragon Ball Super: Broly surprised everyone by finishing the 3-day weekend with $10.7 million and narrowly beating Aquaman, which is currently in 3,000 more theaters than Broly. While its position may change when final numbers are out on Tuesday (Aquaman may end up in third place), Broly has already earned $21 million here since it opened on Wednesday.

Internationally Broly has been out for seven weeks and has earned $65 million, with Japan leading the way with $33.3 million—will the U.S. total eventually surpass Broly's Japanese earnings, only time will tell?

Aquaman brought in an estimated $10.3 million over the 3-day portion of the holiday, and has now earned $304.3 million here in North America. James Wan's undersea fantasy epic has now earned $759.1 million overseas for a worldwide total of $1.06 billion, just $21 million shy of The Dark Knight Rises' total. By this time next week Aquaman should be the highest earning film based on a DC Comics (not adjusting for inflation of course, but still a very impressive performance).

Still in the top five is Chris Miller and Phil Lord's Spider-Man: Into the Spider-Verse, which posted the smallest drop in the top 10 (just 19.8%) as it earned $7.25 million, which gives it a total of nearly $160 million, within $9 million of topping Hotel Transylvania 2 and becoming Sony Animation's biggest hit. This weekend Into the Spider-Verse also won "Best Animated Feature" at the Producers Guild Awards (yes, the general audience doesn't really follow the Producers Guild Awards, but they do matter at Oscar time—and Into the Spider-Verse, which won the Golden Globe, is now the frontrunner for "Best Animated Film" Oscar).

The bottom half of the top ten all posted solid holds, with Disney's musical Mary Poppins Returns slipping the least (-31.5%) as it drove its cumulative near $160 million, and its worldwide total to $306 million.

While there are two new films opening wide next weekend, the youth-targeting The Kid Who Would Be King (3,400 theaters), and the neo-noir thriller Serenity 2,500 screens), the real reason to stop back here next week could be to see what effect that the Oscar nomination announcements on Tuesday will have on the weekend box office totals.