Confessions of a Comic Book Guy is a weekly column by Steve Bennett of Super-Fly Comics and Games in Yellow Springs, Ohio. This week, Bennett digs into two under-reported non-facts from Bill Maher's Real Time anti-comics rant.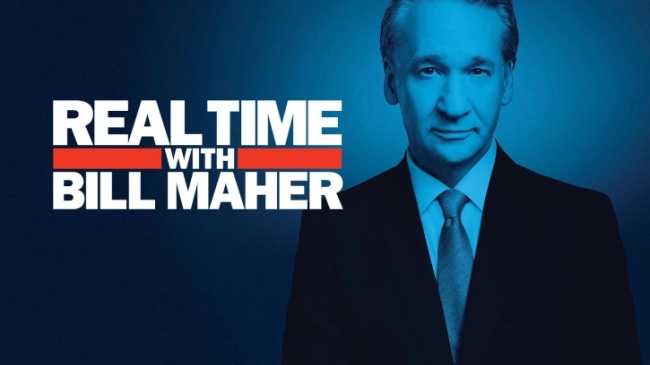 Last week (see "
Confessions of a Comic Book Guy - What's Your Excuse
?") I refuted Bill Maher's recent rant on comic books and their fans, and as much as I wish it otherwise, I'm not quite finished. Because two of Maher's more demonstratively untrue statements seem to have gone unremarked upon by anyone else, and I just can't let either one go unchallenged.
In the first, Maher said, "a culture that thinks that comic books and comic book movies are profound meditations on the human condition is a dumb f***ing culture." He appears utterly unaware that not only do adults read comic books all over the world, but they're also even more popular overseas. Last year 130,000 people attended Comic-Con in San Diego and 250,000 attended New York Comic Con. By comparison, Lucca Comics & Games in Italy and Comiket in Japan had half a million attendees.
And while "only" 200,000 people attended last month's Angouleme International Comics Festival in France, after reading the recent
New York Times
piece,
In France, Comics Are Serious Business,
it's clear France's comic culture is far more advanced than ours. Not only do comics (often referred to as the "ninth art" there) receive more "respect and recognition," they outpace us in both comic book production and consumption.
According to the market research company GfK, in 2018 the comic book industries of France and Belgium earned 510 million euros, or around $580 million. By comparison, ICv2 and Comichron, which report on U.S. comic book sales, say while our market is worth $1 billion, comic sales are declining.
Stéphane Beaujean, the festival's artistic director, says, "The market has risen from 700 books per year in the 1990s to 5,000 this year," and "I don't know any cultural industry which has had that kind of increase." And Terry Moore, creator of the comic
Strangers In Paradise
is quoted as saying "In America, it's about the pop culture, which would include everything from Marvel movies to Lego," while in France, "...I'm seeing that it's about books, books, books."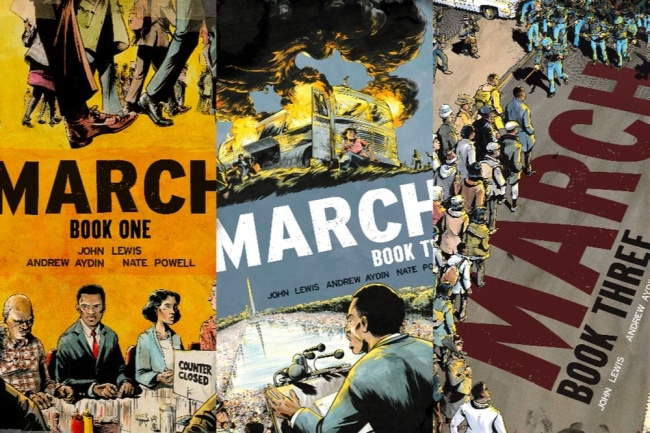 Also mentioned in the article was how
March: Book Three
, the final volume of the trilogy of autobiographical graphic novels co-written by U. S. Congressman and civil rights leader John Lewis and Andrew Aydin, drawn by Nate Powell and published by Top Shelf Productions, had won the National Book Award for Young People's Literature in 2016. This allows me to effortlessly pivot to what Maher said when someone defended comics by saying it's where they first learned about civil rights in the same New Rules segment.
"And to comic readers who say the books taught them about social justice and racial tolerance," Maher said, "Ok, but now you have pubic hair. Read James Baldwin. Read Toni Morrison. Read Michael Eric Dyson." Quoting the Bible's "put away childish things…" proverb, the Real Time host added to it: "…like comic bed sheets."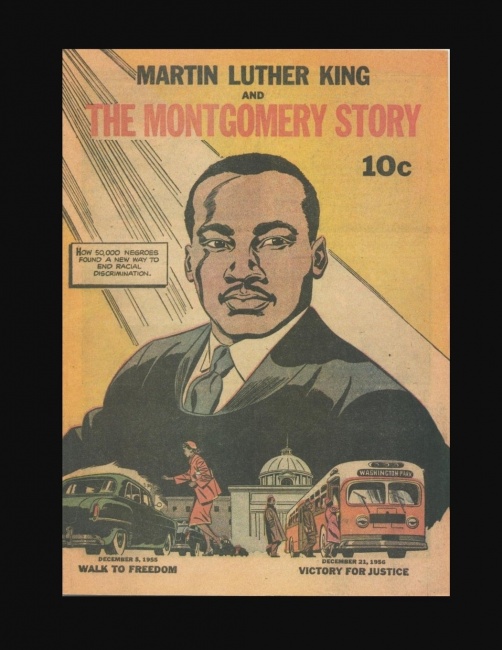 Clearly, Maher isn't familiar with the comic book
Martin Luther King and the Montgomery Story
, something I've repeatedly written about here (see "
Confessions of a Comic Book Guy - The World's Most Dangerous Comic
"). It was a 16-page comic book published in 1957, written by blacklisted comic book writer Benton Resnick, and most likely drawn by the late Dan Barry (best known for his work on the comic strip Flash Gordon), which recounted the story of the Montgomery bus boycott,
A quarter million copies were printed and distributed through churches, universities, social justice organizations, and labor unions. It became a How-To guide on how to use passive non-violent resistance for the Greensboro Four, the black students who sat at a Woolworth's drugstore counter in Greensboro, North Carolina that was reserved for whites only.
It's known as The World's Most Dangerous Comic because, according to Joe Wos, founder and director of Pittsburgh's ToonSeum as quoted by the
SeattlePI,
it was dangerous to possess a copy of the comic in the South: "People were told to read it, memorize it, and destroy it because if they were caught with it, they could be killed."
John Lewis read that comic when he was eighteen and according to him, it changed his life. It led him to begin a life of nonviolent protest, or as he put it "that comic book inspired me to make trouble. But it was the good kind of trouble." That comic also inspired him to tell his story through the medium of comics. Along with a National Book Award,
March
has earned the Coretta Scott King Book Award, the Michael L. Printz Award for excellence in young adult literature and the Robert F. Sibert Informational Book Award, the YALSA Award for excellence in young-adult nonfiction.
Of course, I don't expect anything written by anyone, let alone me, to alter any of Maher's uninformed opinions. We all know how hard it is to change anyone's entrenched beliefs, but now we know why. There's neurological evidence that suggests having them challenged hurts our self-esteem. It's perceived as an attack, activates the fight or flight response and is felt like physical pain. And among the many, many things that I've learned from the TruTV series
Adam Ruins Everything
is the backfire effect, which "says that the more you try to change someone's mind, the less likely you are like to change it."
Apparently, it's "more effective to restate facts, provide alternative narratives, and ask questions that poke holes in that person's argument." Hopefully, one day Maher will make a snide comment about comics on
Real Time
when he has on as a guest someone who isn't only a comic book fan but someone who can more than match him when it comes to volume and invective. I nominate actor Samuel L. Jackson.
Evidence he's just the man for the job came In a recent post on
The Irish Post
,
Samuel L. Jackson on adults reading comic books…'
by Jack Beresford. Beresford says of Jackson's recent movie
Glass
, "A unique take on the genre, the film is further evidence of the fact comic books are an increasingly mainstream, adult, entity to be enjoyed by one and all.
"That's a viewpoint at odds with some people, like Bill Maher, who have gone to great lengths to tell us all how comic books are for kids and kids alone."
"It's also a viewpoint that goes against what Jackson, comic book fan and fully-grown adult, believes."
Meanwhile, like last week, I'll end with an online meme, one I wish Maher would take to heart: Stop Making People Feel Bad For Liking Things That Made Them Happy. Though I'd insert "Trying" between "Stop" and "Making" because people have been trying to make me feel bad for liking the things that make me happy all my life. And it doesn't work.
The opinions expressed in this column are solely those of the writer, and do not necessarily reflect the views of the editorial staff of ICv2.com.