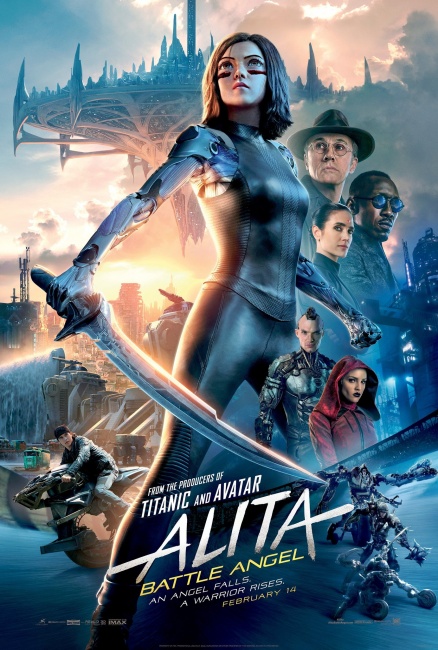 The James Cameron-produced, Robert Rodriguez directed
Alita: Battle Angel
won the Presidents' Day Weekend box office with ease, surpassing modest expectations with a $27.8 million 3-day total. But the 2019 box office slide continued with this weekend's domestic total down 66% from that same frame last year. While there was no way of matching up with this same weekend in 2018, since that's when Black Panther debuted with $202 million over the 3-days, but this weekend's total is the worst Presidents Day tally since 2001, a sure indication that 2017's box office is continuing to head straight for Tierra del Fuego.
Even the good news about
Alita: Battle Angel
, which opened on Thursday and should have earned $41 million by Monday's end, is tempered by the fact that the $170 million production, which is based on the manga by Yukio Kishiro, will have to have extremely strong "legs" here in North America and very good runs in China and Japan if it is to earn the $550 million worldwide it will need to defray its enormous cost.
Alita: Battle Angel
will be one of the last Fox releases before the studio is absorbed by Disney, and despite the fact that it should come in about $11 million over analyst's expectations for its 5-day opening, the future of the
Alita
property remains in serious doubt at this point, especially with the change in studio. If the character doesn't return (and the film makes a definite attempt to set up a sequel), it will be too bad, because it's better-than-expected debut indicates that there is an appetite (as Patty Jenkins'
Wonder Woman
demonstrated so definitively) for a sassy super-powered heroine.
Though its financial prospects remain clouded, at least
Alita: Battle Angel
does not appear to be an immediate failure like so many other recent big-budget attempts to create new fantasy/science fiction franchises, such as
John Carter, Jupiter Ascending, Prince of Persia, Valerian
, etc. Although reviews were mixed (59% positive on review aggregator Rotten Tomatoes), audiences gave
Alita
a solid A- CinemaScore, which does provide some hope, at least until Marvel Studios'
Captain Marvel
lands on March 8.
Alita: Battle Angel
has earned $94.3 million overseas for a global haul that should reach $136 million on Monday, but it will have to do well in China and Japan where it opens next weekend to have any hope of breaking even.
Last week's winner,
The LEGO Movie 2
, dropped 37.8% as it earned $21.2 million over the 3-day weekend, bringing its ten-day total to $62.7 million, which is about half of what the original
LEGO Movie
had earned at this point. Overseas the picture isn't much brighter as
LEGO Movie 2's
total is only $34.7 million. Making things even more difficult is the fact that
LEGO Movie 2
will face direct competition next weekend with the debut of the animated
How To Train Your Dragon: The Hidden World
.
Weekend Box Office (Studio Estimates): February 15-17, 2019

Film

Weekend Gross

Screens

Avg./Screen

Total Gross

Wk#

1

Alita: Battle Angel

$27,800,000

3,790

$7,335

$36,516,232

1

2

The LEGO Movie 2: The Second Part

$21,215,000

4,303

$4,930

$62,690,359

2

3

Isn't It Romantic

$14,210,000

3,444

$4,126

$20,455,347

1

4

What Men Want

$10,920,000

2,912

$3,750

$36,150,328

2

5

Happy Death Day 2U

$9,816,000

3,207

$3,061

$13,527,500

1

6

Cold Pursuit

$6,000,000

2,630

$2,281

$21,122,332

2

7

The Upside

$5,590,000

2,781

$2,010

$94,197,031

6

8

Glass

$3,859,000

2,449

$1,576

$104,489,915

5

9

The Prodigy

$3,150,065

2,530

$1,245

$11,015,539

2

10

Green Book

$2,751,000

1,618

$1,700

$65,756,401

14
The romcom satire Isn't It Romantic, which stars Rebel Wilson, which opened on Wednesday came in third with a 3-day total of $14.2 million, and it should finish the weekend with a 6-day total around $22 million. The "PG-13" comedy received a "B" CinemaScore from audiences that skewed older (80% over 25).

Another comedy, the gender-mashing What Men Want, which stars Taraji P. Henson, came in fourth place and should finish the 4-day weekend with about $12.6 million.

The new film that didn't match expectations this weekend was the Blumhouse horror sequel Happy Death Day 2U, which debuted at #5 with a 3-day total of $9.8 million. In spite of decent reviews for a horror movie (67%) positive on RT), Happy Death Day 2U, should end up the weekend about $5 million short of analyst's $20 million expectations. Not to worry however, since 2U's $9 million cost means it won't lose any money. The "PG-13" horror film earned a "B" CinemaScore (a good grade for a horror movie) from opening weekend audiences that skewed just a bit female (51%), and younger (with just 59% under 25).

In superhero movie news M. Night Shyamalan's Glass became the first 2019 film to top the $100 million mark, and James Wan's Aquaman has now earned mover $331 million here in North America, pushing it past Batman v. Superman: Dawn of Justice to become the second highest earning DC Extended Universe film here in North America, trailing only Wonder Woman ($412.6 million).

Next weekend Universal will open Dreamworks Animation's How To Train Your Dragon: The Hidden World in over 4,000 theaters, but keep an eye on the Rock's WWE biodrama Fighting With My Family, which did extremely well in limited release, and expands nationwide next weekend.