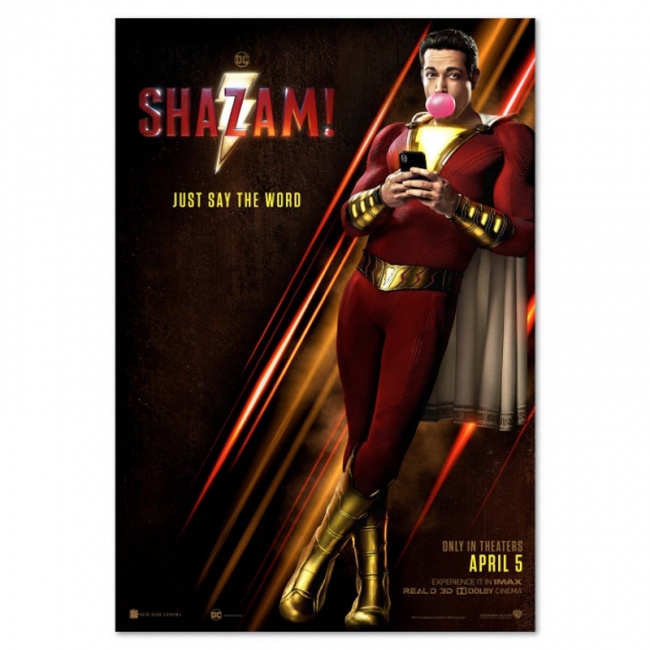 Just five weeks after Marvel Studios launched its highly successful
Captain Marvel
, Warner Bros. appears to have a created a hit with C.C. Beck and Bill Parker's "original"
Captain Marvel
, who is now known as "Shazam," the magic word that his alter ego, the young boy Billy Batson utters to summon the super-powered figure previously known as Captain Marvel.
But in spite
Shazam's
solid launch, and a decent $25 million debut for Paramount's remake of Stephen King's
Pet Sematary
, the year-over-year box office was down 11.4% from the same weekend last year when John Krazinski's
A Quiet Place
debuted with $50.2 million. Thus after besting 2018's record pace every weekend in March, April 2019 is starting off a bit behind, though this month's fate won't really be known until after
Avengers: Endgame
debuts on April 26.
Shazam!
is the seventh film in DC extended universe, and while its $53.5 million opening is the lowest yet for a DC film (and the lowest for any Marvel/DC-based film since the ill-fated
Fantastic Four
remake in 2015), there is ample reason to think that it will become the third straight "solo" hit to come from DC/Warner Bros., following hard on the footsteps of Patty Jenkins' highly successful
Wonder Woman
, and James Wan's audience-pleasing
Aquaman.
With a reported production cost of around $90 million,
Shazam!
has already earned $155 million worldwide, and the film has 21 days to make hay before the Avengers dominate the final days of April.
Shazam!
should make it to at least $150 million here in North America given the film's success with the critics (91% positive on review aggregator Rotten Tomatoes), and its solid "A" CinemaScore from opening weekend audiences. Males accounted for 55% of the opening weekend crowd, with over half the audience under 25 (compared with 46% for Marvel Studios'
Captain Marvel
), and a full third of the crowd under 17.
Shazam's
appeal to younger viewers should come as no surprise, since Beck and Parker's creation is the ultimate in teenage wish fulfillment, allowing its scrawny youthful protagonist to transform into the muscular superhero. Remember that Beck and Parker's
Captain Marvel
, published by Fawcett, was a more popular comic than
Superman
during the 1940s, especially among younger readers.
The demise of the original
Captain Marvel
is an excellent example of how patent and copyright law can be used to stifle innovation and creativity. Thanks to a long-running court case that accused Fawcett of infringing on
Superman's
copyright, publication of the original
Captain Marvel
comics was halted in 1953 (and DC later picked up the rights to characters of the
Captain Marvel
universe, including Black Adam, in the 1970s). Imagine if the folly of copyrighting the idea of "super-powered" beings had been fully implemented. We would certainly not have the current diversity of superhero comics (and the movies they spawn).
With its strong appeal to younger viewers
Shazam!
marks a third straight success for DC, and Warner Bros. has another "solo" film, Todd Phillips'
The Joker
set for release in October. The one area in which the Warner Bros./DC team has foundered (at least so far) is the superhero team-up film, where they have so far be able to establish nothing that even comes close to what Marvel Studios has accomplished with
The Avengers
. But then there are so many characters in the DC universe that Warner Bros. should be able to make solo origin films from now until "Doomsday."
Weekend Box Office (Studio Estimates): April 5-7 2019

Film

Weekend Gross

Screens

Avg./Screen

Total Gross

Wk#

1

Shazam!

$53,450,000

4,217

$12,675

$56,775,000

1

2

Pet Sematary

$25,000,000

3,585

$6,974

$25,000,000

1

3

Dumbo

$18,224,000

4,259

$4,279

$76,271,489

2

4

Us

$13,813,000

3,512

$3,933

$152,395,995

3

5

Captain Marvel

$12,682,000

3,573

$3,549

$374,133,563

5

6

The Best of Enemies

$4,500,000

1,705

$2,639

$4,500,000

1

7

Five Feet Apart

$3,700,000

2,484

$1,490

$41,591,252

4

8

Unplanned

$3,200,000

1,516

$2,111

$12,467,510

2

9

Wonder Park

$2,040,000

2,281

$894

$41,980,513

4

10

How to Train Your Dragon: The Hidden World

$1,985,000

1,928

$1,030

$156,692,245

7
Second place this weekend went to Pet Sematary, the second screen adaptation of the Stephen King horror novel, which debuted about as expected with $25 million, the second best opening ever for a King adaptation (though it was almost $100 million less than It's $123.4 million 2017 bow). With a production cost of $21 million, Pet Sematary, which brought in an additional $17.3 million from about 70% of the overseas markets), should turn out to be a modest hit for Paramount.

Opening weekend audiences for Pet Sematary skewed slightly female (52%), and a bit older with 58% of the crowd over 25. They gave the film a "C+" CinemaScore, which for any other genre than horror would be the kiss of death. Horror movie audiences are notoriously low graders (they have standards), so with this middling grade, it is hard to predict the film's future prospects.

Tim Burton's Dumbo, which topped the charts last week, took a 60.4% drop as it earned $18.2 million to drive its domestic total to $76.3 million. Overseas the film has fared a little better, earning $137.5 million so far for a global total of close to $214 million, which would be just fine if Dumbo hadn't cost $170-190 million to produce.

Jordan Peele's Us definitely took a hit from Pet Sematary, dropping 58.4% in its third weekend as it earned $13.8 million to drive its domestic total to $152.4 million making it one of the top five R-rated horror films of all time (not adjusting for inflation). This $20 million production is already a big hit for Peele and Universal.

Meanwhile the other Captain Marvel slipped to #5 in her fifth week of release as it added $12.7 million, driving its domestic total to $374.1 million. It also added $14.2 million overseas for a global tally that is now $1.037 billion. Captain Marvel is now the seventh (out of 22) Marvel Studios' film to earn over a billion dollars.

This week's only other new wide release, the Civil Rights drama, The Best of Enemies, earned $4.5 million from 1,700 theaters. While it is off to a slow start, The Best of Enemies has some modest potential due to the "A" CinemaScore that it received from audiences that skewed heavily female (63%) and older (79% over 25).

Be sure to check back here next week as the spring movie season is getting in to full swing with four new wide releases including Laika Studios' animated Missing Link debuting in 3,500 theaters, the Dark Horse comics-based superhero film Hellboy in 3,200 locations, Universal's comedy Little opening in 2,600 venues, and the romantic drama After on 2000 screens.