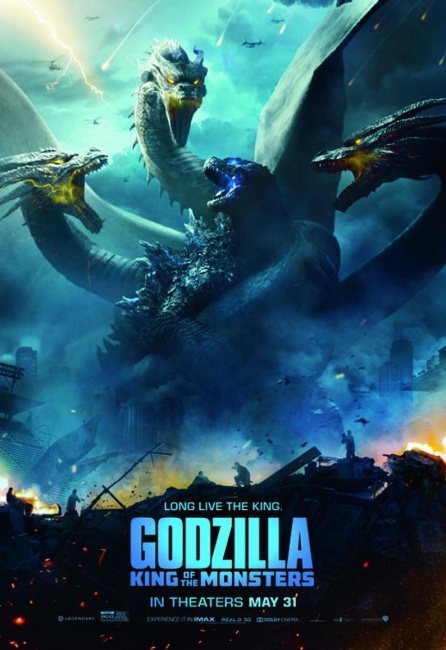 Warner Bros. and Legendary Pictures'
Godzilla: King of the Monsters
took the weekend box office crown with an estimated $49 million debut, though that was barely better than half the $93 million opening of Gareth Edwards'
Godzilla
in 2014. Still with some strong holdovers and better than expected debuts from
Rocketman
and
Ma
, the total weekend box office was up over 60% from the same frame last year when
Solo: A Star Wars Story
topped the charts with $29.4 million.
The summer season, which began with the release of
Avengers: Endgame
in late April, is now running over 8% above 2018's record total, and the total gap between 2018 and 2019, which had ballooned as high as 16% is now down to 8.5%.
Godzilla: King of the Monsters'
debut is not only 47% lower than the 2014
Godzilla
reboot, it is 22% below the $63 million bow of
Kong: Skull Island
in 2017
. King of the Monsters
attracted a crowd that skewed heavily male (67%) and older with 59% over 25, but they did give the film an OK "B+" CinemaScore. Caucasians made up 47% of the opening weekend audiences, followed by Hispanics (24%), Asian (16%), and African-Americans (13%). Given the $170 million production cost
of King of the Monsters
, and its sub-$50 million opening here in North America, it will have to do well internationally to break even.
Though it doesn't appear as if it will be enough,
King of the Monsters
did do better internationally where it earned $130 million as it opened in almost all of the world's major markets. China, where it brought in $70 million (a significantly better showing than here in North America), provided the lion's share, followed by Japan where it earned $8.4 million.
Warner Bros., which is only on the hook for about 25% of the financing of
King of the Monsters
, won't take a big loss on this film, but along with
LEGO Movie 2,
which debuted with roughly half of the earnings of the first
LEGO Movie
, this disappointing debut for
Godzilla: King of the Monsters
puts a second WB cinematic franchise in serious jeopardy.
Weekend Box Office (Studio Estimates): May 31 - June 2 2019

Film

Weekend Gross

Screens

Avg./Screen

Total Gross

Wk#

1

Godzilla: King of the Monsters

$49,025,000

4,108

$11,934

$49,025,000

1

2

Aladdin

$42,335,000

4,476

$9,458

$185,032,174

2

3

Rocketman

$25,000,000

3,610

$6,925

$25,000,000

1

4

Ma

$18,260,000

2,808

$6,503

$18,260,000

1

5

John Wick: Chapter 3 - Parabellum

$11,100,000

3,604

$3,080

$125,752,812

3

6

Avengers: Endgame

$7,813,000

3,105

$2,516

$815,501,784

6

7

Pokemon Detective Pikachu

$6,665,000

3,147

$2,118

$130,601,211

4

8

Booksmart

$3,328,648

2,518

$1,322

$14,366,831

2

9

Brightburn

$2,315,000

2,607

$888

$14,212,552

2

10

The Hustle

$1,300,000

1,407

$924

$33,195,602

4
Meanwhile, last week's winner, Disney's Aladdin, dropped just 53% (a solid post-Memorial Day hold), earning $42.3 million and driving its domestic cumulative to $185 million. The Guy Ritchie-directed live-action musical earned $78.3 million overseas this weekend for an international total of $261 million and a worldwide haul of almost $446, which is nearly $100 million better already than the total of Disney's other 2019 "live-action" remake, Tim Burton's Dumbo ($349 million).

Third place went to the Elton John musical biopic, Rocketman, which opened above expectations with an estimated $25 million. Rocketman, which is rated "R," debuted with less than half of the $51 million bow of the "PG-13" Queen biopic, Bohemian Rhapsody, and probably has no chance of matching Rhapsody's massive $216.4 million domestic total, but Rocketman should have a lengthy run, given its 90% positive rating on review aggregator Rotten Tomatoes and its solid "A-" CinemaScore from opening weekend audiences, which were older (55% over 30) and almost evenly split between the genders, Caucasians made up a whopping 70% of the audience for Rocketman.

Also over-performing was Tate Taylor's horror film Ma, which stars Octavia Spencer. This R-rated chiller has a 61% positive rating on Rotten Tomatoes and received a "B-" CinemaScore from audiences that skewed female (53%) with a great demographic distribution for an R-rated movie with 68% falling between 18-34. Caucasians made up 37% of the opening weekend audiences, closely followed by African-Americans with 36%.

Lionsgate's action movie hit, John Wick: Chapter 3, took the fifth spot as it dropped 55%, earning $11.1 million and driving its domestic total to $125.8 million.

Disney and Marvel Studios' Avengers: Endgame also slipped 55% as it earned $7.8 million, driving its domestic total to $815.5 million. Endgame is now the #2 film in box office earnings, though if you adjust for ticket price inflation, Endgame, which just passed Star Wars: The Phantom Menace, falls to #18. Endgame has earned $2.713 billion worldwide, just $75 million short of Avatar's $2.788 billion record (again, not adjusting for inflation).

Seventh place went to Warner Bros. video game-based, live-action hybrid Detective Pikachu, which earned $6.6 million to bring its domestic total to $130.6 million. With a production cost of $150 million, Detective Pikachu is a modest hit, thanks to the $261 million it has earned outside the U.S., but with a worldwide total of $392.1 million, it is clear that Detective Picachu is not the breakout hit that the video game movie genre has been sorely lacking.

Olivia Wilde's well-reviewed teen comedy Booksmart dropped 52% as it earned $3.3 million to bring its domestic total to $14.4 million. Booksmart is the kind of well-acted, intelligently-written coming-of-age film that the critics love, but which struggles to find a theatrical audience in this era when similar comedy/dramas abound on the various streaming services and cable channels.

Be sure to check back here next week when a superhero film (Dark Phoenix from Fox heading into 3,500 theaters) will be the underdog when it goes up against the animated sequel, The Secret Life of Pets 2, which opens in over 4,400 venues.