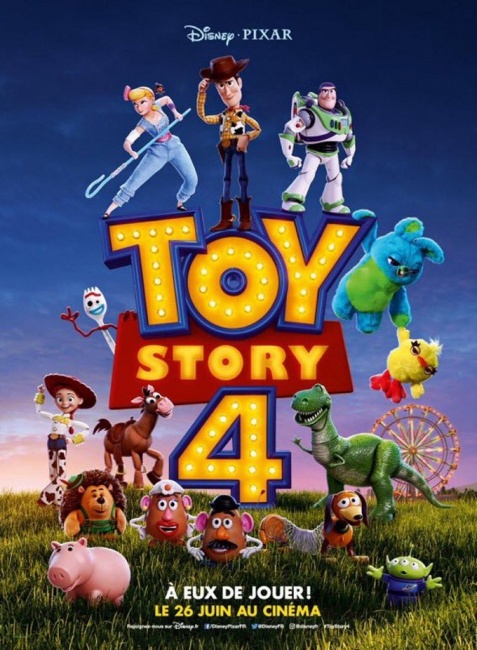 Last week it was suggested here that the debut of Pixar's
Toy Story 4
would be something of a defining moment in diagnosing the virulence of the case of "sequelitis" that is affecting the 2019 box office. But the Pixar film's $118 million opening, though well below expectations, didn't really prove to be definitive for either the 2019 market in general or for the fortunes of
Toy Story 4
in particular.
While it was the third best opening of 2019 so far,
Toy Story 4's
debut was not enough to give 2019 a year-over-year advantage versus the record-setting 2018. In fact the box office was down over 29% versus the same frame last year when
Jurassic World 2
opened with $148 million.
Though
Toy Story 4's
$118 million bow is ostensibly the best in franchise history, when adjusted for inflation,
Toy Story 3's
$110 million bow in 2010 would be $126 million. Likewise though
Toy Story 4's
$118 million is the fourth best domestic opening ever for an animated film, it slips to #7 when ticket price inflation is acknowledged.
It is worth remembering that there were those who thought that
Toy Story 3's
opening was going to be much higher than $110 million back in 2010—and yet
Toy Story 3
ended up earning $415 million here in North America.
Toy Story 4
appears to be poised to be able to replicate that success. The latest
Toy Story
sequel has the best critical rating in franchise history (98% positive on review aggregator Rotten Tomatoes) and received an "A" CinemaScore from opening weekend audiences that skewed slightly female (52%) and younger with 55% under 25. With no real animated competition until
Frozen 2
opens in November (does anyone actually take
Angry Birds 2
seriously?), and little new in the family entertainment realm until Disney debuts
The Lion King
on July 19,
Toy Story 4
will have the opportunity at a long and profitable run.
Judging by the performance of the past dozen or so Pixar films
Toy Story 4
should end its domestic run with over $400 million. If this well made and fitting end to a great movie franchise fails to make that grade, then we will have the answer on 2019's case of "sequelitis."
Weekend Box Office (Studio Estimates): June 21-23 2019

Film

Weekend Gross

Screens

Avg./Screen

Total Gross

Wk#

1

Toy Story 4

$118,000,000

4,575

$25,792

$118,000,000

1

2

Child's Play

$14,055,540

3,007

$4,674

$14,055,540

1

3

Aladdin

$12,200,000

3,435

$3,552

$287,510,128

5

4

Men in Black International

$10,750,000

4,224

$2,545

$52,689,654

2

5

The Secret Life of Pets 2

$10,290,000

3,804

$2,705

$117,583,535

3

6

Rocketman

$5,650,000

2,414

$2,341

$77,328,389

4

7

John Wick: Chapter 3 - Parabellum

$4,075,000

1,607

$2,536

$156,067,424

6

8

Godzilla: King of the Monsters

$3,700,000

2,368

$1,563

$102,345,637

4

9

Dark Phoenix

$3,600,000

2,054

$1,753

$60,159,311

3

10

Shaft

$3,555,000

2,952

$1,204

$15,941,394

2
Also coming in behind expectations this weekend was the horror comedy Child's Play, a loose remake of the 1988 film that introduced the maniacal "Chucky" doll (and which has spawned continuous remakes as well as TV series heading to SyFy next year). The same box office analysts that saw Toy Story 4 tracking for a $150 million bow, predicted an $18 million opening for Child's Play.

With decent reviews for a horror film (60% positive on RT), and a not bad (for a horror movie) "C+" CinemaScore from opening weekend audiences, which skewed male (52%) and older (61% over 25), Child's Play would appear to be well-positioned to improve upon a less than stellar debut, but come Wednesday Chucky won't be the only evil doll at the Cineplex, as Annabelle Comes Home, the latest film in the popular Conjuring horror franchise, opens nationwide to compete directly for the R-rated horror film audience.

Disney's "live-action" Aladdin didn't set the world on fire with its $91 million debut five weekends ago, but it has demonstrated great "legs," earning $12.2 million this weekend, pushing its domestic total to $287.5 million, which is just 35% of its $855 million worldwide total. It wasn't a big hit when it debuted, but it is now.

The same can't be said for last week's box office champ, Men in Black International, which slipped 64.2% as it earned $10.75 million to bring its domestic total to $52.7 million. While MIB International cost less than today's average blockbuster (just $110 million), it will have hard time actually making it into the "black."

The bottom half of the top ten includes two definite winners, the Elton John musical biopic Rocketman, which has earned $77.3 million here in North America, and the action film John Wick: Chapter 3, a rare 2019 sequel hit, which has earned $156 million here in North America and is closing in on $300 million worldwide ($289.2 million so far), and three certified losers, Godzilla: King of the Monsters, Dark Phoenix, and Shaft.

Opening outside the top ten was the action film Anna, which earned just $3.5 million from over 2100 theaters, the worst opening in the career of filmmaker Luc Besson, who is embroiled in a major "Me Too" controversy in France.

Be sure to check back here next week to see what happens when the horror film Annabelle Comes Home debuts in over 3,500 locations, and Danny Boyle's alternate history musical, Yesterday, bows in around 2,600.