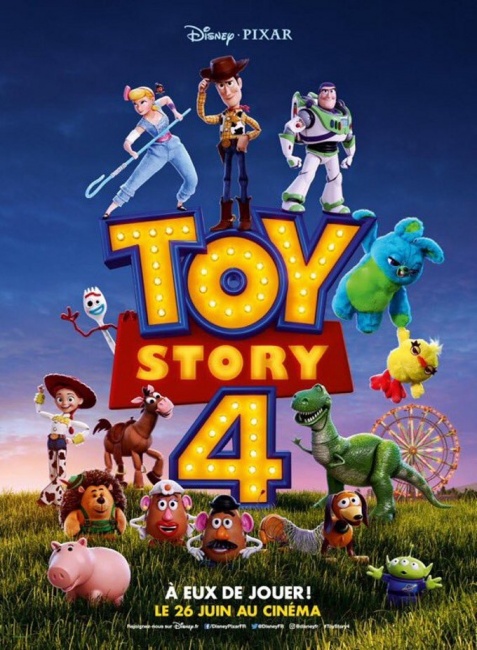 Pixar's
Toy Story 4
earned $58 million and topped the domestic box office for the second weekend in a row, but despite a better than expected debut from
Yesterday
and a solid showing from Warner Bros.' latest
Conjuring
spin-off, the yearly box office total continued to fall farther behind 2018's record pace with this weekend's box office down just over 18% from the same frame a year ago when
Jurassic World
2 reigned for the second weekend in a row with $60.9 million.
Meanwhile, the film that most analysts expect to top the box office next weekend,
Spider-Man: Far From Home
delivered the third best opening ever for a Marvel Studios' film in China with a $98 million bow (trailing only the 2 most recent
Avengers
films). Strong showings in both Japan and Hong Kong pushed the new
Spidey
film's total to $111 million—no signs of superhero fatigue so far.
Toy Story 4
dropped 52% in its second frame, a decline that is right in between
Incredibles 2
(-56%) and
Toy Story 3
(-46%).
Toy Story 4
is performing like a top tier Pixar release, but so far on the lower end of that elevated spectrum. With a ten-day domestic total of $237 million, it is still difficult to determine where
Toy Story 4
will end up. Depending on its "legs," it could finish as low as $360 million, or as high as $410 million. With a global total of nearly $500 million,
Toy Story 4
is already a hit, it is just a question of "how big will it be?"
Second place went, as expected to Warner Bros.' horror film
Annabelle Comes Home
, which earned $20.4 million for the 3-day weekend and $31.2 million since it opened on Wednesday. This third Annabelle film, posted the lowest franchise opening so far, but considering the competition, it's total is close enough to the previous
Annabelle
films ($37 million and $35 million) to quell most talk of franchise fatigue. The $27 million production has already earned $76.2 million worldwide.
Annabelle Comes Home
attracted a younger crowd for an R-rated film, with 70% of the audience between 18 and 34. Caucasians made up 39% of the crowd, followed by Hispanics (29%), African-Americans (20%), and Asian/other (12%).
This weekend's surprise was Danny Boyle's
Yesterday
, a high concept movie about a world that has forgotten about the Beatles, save for one lucky musician, who gets to claim the Beatles catalog for his own. As might be expected,
Yesterday
attracted an older crowd with 75% over 25, and 46% over 35.
Weekend Box Office (Studio Estimates): June 28-30 2019

Film

Weekend Gross

Screens

Avg./Screen

Total Gross

Wk#

1

Toy Story 4

$57,932,000

4,575

$12,663

$236,921,809

2

2

Annabelle Comes Home

$20,370,000

3,613

$5,638

$31,204,459

1

3

Yesterday

$17,000,000

2,603

$6,531

$17,000,000

1

4

Aladdin

$9,344,000

3,235

$2,888

$305,861,946

6

5

The Secret Life of Pets 2

$7,090,000

3,349

$2,117

$131,202,000

4

6

Men in Black International

$6,550,000

3,663

$1,788

$65,030,511

3

7

Avengers: Endgame

$5,537,000

2,025

$2,734

$841,318,161

10

8

Child's Play

$4,276,607

3,007

$1,422

$23,405,006

2

9

Rocketman

$3,870,000

2,003

$1,932

$84,173,960

5

10

John Wick: Chapter 3 - Parabellum

$3,175,000

1,550

$2,048

$161,315,088

7
Among the holdovers, Guy Ritchie's Aladdin continues its leggy performance dropping just 29% in its sixth frame as it earned $9.3 million to drive its domestic total over $300 million. The pricy $183 million production has now earned $875 million worldwide, a welcome sign for Disney after the box office disappointment that was Tim Burton's Dumbo. Other holdovers that performed well this weekend include The Secret Life of Pets 2, Rocketman, and John Wick Parabellum, which became the first film in the bloody action franchise to earn over $300 million worldwide.

Disney added footage to Avengers: Endgame and put it back into nearly 1,000 more theaters, with the result that in its tenth weekend, Endgame reentered the top ten, earning $5.5 million and driving its year-to-date leading domestic total to $841.3 million. While Endgame remains a seemingly insurmountable $30 million short of topping Avatar's $2.788 billion worldwide total to become (in raw numbers) the biggest release of all time, it is important to remember that Endgame is likely to end its domestic run, not as the #2 film of all time, but in 13th place on the inflation-adjusted list, just ahead of Return of the Jedi ($847 million adjusted).

The biggest decline in the top ten belongs to the horror film remake Child's Play, which fell a whopping 69.7% in the face of direct competition from another evil doll horror film, Annabelle Comes Home.

Be sure to check back here next week to see if Spider-Man: Far From Home can continue the strong showing it displayed in Asia this weekend.