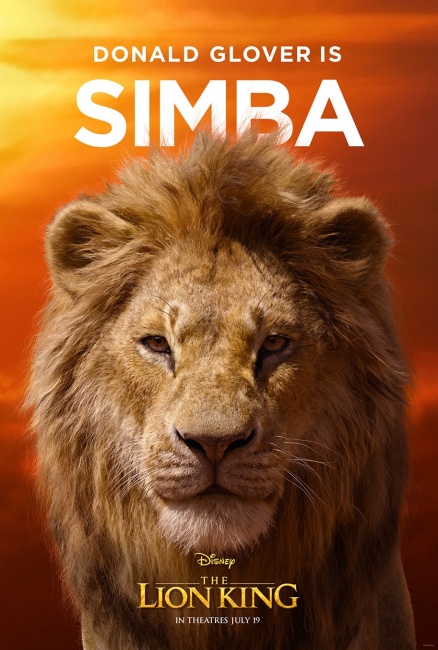 John Favreau's photo realistic remake of
The Lion King
roared out of the "uncanny valley" to score an enormous box office success with a $185 million domestic debut, which by itself was more than the entire box office during the same weekend last year when
The Equalizer 2
debuted with $36 million. After six straight weekends with numbers below those of the record-holding 2018, the box office for the top 12 was up 54% from the same frame last year, and 2019's running deficit with 2018 was reduced from about 9% to 7%.
Favreau's
The Lion King
is somehow classified as a "live-action" film though it is computer-animated. Favreau, according, to some reports, did add one actual live-action shot to the film to see if anyone in the audience could distinguish it from the rest of the elaborate $260 million production, which is computer-generated and photo realistic in the mode of Favreau's successful remake of
The Jungle Book
, which paved the way for
The Lion King
remake.
Regardless of how it is classified, Favreau's film has to be considered another major success for Disney, which currently dominates the North American market with over 40% of ticket revenues for 2019
. The Lion King
set records (not adjusted for inflation) for the biggest debut in July, the biggest opening for a "PG" film, and the biggest Disney opening that wasn't a Marvel Studios or Lucasfilm production. It would also be the biggest opening for an animated film, if it were classified as such.
The critics certainly didn't enjoy Favreau's latest trip into the "uncanny valley" of photo realistic animation, giving
The Lion King
just a 54% positive rating on review aggregator Rotten Tomatoes, but audiences, which skewed female (53%) and younger (50% under 25), gave the film an "A" CinemaScore. Remember that the original 1994
Lion King
was enormously popular, earning $312 million domestically and $766 worldwide (huge numbers 25 years ago), and then it sold a record 32 million VHS cassettes. A 2011 re-release to push the film's release on Blu-ray earned an additional $185 million, so there is no doubting the power of
The Lion King's
IP (you will notice that no other film opened wide this weekend).
The critics generally compared
The Lion King
unfavorably with its conventionally animated predecessor, but audiences may have enjoyed the new film's more ethnically-accurate voice casting for a film that takes place in Africa. Adding Beyonce, Donald Glover, Chiwetel Ejiofor, Keegan-Michael Key, Alfrie Woodard, Eric Andre, and Florence Kasumba apparently resonated with the diverse opening weekend crowds, which were 44% Caucasian, 22% African-American, 20% Hispanic, and 14% Asian/other.
With a $185 million domestic opening,
The Lion King
could end up with over $500 million here in North America if it plays like the "live-action" remake of another 1990s Disney
hit Beauty and the Beast
. Overseas the film has earned $346 million for a current global haul of $531 million. Although it's early days, most analysts are predicting that Disney will have another billion-dollar-earning film before The Lion King finishes its run.
Weekend Box Office (Studio Estimates): July 19-21 2019

Film

Weekend Gross

Screens

Avg./Screen

Total Gross

Wk#

1

The Lion King

$185,000,000

4,725

$39,153

$185,000,000

1

2

Spider-Man: Far from Home

$21,000,000

4,415

$4,757

$319,659,412

3

3

Toy Story 4

$14,600,000

3,750

$3,893

$375,533,349

5

4

Crawl

$6,000,000

3,170

$1,893

$23,834,810

2

5

Yesterday

$5,100,000

2,662

$1,916

$57,596,465

4

6

Stuber

$4,000,000

3,050

$1,311

$16,081,864

2

7

Aladdin

$3,800,000

2,105

$1,805

$340,040,714

9

8

Annabelle Comes Home

$2,660,000

1,981

$1,343

$66,582,201

4

9

Midsommar

$1,599,155

1,105

$1,447

$22,482,183

3

10

The Secret Life of Pets 2

$1,530,000

1,380

$1,109

$151,551,165

7
Second place went to Spider-Man: Far From Home, which dropped 53.7% in its third frame as it earned $21 million to bring its domestic total to $320 million. Thanks to huge overseas success Far From Home, which is performing much like a normal "Spider-Man 2" release in the domestic market, has amassed a worldwide total of $970.8 million, the biggest ever for a Spider-Man movie (not adjusting for inflation). It now appears likely that Far From Home will become Sony's biggest release of all time globally, which is a testament both to the quality of the film and to the growth of the international market (especially since the addition of China).

Pixar's Toy Story 4 certainly did well in the face of direct competition from The Lion King as it dropped just 30% in its fifth week of release, adding 14.6 million to bring its domestic total to $375.5 million. With a global total of $860 million, Toy Story 4 is now Pixar's fifth biggest release (not adjusted for inflation).

Alexandre Aja's eco-horror thriller Crawl dropped 50% in its second weekend, earning $6 million and driving its domestic total to almost $24 million. Paramount screwed up the release of Crawl, but it could still become this summer's "survival" film of choice.

Remaining at #5 was Danny Boyle's Yesterday, this summer's first certified "adult" hit, which dropped just 24% in its fifth weekend, adding $5 million to bring its domestic total to $57.5 million.

Not much happening in the bottom half of the top ten except for Disney's Aladdin, which earned $3.8 million to bring its domestic total to $340 million. With a global total of $989 million, look for Aladdin to pass the $1 billion mark over the next 2 weeks.

Just outside the top ten Avengers: Endgame earned $1.2 million to bring its year-to-date leading domestic total to $854.2 million. Overseas accounting corrections helped push Endgame to a record $2.79 billion dollars surpassing Avatar as the highest-earning film of all time (not adjusted for inflation, but still very impressive). It was Endgame's incredible performance in China, where it earned $629 million, a 75% boost over Avengers: Infinity War, that pushed it past Avatar, which earned $204 million in China in 2009, when the theatrical marketplace in China was about 10-15% the size it is now.

Be sure and check back here next week to see how Quentin Tarantino's star-studded Once Upon a Time In Hollywood will fare in the face of formidable competition from Simba and company.