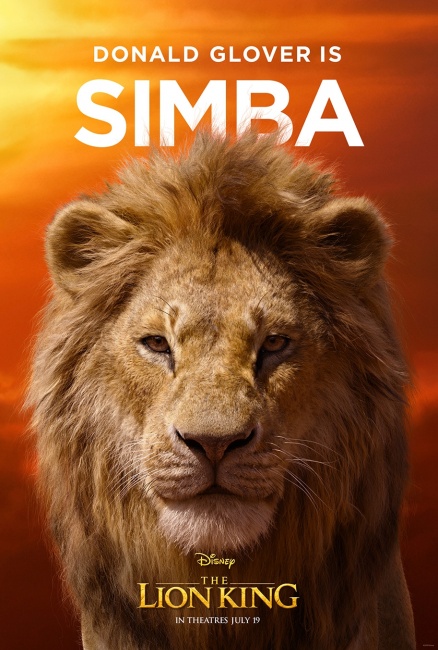 Jon Favreau's photo realistic "reimagining" of
The Lion King
dropped over 60% in its second weekend, but still easily topped the box office, while Quentin Tarantino's
Once Upon a Time in Hollywood
earned over $40 million, giving Hollywood its second straight winning weekend versus 2018. On this weekend last year Mission Impossible 6 debuted with $61 million. 2019's deficit with the record-setting 2018, which was at 9% just two weeks ago, now stands at around 6.5%.
The Lion King
dropped 60.6% from its massive $191.8 million opening weekend, but still earned $75.5 million to drive its domestic ten-day total to $350.8 million. While
The Lion King
now owns the biggest second weekend drop of all of Disney's "live-action reimaginings," it also had the biggest opening of any film in that group. How the film performs over the next two weeks will determine its theatrical longevity. It has already earned $611.9 million overseas for a global tally of $962.7 million, which means
The Lion King
will be joining the billion dollar club by this time next week.
Second place went to Quentin Tarantino's R-rated
Once Upon a Time in Hollywood
, which stars Leonardo DiCaprio and Brad Pitt.
Once Upon a Time
scored the best opening of Tarantino's career, $40.35 million (not adjusting for inflation) and struck a blow for original programming in the increasingly franchise-frenzied Hollywood. The question will be whether or not this $90 million production (Tarantino's most expensive to date) will have the necessary "legs" to earn a profit.
While the critics were overwhelmingly positive, giving
Once Upon a Time in Hollywood
an 86% positive rating on review aggregator Rotten Tomatoes, audiences, which skewed male (58%) and younger (60% between 18 and 34), gave the film a so-so "B" CinemaScore, which could put its box office future in doubt. With a publicity campaign that reportedly cost more than the film itself
, Once Upon a Time in Hollywood
will have to do well here and overseas to become a financial success.
Spider-Man: Far From Home
dropped 42.5% in its fourth weekend as it earned $12.2 million to drive its domestic total to $344.5 million. With $692.4 million earned overseas
, Far From Home
now has a global tally of $1.03 billion, becoming the ninth film in the Marvel Cinematic Universe to join the billion dollar club.
Far From Home
is the first
Spider-Man
film to top the $1 billion mark.
Following right behind
Far From Home
was Pixar's
Toy Story 4
, which dropped 36.5% in its sixth weekend in theaters as it earned $9.9 million to drive its domestic total to $395.6 million. With $522.3 million in overseas earnings,
Toy Story 4
now has a global total of $918 million and would appear to be in line to give Disney yet another billion dollar film.
Weekend Box Office (Studio Estimates): July 26-28 2019

Film

Weekend Gross

Screens

Avg./Screen

Total Gross

Wk#

1

The Lion King

$75,524,000

4,725

$15,984

$350,775,534

2

2

Once Upon a Time in Hollywood

$40,350,000

3,659

$11,028

$40,350,000

1

3

Spider-Man: Far from Home

$12,200,000

3,851

$3,168

$344,455,270

4

4

Toy Story 4

$9,872,000

3,610

$2,735

$395,628,506

6

5

Crawl

$4,000,000

2,720

$1,471

$31,462,793

3

6

Yesterday

$3,000,000

2,550

$1,176

$63,341,550

5

7

Aladdin

$2,788,000

1,798

$1,551

$345,928,586

10

8

Stuber

$1,679,000

2,150

$781

$20,100,989

3

9

Annabelle Comes Home

$1,560,000

1,287

$1,212

$69,736,963

5

10

The Farewell

$1,553,864

135

$11,510

$3,686,854

3
The fifth spot went to Alexandre Aja's eco-thriller Crawl, which is quietly becoming a modest hit for Paramount, which badly botched the film's release. The $13.5 million production has now earned $31 million domestically and over $45 million worldwide.

Speaking of "stealth hits," Danny Boyle's Yesterday just keeps chugging along, earning $3 million in its fifth weekend, which gives the $26 million production a solid $63.3 million here in North America.

Disney's Aladdin is the "leggiest" film in the top ten, earning $2.8 million in its tenth weekend of release. With $345.9 million domestic and $663.8 million overseas Aladdin is Disney's third billion dollar film this year (with 2 more, The Lion King and Toy Story 4, on the verge).

Disney announced this week that the studio has already taken in $7.67 billion, the most ever by one studio, eclipsing the record $7.61 billion that the studio earned last year—and this is with not quite 7 months in the books, and with potential blockbusters Frozen 2 and Star Wars: The Rise of Skywalker yet to come.

Be sure and check back here next weekend when the Fast and Furious spin-off Hobbs & Shaw bursts into 4,200 locations determined to dethrone The Lion King.