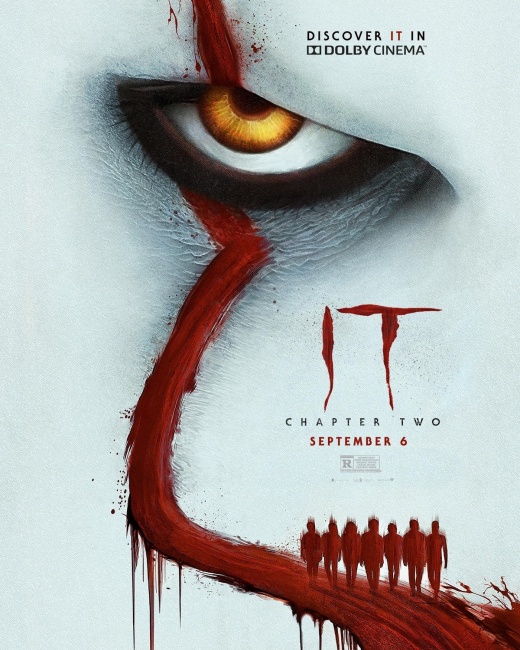 New Line and Warner Bros. scored a much needed win as
It: Chapter 2
debuted with $91 million, kicking off the fall movie season by driving the domestic box office to 12% gain over the same frame in 2018 when another horror film,
The Nun
, opened with $53.8 million.
While
Chapter 2's
$91 million opening was 26% lower than the
Chapter 1's
horror film record $121 million bow, it is still the second highest total ever for a horror film, and the second best opening for any non-Disney, non-MCU title film since
Chapter 1
opened in September of 2017, trailing only
Jurassic World: Fallen Kingdom
. With a cost of $90 million and a worldwide debut that tops $185 million,
Chapter 2
, though it won't be as big a hit as
Chapter 1,
it is still a much needed win for Warner Bros.
Why did
Chapter 2
debut that much lower than
Chapter 1
? There are many possible reasons.
Chapter 2
was not as well-reviewed as
Chapter 1
(67% positive on Rotten Tomatoes for
Chapter 2
vs. 86% for its predecessor).
Chapter 2
is also 35 minutes longer than
Chapter 1
with an extremely long two hours and forty-five minute running time. Also while
Chapter 1
featured kids battling Pennywise in
Chapter 2
it's the adult versions of those kids who return to their hometown to deal with a threat they thought they had vanquished before.
Chapter 2
also attracted an opening weekend audience that was only 47% female versus the 51% female audience for
Chapter 1
. While
Chapter 2's
audience was slightly older than that for
Chapter 1
, the sequel still had strong appeal to young viewers with 64% of the crowd between 18 and 34. Caucasians accounted for 47% of the crowd, followed by Hispanics (26%), African-Americans (14%), and Asian/Others (13%).
While opening weekend audiences gave the film a "B+" CinemaScore, the same score as
Chapter 1
(and a great rating for a horror film), other audience tracking polls have
Chapter 2
rated about 10% lower than
Chapter 1.
Still with weak competition next week
Chapter 2
should still have a solid domestic run, and it is already doing better overseas than
Chapter 1.
With
Chapter 2
accounting for 68% of all box office revenue this past weekend, there wasn't much left to spread around.
Angel Has Fallen
, last week's #1 film, earned just $6 million to bring its domestic total to $53.5 million, while Universal's R-rated comedy
Good Boys
earned $5.4 million to bring its domestic total to almost $67 million.
Weekend Box Office (Studio Estimates): September 6-8, 2019

Film

Weekend Gross

Screens

Avg./Screen

Total Gross

Wk#

1

It: Chapter Two

$91,000,000

4,570

$19,912

$91,000,000

1

2

Angel has Fallen

$6,000,000

3,229

$1,858

$53,460,501

3

3

Good Boys

$5,390,000

3,193

$1,688

$66,849,700

4

4

The Lion King

$4,193,000

2,610

$1,607

$529,106,439

8

5

Overcomer

$3,750,000

2,153

$1,742

$24,706,163

3

6

Fast & Furious Presents: Hobbs & Shaw

$3,720,000

2,299

$1,618

$164,252,145

6

7

The Peanut Butter Falcon

$2,276,430

1,310

$1,738

$12,282,689

5

8

Scary Stories to Tell in the Dark

$2,275,000

2,101

$1,083

$62,100,734

5

9

Ready or Not

$2,229,000

2,350

$949

$25,630,688

3

10

Dora and the Lost City of Gold

$2,170,000

1,788

$1,214

$54,159,150

5
Disney's massive hit, The Lion King, remained in the top five for the eighth straight week as it earned $4.2 million to bring its domestic total to a gargantuan $529.1 million, and its global total to near $1.6 billion.

The faith-themed Christian film Overcomer, which cost just $5 million to produce, has become a much needed hit for its genre. It earned $3.75 million to bring its domestic total $24.7 million.

The Fast and Furious spin-off Hobbs & Shaw, with its enormous $200 million production budget, looks like it is finally in the black with $719 million earned worldwide. But only $164.3 million of that was earned here in North America, where Hobbs & Shaw still trails John Wick3 ($171 million) for the top summer action movie crown.

The family comedy/drama The Peanut Butter Falcon expanded to 1,310 theaters as it made it into the top ten for the first time, earning $2.3 million to bring its total to $12.3 million. The PBF has a shot to become one of this fall's modest sleeper hits.

Be sure to check back here next week to see what happens when Warner Bros. goes for the adult audience by releasing an adaptation of Donna Tartt's novel The Goldfinch into 2,500 theaters, and the comedy/drama Hustlers bumps and grinds its way into 3,100 locations.