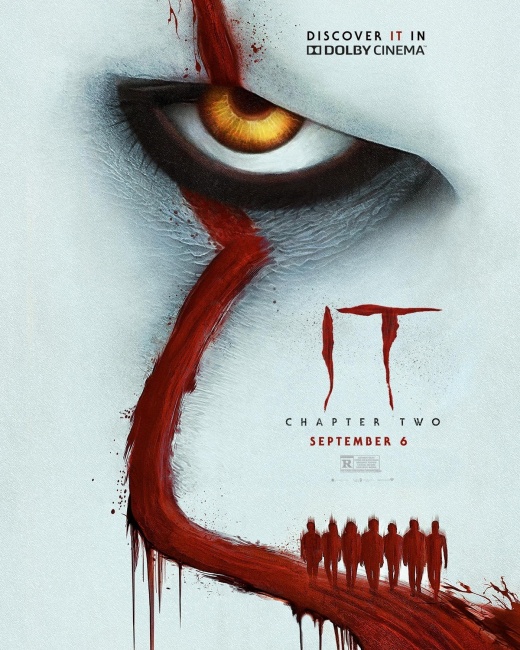 The second portion of Warner Bros.' adaptation of Stephen King's
It
, dropped just 55% in its second weekend as it took its second consecutive box office crown while Hustlers, the female ensemble crime drama, posted a strong $33 million debut, and Warner Bros.'
The Goldfinch
bombed. The result was a slight (under 1%) year-over-year gain for the weekend box office, which narrowly topped the total achieved in this frame last year when the failed attempt to revive
The Predator
franchise debuted with $24.6 million.
It: Chapter 2
earned an estimated $40.7 million, a 55% drop in its second frame. This is a great hold for a horror film, though it doesn't quite match up to the original
It's
51% slide back in 2017. But, as pointed out here last week,
It: Chapter 2
isn't, for a variety of reasons, going to match its predecessor's record-setting run. But make no mistake
It: Chapter 2,
which cost just $40 million to produce, is already a major hit, having earned $153.8 million here in North America and $169.5 million overseas for a global haul of $323.3 million. While
Chapter 2
will likely finish its global run about with around $500 million ($200 million less than
Chapter 1's
$700 million), the second installment will still be the top horror movie release of 2019—and the two
It
films have already earned over $1 billion.
Hustlers
, which is based on a magazine article about a group of strippers who exacted their own revenge on some hard-partying Wall St. fatcats during the 2008 recession, surprised analysts with a bodacious $33.2 million debut, the best live-action bow ever for actress Jennifer Lopez. The
Hustlers
opening is also the best ever for STX films, which had a similar success with
Bad Moms
, which opened with $23.3 million and went on to earn $113 million in 2016.
While the critics gave
Hustlers
very strong notices (87% positive on review aggregator Rotten Tomatoes), audiences were more reserved awarding the film a "B-" CinemaScore. Females made up 67% of the diverse audience, which was 36% Caucasian, 26% African-American, 27% Hispanic, and 11% Asian/Other.
Weekend Box Office (Studio Estimates): September 13-15, 2019

Film

Weekend Gross

Screens

Avg./Screen

Total Gross

Wk#

1

It: Chapter Two

$40,735,000

4,570

$8,914

$153,803,524

2

2

Hustlers

$33,230,000

3,250

$10,225

$33,230,000

1

3

Angel has Fallen

$4,400,000

3,076

$1,430

$60,380,418

4

4

Good Boys

$4,260,000

2,736

$1,557

$73,316,735

5

5

The Lion King

$3,555,000

2,365

$1,503

$533,992,775

9

6

Fast & Furious Presents: Hobbs & Shaw

$2,770,000

2,050

$1,351

$168,317,320

7

7

Overcomer

$2,735,000

2,293

$1,193

$28,987,768

4

8

The Goldfinch

$2,640,000

2,542

$1,039

$2,640,000

1

9

The Peanut Butter Falcon

$1,921,127

1,490

$1,289

$15,043,769

6

10

Dora and the Lost City of Gold

$1,850,000

1,348

$1,372

$56,743,567

6
The rest of the holdovers in the top ten featured small drops from modest totals. The action film Angel Has Fallen continued to lumber along, earning $4.4 million and driving its domestic total to $60.4, while the R-rated comedy Good Boys drove its domestic total to $73.3 million, which means this $20 million production is already in the black. The Lion King remains a monster hit with $534 million earned here in North America that would be #1 for the year, if this weren't for Avengers: Endgame (and possibly the next Star Wars), while the Fast & Furious spin-off, Hobbs & Shaw, creeps ever closer to John Wick 3 in the contest for the top action film of the summer.

Warner Bros. may have a hit with It: Chapter 2, but the studio has had more than its share of bombs this year, with few of them more obvious than the studio's adaptation of Donna Tartt's The Goldfinch, which debuted in eighth place with just $2.6 million, the sixth worst showing of all time for a film opening in more than 2,500 theaters. This $45 million, R-rated drama has garnered terrible reviews (just 24% positive on Rotten Tomatoes), and serious adult dramas like The Goldfinch are more dependent on good notices than genre pictures.

The Goldfinch attracted an audience that skewed female (61%) and older with 90% of the crowd over 25 (which could spell even more trouble with Downton Abbey opening next weekend). The good news, if there is any, is that opening weekend audiences gave The Goldfinch a "B" CinemaScore.

In addition to The Goldfinch, Warner Bros. has had more than its share of dramatic misfires this year including the comic book-based The Kitchen, and the Springsteen-centric Blinded By the Light, to name a few, but, not to worry, a pair of demented clowns, Pennywise in It; Chapter 2, and eponymous The Joker in Todd Phillips' upcoming film, which recently took the top prize at the Venice Film Festival, are ready to save the studio's financial hide.

Be sure and check back here next week to see what happened when three new wide releases debut in over 3,000 theaters including the well-reviewed Brad Pitt science fiction film Ad Astra, the action film franchise finale, Rambo: Last Blood, and a new theatrical Downton Abbey film.