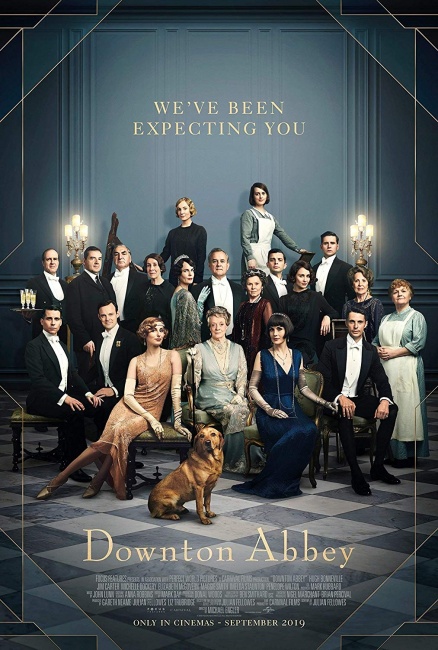 A movie based on the popular ITV series
Downton Abbey
(seen here on PBS) easily topped the weekend box office in a crowded field in which new films took the top three spots and helped the weekend box office to a solid 33.5% gain over the same frame a year ago when
The House With a Clock in Its Walls
topped the charts with $26.6 million.
Downton Abbey's
win was a real surprise. Most analysts picked
Rambo: Last Blood
to win the weekend. While certain TV series (
Mission: Impossible, Star Trek
) have proven to be highly successful and durable franchises, recent efforts to capitalize on small screen popularity utilizing the TV cast such as the
Entourage
movie, which opened with just $10 million have failed at the box office.
The
Upstairs/Downstairs
period drama,
Downton Abbey
attracted an audience that skewed heavily female (74%) and older, with 50% over 45 and 32% was over 55. The good news for Julian Fellowes and those behind the
Downton Abbey
movie is the audience gave the film an "A" CinemaScore—and with a modest $13 million budget, the film is already in the black.
Performing just a bit above expectations was James Grey's
Ad Astra
, a "hard science fiction" saga that stars Brad Pitt. The star-driven sci-fi epic earned an estimated $19.2 million that was good enough for second place (though it was so close to
Rambo
that final figures out tomorrow might push it to #3). The problem for
Ad Astra
is that the film, which was produced by New Regency for Fox and is now being distributed by Disney), cost $80 million to make, which means with a debut like this, it will have to demonstrate solid "legs" to make it to profitability.
There is a fair amount of critical buzz surrounding Pitt's performance in
Ad Astra
, and awards nominations could help the film, but will Disney treat it as one of their own, or as an orphan when award season rolls around. Another problem is that the film received a poor "B-" CinemaScore from opening weekend audiences, which skewed slightly male (54%) and far younger than this week's other new films with 34% of ticket holders between 18 and 34.
Rambo: Last Blood
, the final film in the 37-year-old franchise, opened with $19 million, a bit better than the previous
Rambo
movie, which debuted with $18.2 million eleven years ago. Males made up the majority of the audience (64%), with 77% of the crowd over 25. With an OK "B" CinemaScore,
Last Blood
won't face much direct competition for its audience until
The Joker
bows on October 4.
Weekend Box Office (Studio Estimates): September 20-23, 2019

Film

Weekend Gross

Screens

Avg./Screen

Total Gross

Wk#

1

Downton Abbey

$31,000,000

3,079

$10,068

$31,000,000

1

2

Ad Astra

$19,210,000

3,460

$5,552

$19,210,000

1

3

Rambo: Last Blood

$19,015,000

3,618

$5,256

$19,015,000

1

4

It: Chapter Two

$17,245,000

4,156

$4,149

$179,165,563

3

5

Hustlers

$17,000,000

3,525

$4,823

$62,553,213

2

6

The Lion King

$2,572,000

1,978

$1,300

$537,592,304

10

7

Good Boys

$2,510,000

2,025

$1,240

$77,305,605

6

8

Angel has Fallen

$2,400,000

2,505

$958

$64,689,679

5

9

Overcomer

$1,500,000

1,818

$825

$31,567,203

5

10

Fast & Furious Presents: Hobbs & Shaw

$1,460,000

2,391

$611

$170,613,810

8

Last week's top two films, It: Chapter 2 and Hustlers, each dropped three spots but both films did well, earning just over $17 million for the weekend. With $179.2 million earned already It: Chapter 2 is on its way to finishing its domestic run with over $200 million, and will likely earn close to $500 million worldwide, while Hustlers has already earned back three times its $20 million production cost.

In limited release (31 theaters) GKids unleashed the anime film Promare with modest results ($88K for a $2,840 per-venue average).

After a slew of new releases this weekend, there will be only one major bow next week, Universal's animated Yeti-fest, Abominable, which heads into over 4,100 theaters, making it a favorite to top the charts in the last weekend of September.