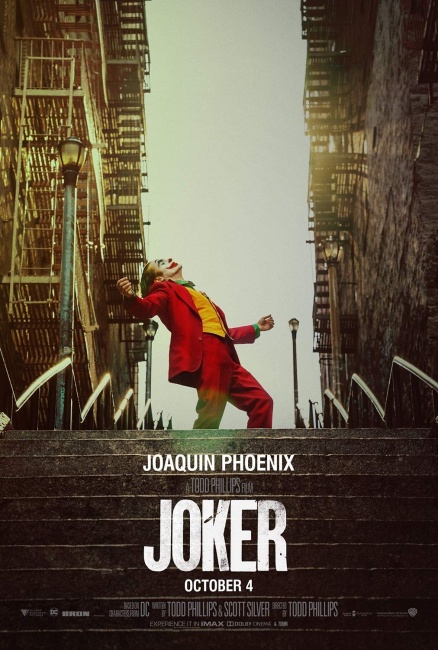 Todd Phillips'
The Joker
set a new October weekend box office record with an estimated $93.5 million debut, but it still wasn't enough to insure a year-over-year win as the total box office was down 18.2% from the same weekend last year when
Venom
debuted with $80.2 million.
Obviously analysts can't blame
The Joker
, which did more than it part by eclipsing
Venom's
debut, though perhaps the overblown "controversy" about the film did deter those who wanted to see other films from venturing out to the Cineplex with all the talk of serial killers, heightened security at theaters,, and the Aurora, Colorado shooting—or it could also be blamed on a weaker-than-normal group of holdover films.
In addition to setting a new October record,
The Joker
managed the fourth best opening for a R-rated film ever, and the best debut for a Warner Bros.' film in two years. It also set a record for the widest October release ever (4,374 theaters), and managed to garner the biggest Thursday preview earnings ($13.3 million) in October.
Produced for somewhere around $60 million, a very low price for the genre made possible by the lack of a need for superhero special effects,
The Joker
is already a moneymaker for Warner Bros, especially given the fact that it earned an additional $140.8 million from its simultaneous release in more than 70 foreign countries.
While it posits a far more realistic and prosaic origin for DC's greatest supervillain (no slipping into vats of acid here), and obviously owes a debt to the gritty American movies of the 1970s, especially
Taxi Driver
and
The King of Comedy
(
The Joker's
use of the 1970s Warner Bros. logo is a real tip-off), there is no doubt that
The Joker
is a comic book movie that riffs off the oft-told saga of Batman and Gotham City.
And it is likely judging by the demographics of its opening weekend that
The Joker
did have a strong appeal to comic book fans.
The Joker
attracted a crowd that skewed heavily male (64%), with 65% of the audience between 18 and 34. Caucasians made up 44% of the crowd, followed by Hispanics (24%), African-Americans (16%), and Asians/others (14%).
How big a hit will
The Joker
be? Given its 69% fresh rating on Rotten Tomatoes, and a "B+" CinemaScore from opening weekend audiences,
The Joker
would appear to be in good shape. Next weekend's grosses should indicate how wide
The Joker's
appeal will be outside of comic book fans, who didn't need a DC Comics logo in front of the film (there wasn't one), to tell them it was a comic book film.
Weekend Box Office (Studio Estimates): October 4-6, 2019

Film

Weekend Gross

Screens

Avg./Screen

Total Gross

Wk#

1

Joker

$93,500,000

4,374

$21,376

$93,500,000

1

2

Abominable

$12,000,000

4,248

$2,825

$37,833,115

2

3

Downton Abbey

$8,000,000

3,548

$2,255

$73,626,935

3

4

Hustlers

$6,300,000

3,030

$2,079

$91,321,880

4

5

It: Chapter Two

$5,355,000

3,163

$1,693

$202,205,157

5

6

Ad Astra

$4,557,000

2,910

$1,566

$43,662,768

3

7

Judy

$4,445,635

1,458

$3,049

$8,904,078

2

8

Rambo: Last Blood

$3,550,000

2,900

$1,224

$39,823,895

3

9

War

$1,581,000

305

$5,184

$2,088,290

1

10

Good Boys

$900,000

1,006

$895

$82,042,620

8
Second place went to last week's winner, Dreamworks Animation's Abominable, which earned $12 million to bring its domestic total to $37.8 million. Unfortunately this original animated film, which was an American/Chinese co-production, bombed in China, earning just $11.3 million on its debut weekend in the world's second biggest movie market.

The period drama Downton Abbey may not win any major awards, but it is doing very well for an adult-skewing Upstairs/Downstairs saga, earning $8 million in its third weekend, driving its North American total to an impressive (for a period drama) $74 million, while the Jennifer Lopez-starring Hustlers is another solid hit with a domestic total now over $91 million (against a production cost of just $20 million).

It: Chapter 2 earned $5.3 million to push its domestic total over the $200 million mark. It won't come close to matching Chapter 1's smashing success, but it is still a major hit for Warner Bros., which is off to a strong fourth quarter.

The story is different for the science fiction saga Ad Astra and the final Rambo film, Rambo: Last Blood, both of which now have to be deemed box office failures.

The musical biopic Judy, which stars Renee Zellweger as Judy Garland, added nearly a thousand theaters as it earned $4.4 million to bring its ten-day total to $8.9 million. While Judy won't be a megahit like Bohemian Rhapsody, it could hang around long enough to become a modest success thanks to older fans of more traditional Hollywood musicals.

The other new film in the top ten this week is the Bollywood action saga War, which ended up at number 10, earning $1.6 million from just 305 theaters as it posted the second best per-venue average of the weekend ($5,184), trailing only The Joker's $21,376.

Be sure to check back here next weekend to see how The Joker fares in competition with a trio of new films including an animated version of The Addams Family, which hits 3,800 theaters, the Ang Lee/Will Smith action film Gemini Man, which heads to 3,500 venues, and the comedy Jexi, which will open in 2,300 locations